Okay, so I've been around Neopia for a little while and have done it all. But no matter where I turn there is always some pretty weird or bad Neopians staring at me. So I've made a list of the top ten pretty weird and bad Neopians on NeoPets. Watch out for these characters...
Number 10: humboldt***
(Last 3 characters censored for user's privacy) Okay, no offence humboldt***, but your were the only one who answered to my last article's Poll Question with the answer "Yes". And that meant I needed mental help. And I don't! I DON'T! AHHH! TAKE THAT! Man, I do need to see my psychiatrist.
Number 9: dark_epk
Okay, this guy gives the creeps. He's not a one of those illegal people, but how he operates his account is amazing. He is in the same classification as the Dark Faeries, and all money will go either to making more NP or investing the stock VPTS... hmm... that sounds familiar. Oh, and NP will also be given to give his NeoPets a Shadow Colouring.
Number 8: The Uber-Dark Faerie
If you've ever gotten a Faerie Quest from the Dark Faerie, (Not Jhudora,) you may of noticed she asks for TOYS. Yes, toys. What can a women of mass destruction do with a toy. Well... my Koi is afraid of Rubber Duckies... don't mention that I said that to him.
Number 7: Jhudora, other Dark Faerie
Okay, now you can tell she's just messed up. Who in the world mumbles under her breath that Fyora the Faerie Queen may get mad at her for doing what she's doing? At the very least, she asks for items that could be used for evil. And she gives you a moderate prize.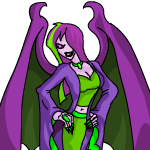 Watch it!


Number 6: Chia Clown
What in the world is this? Sure all Chia's are pretty weird, but this guy is even worse. First off all, my NeoPets can beat him in two... possibly one hit. Second of all, this is all he seems to say: Roll up roll up, its time for some fun! HONK HONK! OR I have a present for you... HONK!! And worst of all: Would you like a balloon animal??? By know I used my best weapons on him. And one last quote: Aww the little NeoPet is scared of the big bad clown! Whatever dead man.
Number 5: Someone Who Hates Fuzzles
There was this one person I met. Man, he had two rooms in his NeoHome filled with beaten up, torn, and ripped Fuzzles. When I went and asked him why this was, he said it was only personal. What could a toy do to him? Had he had to much caffeine one day? Did a mutant Fuzzle attack him? Is he paranoid? Or does HE need Mental Help? Well, whoever he is, he got a spot on the Top 10. And boy, he's gonna love NeoPet's upcoming Fuzzle Shooting Game. And speaking of upcoming, what is Fangspire? (Go to the world page to know more!)
Number 4: Pant Devil
The man in blue is totally weird. Who in the world carries a flag and steals items randomly from innocent Neopians? And he also bribed the faeries to give him a spot of the Wheel of Excitement? And most of all, what does he do with all the items? Does he also have a plan for mass destruction, or is he just a pig? Does he use the items for his spot in the Battledome, or does he just use them for leisure? I've been looking 24/7 for wherever his lair is... I want my Wand of Supernova back! GIVE IT BACK! (Don't tell him that he never did stole one, I just want to torture him into giving me the item.)
Number 3: Malkus Vile
It you don't know about Malkus Vile, I'll tell you. He's a big ol' Skeith who is best known for trying to destroy the place known best as Coltzan's Shrine. Stupid... just plain stupid... but anyway, you can clearly tell he's evil. And it's not the first time he did something evil. And he gets all his battle plans from a more mysterious master.
Number 2: Doctor Sloth
Your probably surprised the doctor only got second. After all, he was the one who created Mutant NeoPets. I've been around for all of his evil plots. His first plot was to shoot a ray onto Neopia that creates Mutants. His second was to destroy Maraqua, which luckily was unsuccessful for the time being. The third was destroy Sakhmet. I don't recall many others, but he surely probably has a bit to do with everything.
Number 1: Captain Dread
Arrgh me maties! Captain Dread was the pirate Kiko who turned Maraqua into a whirlpool for not paying the ransom. I wouldn't be surprised if he turns his attention to places like Tombola. I mean, that guy goes into debt too often... but speaking of the Kiko again, he was the only evil person on this entire list who is actually successful with a plot of mass destruction.
Disclaimer: If anyone is offended by this material, like if they made it onto the list, it's not something against you, you made it by being Weird (at least to me... who says I need mental help?) and not being Bad, like Captain Dread. Oh... and let's say dark_epk agreed to be on this list and gave me some stock information. Thanks darkie!