Your questions answered!
Read the answers to the most commonly asked Neopets questions this week in the Editorial section. Each week the most popular questions will be answered by one of the creators of Neopets, so keep checking back to stay updated.
Randomness
in Neopia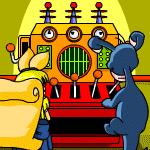 In life, there are many things that are random. You don't have to look far in Neopia to find these random things either. After playing NeoPets for any amount of time, you will probably encounter something known as a "random event..." more>>
Presenting...
Sir Cheekalot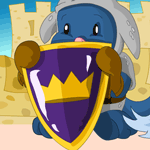 After admiring various types of Sir Cheekalot battle shields, I wondered about the life and times of this forgotten hero, whose only legacy to Neopia was a few shields. I wondered, just maybe, if I could somehow find out more about this Kacheek knight... more>>
Top stories include Borri the wizard's Adventure Generator, sinks for your NeoHome, and the latest in the Meridell vs. Darigan plot! Read it all here.
Lost Desert
In a Book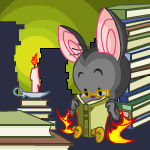 So, you've finally made it to the Lost Desert, but you haven't a clue where to go? There are millions of places to visit. Please take a look at the map that is inserted into this book. The Lost Desert is split up into two parts. The river divides the two regions apart, thus calling it the Western and Eastern Region... more>>
Other Stories
"GoldenRhino the Stuper Villain" by too_kule - GoldenRhino the baby Tonu watched in awe as the television went on the blink. It was 1 a.m. NST and GoldenRhino knew he should've been in bed way earlier... more>>


"First Time Zapped" by bubble_babby312 - Cuteouni the Island Uni came skidding around the corner into the Silver Lounge, with Ooockoo close on her tail... more>>


"Babysitting!!" by pinklepunk - "NO!" the blue Kacheek angrily pounded his fist on the jelly coffee table. "I've babysitted Emily and Jessie once too many! They're... they're monsters!"... more>>


Rescue Those
Petpets!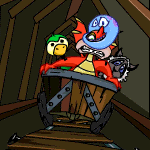 This week's issue is brought to you by: Petpet Rescue

Submit your stories, articles, and comics using the new submission form.