Your questions answered!
Read the answers to the most commonly asked Neopets questions this week in the Editorial section. Each week the most popular questions will be answered by one of the creators of Neopets, so keep checking back to stay updated.
Trading Post Hits its Limit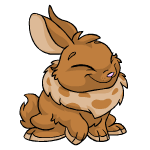 Lennys and Grundomen, due to a minor uprise by a bunch of unhappy traders in Neopian Central today, the Trading Post limit has been raised to 600,000 NP. Can you just imagine the possiblities now? This is definitely a milestone for Neopia's merchants, but only time, as well as inflation will determine what will happen next.
PetPets Get Spooked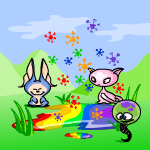 Something very eerie happened this week at the PetPet Puddle. Apparently, PetPets, including Greebles to Whoots, got spooked out when they went near the puddle. No one knows for sure what happened, and many NeoPets have already been speculating how something so cute can get even cuter.
The Neo-Market Report
Joining Neil and Maria today will be Nigel the Chia, who
New Opponent Whips NeoPets Into Shape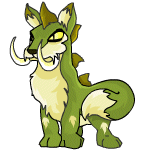 If Sabre-X has ever challenged you to a battle, now is the time to go and fight him with your Battle Magic. Please be careful, as Sabre-X has been waiting for this moment ever since he was a little pup, training to become Neopia's favourite Omelette Supervisor.
Guild Spotlight
For entries into guild spotlight: neopiantimes@neopets.com
Elements Of Design - Is your guild looking a little sad these days? Does it need a little help getting into the Guild Spotlight? If so, check this guild out for all your design needs. You won't be sorry.


The Collectors of Neopia - If you want the hard work you put into building your collection of items to be rewared, then join T.C.O.N.! All members will be awarded with a rank depending on the quality of their galleries.


Plush Bus - This is a guild for any dedicated Plushie (or Usuki) collectors who want to interact in a great and friendly environment. There are multiple weekly giveaways and a Plushie Points System (P.S.S.) where you can earn Plushies by participating in the guild!


Place Your Bids Here

This week's issue is brought to you by: The Neopian Auction House

Submit your stories, articles, and comics using the new submission form.