Your questions answered!
Read the answers to the most commonly asked Neopets questions this week in the Editorial section. Each week the most popular questions will be answered by one of the creators of Neopets, so keep checking back to stay updated.
An Avatar Addiction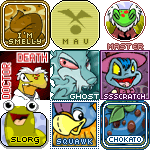 Attention! Have you been a victim to Neopia's cruel rush to collect avatars? The Avatar Depression, I like to call it! Are you that poor Elephante with an allergic reaction to peanuts that your owner fed to you anyways just to get an avatar? Are you the faerie that was forced to bless a Shoyru or suffer the consequences?... more>>
Fancy Some Music?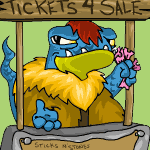 We've all been there. After ages of saving and hoping, your favorite band is finally going to perform live in the Tyrannian concert hall. Too bad the ticket booth has been sold out since 6 in the morning. Back to waiting and hoping. Or is it?... more>>
Where's The News?!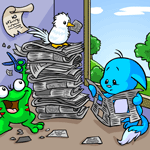 We're here to give you the best in Neopian news. Our rivals, the New Features and the Neopian News Brief, will cower before us as we continue our heck-bent plan for domination of teaching people things about Neopia. Here is TK with our top story... more>>
Other Stories
"Battle Amongst The Ice" by sabrinahaque_2000 - "Don't worry, I'm sure it's nothing. I'll just go out and see, I'll be right back okay?"... more>>


"Bright Pink" by icicle__city - If Starrbel was beautiful, this Uni was breathtaking. She was perfect... more>>


"Snow" by rachelchia5 - Since her owner had brought her to Happy Valley to stay at her aunt Parry for the summer holidays, it hadn't snowed once... more>>


Pssh... Weakling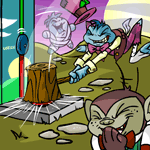 This week's issue is brought to you by: Test Your Strength

Submit your stories, articles, and comics using the new submission form.