Your questions answered!
Read the answers to the most commonly asked Neopets questions this week in the Editorial section. Each week the most popular questions will be answered by one of the creators of Neopets, so keep checking back to stay updated.
Flash Game Trophies Up For Grabs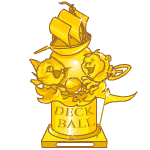 With the recent return of the most of the hi-score tables on the 4th day of Relaxing, everybody has been given a clean slate, and for some, a second chance. I recall myself waking up fairly early due to insomnia and logging in to find that most of the game's tables were back... more>>
Lupes and Chias: Historical Enemies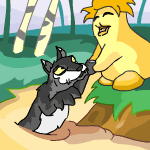 Why do Lupes and Chias seem to hate each other so much? Why do they act like born enemies? What's the deal? True, many Lupes hunt Chias. It comes down to this: they do taste pretty good. After all, they do get turned into all sorts of delicious fruit... more>>
Dubloon Disaster, a second Defenders of Neopia challenger, more pirate pets, and the impending arrival of Disco Aisha plushies are but a few of this week's top stories. Get the latest news here.
Haiku? What Does it Mean?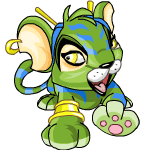 Diana85_2000 is my only Neopet thus she is a little spoilt as I always give her what she wants but this time I felt that she was right to get mad. When we heard the there is a new addition to Mystery Island, both of us was so excited and early the next day we woke up and headed there... more>>
Other Stories
"The Annoying Forest" by soggydude - Sheriff the Lupe was in a store, buying some supplies. The Eyrie at the counter looked at him. "In order to go to the next town, you have to go through the forest by the edge of this town and from there you go to another town..." more>>


"Who I Am" by snowagerprincess - I'm Kinlick. I'm a glowing Pteri... or, was it a starry Lupe... no, I'm sure it was a speckled Lenny... well, to tell you the truth, I didn't really know what I was before I got my current home... more>>


"Sarah the Zafara" by sunshinejenny45 - One day, a neighbour told me his Skeith ate a dubloon. Now this particular neighbour was not very honest. So, I decide to ask around if that can actually happen. I ask my friend who replies, "I don't know, maybe you should ask Sarah..." more>>


Row, Row, Row Your Boat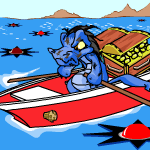 This week's issue is brought to you by: Dubloon Disaster

Submit your stories, articles, and comics using the new submission form.