Hi. I am Tom, a blue Buzz... or at least I was. This is my story.
One day, I was in Neopia Central shopping, I saw a very interesting book about a happy Buzz, an incredible plushie, a very cute Mallard, and a…Ooh!! That doesn't matter!! Let's go back to the story. So there I was, walking out of the food shop, when, suddenly, a purple shadow came out of the bank, runs into me and sends me to the floor. I heard a voice yelling, "Come Back!!" and then I realised they were robbing the bank! I caught up the criminal and tried to get the bags with "NP" written on them back from him, but instead of that, I got hit by a green bolt of something and fell to the floor.
Three plain omelettes, one doughnut…. Oh! That was the market list, sorry! Back to the story. When I woke up I found myself in the hospital. I asked Dr. Gelert what happened to me and he explained everything to me.
"You were hit by some kind of bolt, you'll be okay but something's changed."
"Changed?" I asked without understanding what he meant.
"Yes, look at you," the doctor said, handing me a mirror.
I took it and looked at myself. I wasn't a Buzz anymore, now I was a-a-a… GREEN MEERCA!!!
"Doc?" I asked. "Is there something you can do?
"No, I'm sorry," said the doctor sadly.
I was very sad. Don't get me wrong, I have nothing against Meercas, it's just that I liked my old form better.
"The only way is if the same person that made you a Meerca turns you back," said Dr. Gelert.
When I got out of the hospital I went to my friend Bob's NeoHome. He's a yellow Buzz. We have been friends ever since Buzz Kindergarten.
"Hi Bob," I said.
"Hello. Who are you?" he asked, wondering who the heck was at his doorstep.
"I'm Tom, your friend.
"My friend Tom is a blue Buzz. You're a green Meerca."
"Yes, I was transformed into one. But I am Tom."
"Prove it."
"OK," I said as I showed him my Gold Buzz Medal that I won in Buzz High for being the best Gormball player.
"You are Tom! What happened to you?!?"
I told Bob the entire story over a cup of coffee.
"We have to go to the Queen's Palace," said Bob. "She can help you."
"OK, but you have to help me," I said.
"OK," said Bob. "Let's go!"
We went flying to the island (I was on the back of Bob) and the only thing that stood was a gigantic tree. On the top of the tree there was a beautiful palace. That's were the Queen of the Buzzes lives. We went flying to the top of the tree. When we got to the top, we entered the Palace, but the guards didn't let me in!
"Only Buzzes!" one guard said.
"But I'm a Buzz!" I said.
"You are a Meerca not a Buzz!" The other guard said. "If you are a Buzz, say the password
"*******," I said, and they let me in.
We entered the Palace and went to the Queen's Chamber.
"Hello dears" the Queen said, "What can I do for you?"
"We want to know if you can tell us who did this to my friend," Bob said.
"Of course I can, come closer so you can see too," the Queen said as she showed us some kind of magic ball.
We stood next to the Queen and saw into the ball. First we couldn't see anything, after a little while we saw some purple clouds, then the clouds disappeared and we saw a woman with purple and green clothes. It was Jhudora the Dark Faerie!!!!!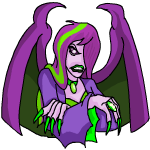 I swear I didn't do it.
"Thanks Queen," Bob and I said as we ran to the exit.
"You're welcome, come back again dears!"
We went to Jhudora's Cloud as fast as we could. When we arrived we heard an evil voice.
"Who is it?" Jhudora asked.
"It's Tom the Buzz. I want you to turn me back to my old form!"
"Oh, it's you… OK, I will turn you back and will return all that money to the bank if you bring me… let me see… a Krawk! Hurry up, you only got twenty minutes!
We went to the Shop Wizard and searched for the cheapest Krawk. It was 100,000 NP!
"I don't have that kind of NP, what am I going to do!" I said.
"Oh, it doesn't matter. I will buy the Krawk for you," said Bob and handed the money to the shopkeeper.
I forgot to tell you, Bob is one of Neopia's richest guys! So, we went to Jhudora's Cloud again and gave her the Krawk.
"So, you got the Krawk… I didn't think you would bring it…. Oh well, it doesn't matter, take the money and your old form back," said Jhudora as she threw me two bags filled with NP and transformed me back into a Buzz. "And don't come back."
We went back to Neopia Central flying, and we never met Jhudora again.
The End