Hello and thank you for joining us as we present this latest installment of The Neopian News Brief, your all-encompassing guide to everything that's been going on lately in the world of Neopia, from the staggering slopes of Terror Mountain to the scurvy sands of Krawk Island. It's been quite a week, with plenty for us to discuss, so let's get to it!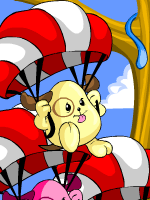 Our lead story today is the arrival of an exciting new game, Warf Rescue Team. Making its debut on Monday, the game has enjoyed tremendous popularity ever since. The premise is stultifyingly simple: apparently some Kadoaties have gotten stuck up a tree, and it's up to you and your team of fearless flying Warf parachutists to get them down. Once you've determined where the next Kadoatie is on the branches overhead, start launching one Warf after another, until they've finally made it all the way to rescue them (please hurry, we can't take those crying Kadoaties for much longer!). Pick up bonuses for perfect landings and stacking three in a row of the same colour, but be sure to keep an eye out for the occasional flying acorn. Oh, and be sure to only grab Kadoaties... some of those other Petpets might fetch alot on the open market, but they're not going to help stop that infernal mewing!

Another major development this past week has been the arrival of NeoBoards. The old NeoChat has been given a total makeover, with a whole bundle of stellar new additions. Among the recently added features are a selection of avatars that include each pet species and four Faeries (Air, Water, Fire, or Dark).

Also, choose from one hundred and twenty different NeoTitles (great for adding a little personality to your messages), use NeoHTML to customise your font, or tack on a NeoSignature at the end of your post. Best of all, though, is the return of the infamous "Evil Things and Monster Sightings" board... excellent!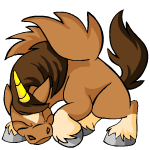 This past Wednesday, for no other reason than because we say so, all of Neopia celebrated a special day in honour of that most unappreciated of colours, brown. Throughout the day, a healthy assortment of updates relating to all things brown were added to New Features. There were a whopping four new species who were able to head over to the Rainbow Pool and sport a brown look for the first time (Peophin, Kiko, Poogle and Uni), along with a quartet of new brown petpets (Puppyblew, Angelpuss, Kadoatie and Polarchuck). There were also some dungtastic additions to the Buddy Icon and Blog sections. It's brown all around!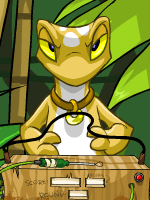 Also making an excellent addition was Thursday's introduction of The Buzzer Game. Despite its rather underwhelming name, the game itself is actually quite tense and nerve-racking. If you have dutifully studied in the ways of the master, then you should possess the unwavering balance to skillfully guide your hoop around the long and winding path of the wire. While moving faster than a summer wind as it carves through the grasslands may score you extra points, failing to exercise the patience of a wise old sage might cause you to lose course in your mission, resulting in failure and shame. Master the ways of the wire, and you shall be well on your way to enlightenment (not to mention a whole bunch of NPs).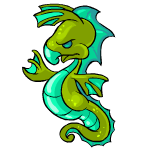 As Friday rolled around, the time came for Neopia to raise a toast to those loveable bouncing Blumaroos. There was quite a bit in store for those bounding Blus, starting off with the usual assortment of books and Battledome accessories, then moving on to a quartet of Blumaroo ice creams. Tack on a trio of new PB styles (ghost, brown, and... ooh, Maraqua) and features in the Poetry and Caption Contests, as well as the Pet Spotlight and Art Gallery, and there you have it... hooray for Blu Day!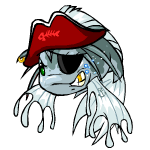 It's now time to take a closer look at today's headlines from the financial sector. After crossing the 1,000 point mark last week, the Big Board rallied for its seventh straight profit, picking up another eight points to finish out at 1024. However, compared to the gains of more than forty and twenty points during the previous two weeks, this latest margin appears relatively slim to most stock speculators. As a result, many analysts have begun openly asking whether we may have finally reached the end of the gold rush.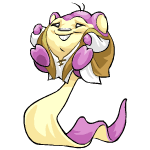 Despite such timidity on the part of investors, Fish Pops! managed to keep their top spot on the Big Board, leading the way with a very impressive twenty-two point gain, rounding out the week at 156 NPs a share. Despite a respectable six-point gain, the #2 company in Neopia, Meri Acre Sausages, continued to lose ground to their rival, finishing thirty-five points back at 121. And what of that vaunted Neopian "middle class" that we mentioned last week? Well, among those eight companies that stood between thirty and sixty NPs, only two of them (Chiatech Password Security and Shoyrux) were able to put together profits (of three and thirteen NPs, respectively).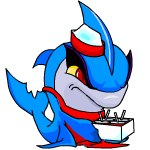 Despite this widening gulf created by the collapse of the middle class, a huge number of companies that had been buried at the bottom of the heap have now been able to benefit from the surging economy. Why, this past week, seven more companies managed to resume trading after climbing back over fifteen NPs. This means that only fifteen of Neopia's forty-three companies are currently below fifteen points, one of the lowest totals we've ever recorded. In the weeks to come, it'll be interesting to see what sort of impact this minor resurgence within the lower middle classes might have on the economy....