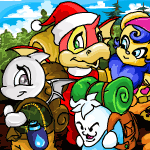 A Guide to CampingThis time of year, when the heat is smoldering and the sun is always in your eyes, a common pastime of Neopians is conquering the great outdoors.

by romantical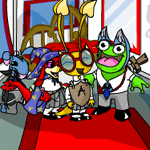 Guide to Making an ORIGINAL Character For the Role Play Boards!Every char needs a few things… A description, a personality and a past, is needed to make your character believable.

by _insanity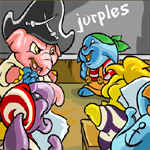 Jurples - A Guide to Word PokerIt didn't take much thought to decide to write a guide to Word Poker -- my latest game obsession ever since it came out.

by babydragon282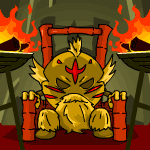 Neopian Government: Part 2A look at the government of Mystery Island, Krawk Island, Roo Island, and Maraqua.

by englishladygodiva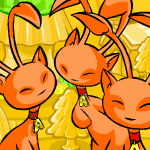 Neopians Tell AllHave you ever picked up a piece of half eaten jelly, stared at it, and wondered where it came from?

by azn_sparkle21
Shock Magic Used: Experts StunnedWhatever the reason, NeoQuest is more than just a game, for some it's a way of life.

by theeaterofworlds
Solutions to Lenny Conundrums 51 to 60Here, I present, without further ado, solutions to Lenny Conundrums 51 to 60, along with a bit of extra information with questions 57 and 59.

by cmcoury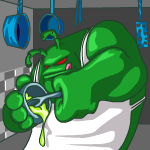 The Most Peculiar Things in Neopia: The Muffin Man… and Grundo Chef?These days, Neopians don't hear a lot about the Muffin Man, however it appears as though the Muffin Man once existed in Neopia...

by onda_bianca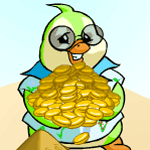 To Slots or Not to Slots; Brucey B Slots AddictionWhat happens when a Neopian and their pets become a bit too attached to a game?

by beau_lis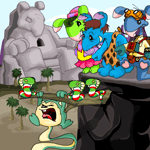 Top Ten Mistakes Beginners MakeWe all make mistakes. Buying a cherry stick because you thought it really did grant wishes, or even just feeding a Floud carrots. However, some of the more obvious mistakes NeoPets beginners make can be corrected.

by covergirl_tanemura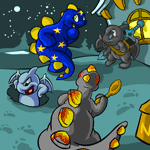 Worst-Case Scenarios (And How to Get Out With Most of Your Apendages, Give or Take a Few, With Luck)I don't mean DANGEROUS situations, I mean the situations that have already scored a 10 or the Oh-No-O-Meter.

by noremac9
Headlines
"Cactus Flowers" by ladyariel32 - I promised to myself that as long as the cactus flowers still floated in the garden, I would never lose hope... more>>
Other Stories
What Fuzzles Call Revenge
Libby's eyes narrowed at the lifeless stuffed evil Fuzzle in front of her and grinned. "It's just a Fuzzle..."
---
Elorah's Beauty
Elorah, a green Elephante, read and reread the poster. The Neopian Beauty Competition was open for pets to enter. Oh how Elorah wanted to sign up!

by beau_lis
---
Krawk Island Captives: Part One
"It's a place where... every Neopet can fly, even if they aren't Faeries, and all the food is free. There is also other stuff that's free, like toys, candy, you name it."

by squieshie
---
Just a -- Little Problem: Part One
The park was pretty nice; it was a warm summer's day and the sky was dark, stars flittering in the inky black sky. It was then that the screams started.
---
---
---