Hello and thank you for joining us as we present this latest installment of The Neopian News Brief, your all-in-one summary of everything that's been going on in Neopia, from the sandy shores of Krawk Island to the cumulous confines of Faerieland. We've got plenty of exciting new stories to cover, so let's not delay any further...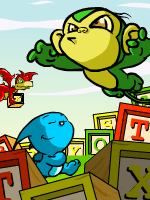 Our lead story this week is a thrilling new game called Toybox Escape. After creating a small army of robotic Neopets, Doctor Sloth discovered that these mechanical mercenaries were incapable of carrying out his evil wishes. Seething with rage, Sloth tossed them into his toybox, from which he was sure they would never escape. With your help, however, these adorable automatons might finally have a chance of escaping to freedom... do you have what it takes to guide them to safety? Every successive round presents you with a challenging new maze, filled with all sorts of elaborate obstacles. Don't be discouraged, though, for all is not lost! Each of these electronic escapees has a special ability (Myncis can climb, Shoyrus can jump, and so on) that allows them to navigate their way through the toybox. Not so fast, though... on your way out, be sure to grab the coins that are located throughout the puzzles. They'll really add up when the time comes to send your score. Good luck!

During the past few weeks, there have been plenty of great new NeoHome items being released. Whether it's sinks and toilets for your bathroom, or garden benches in the yard, Neopia's homeowners have had plenty of reasons to get excited. This week was no exception, as two great new garden products found their way to market.

On Thursday, budding greenthumbs could kiss their trampled flowerbeds goodbye, as a quartet of paving stones made their debut. Now, visitors will be able to casually stroll the grounds without stomping your lovely layout into a muddy mess. As if that weren't enough, Friday saw the unveiling of a four new patio tables, which arrived in handsome pebble, spooky, pink and plain ol' wooden varieties... perfect for when you want to relax with friends on a nice, sunny day.

Also causing a stir this week were a trio of tasty new treats. Oh sure, we all try to keep our pets in good shape by visiting the Health Food Shop a couple of times a week, but let's face it... our pets love junk food just as much as we do! So then, after a long day of duking it out in the Battledome and desperately grasping for goodies under the Money Tree, how about cutting your pets a break and allowing them to indulge a little?

Why, you could always swing by Hubert's Hot Dog Stand, where everyone's favourite sauerkraut-slinging Mynci has come up with a quartet of delicious new hot dog recipies. Wouldn't your little one love to tear into a tasty tomato striped hot dog, or maybe a blueberry jelly 'dog would be more to their liking? If not, you could always swing by the Pizzaroo Shop, which released the mouthwatering goodness of lemon bubble, jelly bean and stone (stone?!?) pizzas on Monday.

Then, once your pet has eaten their fill, be sure to pop by the Spooky Food Shop, where some delicious new ice creams made their debuts on Wednesday. Take it from us, the brain ice cream is rockin'... and it won't even try to ask you when Barry Tonu died!

As if we hadn't already come up with enough ways for you to spend your NP, there was also a fair amount of excitement surrounding a pair of new releases over at the Toy Shop. It all began on Thursday, as three new kinds of fuzzle toys became available for the first time. Now, you can pick up a fuzzle for your pet in either white, cloud or spotted.

However, if fuzzy fluffballs from space aren't your pet's idea of fun, then we're sure that they'd be delighted to receive one of the new island plushies that went on sale this past Friday. Just snatch an island Ixi, Acara, or Uni off the shelves, and *ta-da* watch your pet's eyes light up like magic!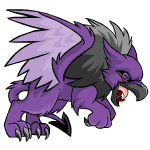 This past Thursday was a very special day over at the Rainbow Pool, as the brand new Darigan paint brush received its grand debut. Indeed, all eyes were on the Darigan Eyries and Moehogs, who wowed everyone with their latest look while becoming the first two species to receive this dazzling new style. They were joined on Friday by the equally-stunning Darigan Skeith, and you can be sure that there'll be plenty more Darigan styles in the days and weeks to come. However, these weren't the only new looks that came out this week. On the contrary, there were plenty of other premieres, beginning with ghost Myncies and Chombies on Monday. This was followed by the arrival of glowing Quiggles on Tuesday and silver Jetsams on Wednesday.

Though they could hardly be expected to top the newsworthiness of the Darigan PB, there were also some significant developments coming from the Petpet Puddle on Tuesday. First up, a quartet of plushie petpet styles were released; if you've got a Snowbunny, Kadoatie, Doglefox or Warf, now you can hustled them over to the Petpet Puddle and get them "plushified"... the other big development was the announcement two petpet PBs had been retired. Do you know which ones they were?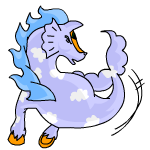 Now, it's time for us to take a closer look at today's headlines from the world of finance. When you factor in this week's forty-point loss, it's been more than a month since the Neodaq posted a weekly gain. Many would point to the gross imbalance of power in the economy (two companies, Shop Wizard N-Commerce and Peophin Water Parks, account for nearly one third of the Big Board's entire value), and insist that, until other companies are able to rise up and level the playing field, the economy will continue to slump. However, there others who feel that PEOP and SWNC are being unfairly blamed. After all, is it really fair to blame these companies for the incompetence of their competitors?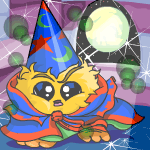 At this point, you may be asking, "Well, how did such a huge gulf in the economy come about in the first place?" Many of you will remember that, last week, we mentioned a quintet of companies whose shares were currently between thirty-four and sixty-seven NPs. These five companies had risen up to form a sort of "second tier" within the economy. As you take a look at those five companies now, every single one of them posted a double digit loss this past week. The Neopian Auction House lost twenty-four NPs a share, falling from sixty-seven to forty-three NPs, while Korbat Cricket Supplies fell twenty points of their own, from forty-five to twenty-five NPs. They were joined by The Shoyru Company and The Chia Actor's Guild, which fell eighteen NPs, and Health Frog Groceries, who dropped sixteen points themselves.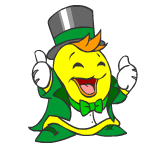 As a result, there is now a huge difference between the "haves" and the "have-nots" of the Neopian economy. With the demise of those five companies, anything resembling an economic "middle class" has pretty much gone up in flames. The question that we're left with now is, "If the dominance of Peophin Water Parks and Shop Wizard N-Commerce really IS responsible for the sad state of the economy, then will the Neodaq continue to suffer unless a suitable competitor materialises? Or will these two be able to carry the entire economy on their backs, regardless of whether a handful of companies rise up to pose a challenge?" We'll just have to wait and see....