Editorial
How do I get to the Gourmet Food Club?
Click on 'Pet Central' and then click on the 'Gourmet CLub' link under the competitions heading.
Does Adam always wear a blue shirt?
Well he doesn't always, although he has got an extensive collection of blue t-shirts :)
Can all Pizza be eaten once slice at a time now? Or is it just Chocberry Pizza?
No, only Chocberry Pizza, Yummy Cloud Pizza, Chilli Deluxe Pizza and Garden Fresh Pizza can be eaten slice by slice.



I checked the News Section and it said that Adam had hit 5 billion NeoPoints on frozen accounts, etc. Do you take NeoPoints from the frozen accounts or do you just add it up?
The Neopoints from frozen accounts are deleted, they are not given to anyone. We do keep a running tally of how many Neopoints each person has relieved cheaterS of, this is what Adam was referring to.
Is it true that Adam is tired of Neopets and Neopia and so the changes to the Shop Wizard, the Stock market, et al, is actually designed to drive people AWAY from the site?
No, those changes are to keep Neopets balanced and fun. If it was too easy everyone would have millions and what would be the point of playing.
Are you going to add robot pets to the draw your pet section?
Yes, eventually. We also want to add Faeries to it as well.
Are there any plans to bring back the Tonu for a limited time?
The Tonu is still given out to a lucky few. You just need to be at the Omelette at the right time.
Does the Hidden Tower move from place to place after so many days?
No, once you know the location of the Hidden Tower you can always get to it.

Is there any way, besides getting zapped in the secret laboratory, of changing your pet's gender?
Yes, there is a 'Strange Potion' that will change your Neopet's gender.

Can you use items like The Flotsam Starblade on a Wocky or any other pet?
No, it can only be used by a Flotsam. If a battledome item has a specific species in its name, it can only be used by that particular species.
Can you change other species of pets into a mutant Cybunny?
Yes, you just need to get hold of a Cybunny Transmogrification Potion.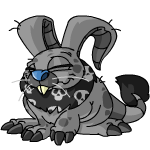 I heard that Neopets will be dividing their players into two groups, the 18+ will get their own section that allows ANY chat, and ANY picture uploads that would be considered inappropriate now, is there any truth to this?
No, none whatsoever. Neopets is a family friendly site and will always be that way.
What does a Kauvara's Potion do?
Kauvara's potion does many things, it can increase the number of hit points your pet has, take your Neopet up a level or two, cures diseases, and can make your Neopet stronger in the Battledome.
Does the Starberry really turn your pet Starry or is it a scam?
No, the Starberry is just a rather delicious tropical fruit. It has no magical powers!
Why do people charge high prices for items when they know people aren't going to buy them when they are really expensive?
Some people like to have items in their shops that people can't buy. Its a way to show off to their friends all the cool items they have got hold of. Other people are just greedy and like to see if anyone will buy something even if it is way overpriced.
Does a Magical Tomato and Pepper Omelette really turn your pet into an omelette?
No, it doesn't turn your pet into anything and it can't can be fed to your pets more than once. I have no idea what is so magical about the whole thing!
---
Need more help?
If you have a question that you think should be answered here, e-mail it to editor@neopets.com. The most common questions will appear here next week.