art by antibassist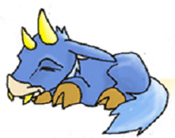 Zeus the Fangy carefully laid himself down in the sun to nap. His old body ached, tired from doing chores for his owner Sable. To Zeus, slumber was his only sanctuary from his cruel, cold-hearted abuse. He smiled as he slowly closed his eyes.
"Sleep…" whispered Zeus with a sigh.
"Zeus?" yelled Sable as he walked through the house, "Zeus, where are you?!"
Zeus cringed as he heard his owner calling his name. He could hear the stomp, stomp, stomp of Sable's heavy black Tonu feet as he got closer and closer to where he lay.
"There you are Zeus, come on get up, its playtime," said Sable.
Zeus looked up at Sable with big sad eyes, "No playtime… sleep…" he mumbled.
"I don't think so Zeus, you know the routine, now get up," said Sable persistently.
Zeus laid his head back down and closed his eyes. He was so tired he could barely move.
"Sleep…" whimpered Zeus.
Sable growled in frustration.
"I said get up!" shouted Sable.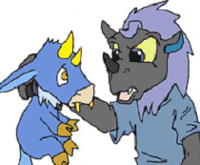 Suddenly, Sable lifted his foot and kicked Zeus across the room in anger. He crashed into a bookcase then landed on the hardwood floor with a thud. Zeus gritted his teeth against the pain as he opened his eyes in time to see Sable reach for him. Sable grabbed Zeus by his collar and lifted him off the ground.
"Now you listen very carefully, I own you. Without me you would be nothing, just some homeless petpet living in the street. I took you in and gave you a nice home, I made you who you are and I can certainly break you," said Sable.
Zeus trembled in fear as his owner scolded him. He tried to listen, but all he could hear were his own thoughts crying in his mind.
So… much… pain…
"When I tell you to get up, you better get up, is that clear?"
Pain…
"I said is that clear!?" shouted Sable.
"Yes…" answered Zeus, his voice cracked as he held back tears.
Sable narrowed his eyes at Zeus then tossed him to the floor.
"Good, now come along, the wagon is waiting for you," said Sable as he turned and walked away.
Zeus's head hung low as Sable strapped a makeshift harness around his chest. Sable then climbed into a red wagon, it whined under his weight. Zeus turned to look over his shoulder only to feel the sting of a whip cracking on his face.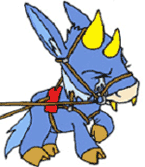 "Giddy up Zeus, the other Neopets at the playground are waiting for me and I'm already late," shouted Sable.
Zeus trudged forward with all his might. He could hear his little heart beating wildly in his ears. Sable cracked his whip over and over, shouting for Zeus to pull faster and faster, but all he could hear was his little heart beat. Zeus closed his eyes and gritted his teeth against the pain. Tears flowed from his eyes and sobbed with every step.
Pain… pain… pain…
Suddenly, Zeus heard a different voice whisper in his thoughts…
Sleep…
Time stood still as Zeus collapsed, motionless on the ground.
***
Sable sat surrounded by his friends at the playground.
"Sable, I heard you lost your Petpet the other day," said a green Lupe.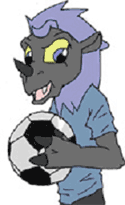 "Is it true Sable, is Zeus really gone?" asked a blue Grarrl.
"Yep, it's true, that sorry Petpet is pushing up daisies as we speak," boasted Sable.
"Sable, how could you say something so mean, Zeus was your friend," said a red Kyrii.
"Bah, that Petpet was worthless. He was old, weak and stupid, he couldn't even speak right. If you ask me, I'm glad he's gone," said Sable with a laugh.
Sable picked up a soccer ball, "Come on lets play soccer now!" he said.
All the other Neopets got up and started chasing after Sable. Suddenly the green Lupe tripped him and stole the ball. Sable laughed and looked up, but then screamed in fear. There, looking down at him, was Zeus. Sable backed away in horror as Zeus took a step closer and closer. An evil grin spread across his face as he watched Sable cower in fear. Sable could hear Zeus's voice in his mind.
Love… you never loved me…
The other Neopets turned around in shock and ran over to Sable.
"Sable, what's wrong?!" asked the Grarrl.
"Zeus! He's… he's back!" shouted Sable as he pointed a Zeus.
The other Neopets looked to where Sable was pointing, but saw nothing.
"Sable, there isn't anything there," said the Lupe.
You never loved me… All you ever did was make me feel pain…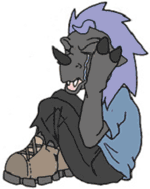 "He's there, don't you see him?! Don't you see him?!" shouted Sable in fear.
Sable screamed in terror and ran for the playground. He crawled into the play tubes and covered his ears.
Pain… endless pain… Now you shall feel pain, too…
"No… shut up… shut up!" shouted Sable.
Sable looked up and there in the tube was Zeus. He gasped in horror as Zeus walked closer to him.
Now you shall feel pain, too…
"No, don't do this Zeus! See look, I'm sorry I treated you so badly," screamed Sable.
Sable screamed in pain and horror as he blacked out. There was nothing but darkness around him. Sable could see Zeus's face surround him repeating the same thing over and over again.
Too late…
The ambulance orderlies pulled Sable out of the play tubes kicking and screaming in fear, babbling nonsense. They strapped him in a straitjacket and tossed him into the back of the ambulance.
"Don't you see… don't you see?! He's back… Zeus is back… back from the grave!" shouted Sable as he laughed hysterically.
"Yeah, sure he is kid," mumbled the orderly.
The orderlies climbed back into the ambulance
"I hate to see these things happen, especially to children," said one orderly.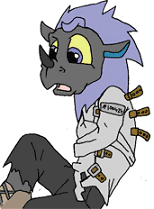 "Well, at least he will have a nice, calm place to stay with gentle Neopets who will love and care for him," said the other orderly.
Sable leaned against the padded walls and chucked at himself.
"Care for me..." mumbled Sable with a chuckle.
Suddenly, Sable started screaming as he backed into a corner. There hanging on the barred windows was Zeus. He had an evil grin on his face.
You shall feel pain too…
The End