Your questions answered!


Read the answers to the most commonly asked Neopets questions this week in the Editorial section. Each week the most popular questions will be answered by one of the creators of Neopets, so keep checking back to stay updated.


---
Quote of the Week
There actually are reasons for opposing Sloth! This astounded me! Okay, they obviously aren't good reasons, but there is some motive to be unsupportive of Our Master.
---
| | |
| --- | --- |
| It's Saturday, and raining outside. Homework finished, you're lounging in your desk chair, staring at your user lookup. Unpainted, non-rare pets, no HTML, barely any secret avatars, and no trophies. "How do I make it better?" you say aloud, not caring if anyone hears you. Well, here it is, a guide to finding out what you want to do with your account! | You can be stuck on whether or not to you should buy the secret laboratory maps, or just buy the paint brush! So, I wrote an article that explains the pros and the cons of buying either item(s). You should read this before you go out and buy your paint brush or your secret laboratory maps, because this may or may not change your mind... |
Are Guilds Safe?




Now listen carefully, my friend, for what I have to say may save you and your owner from destruction. Let's start with the basics: What are guilds? Well, they claim to be a place where people of similar interests gather to chat and make friends. Right? WRONG. If this is your idea of what a guild is, then you have fallen under the deception that has ensnared countless thousands of innocent owners and their pets...
---
Other Stories
"A Memory of Lutari Pond: Before the Discovery" by verahearts3
Luna rested her head on the log and soon fell asleep, thinking about her wonderful home where Lutaris swam free. No Neopet in Neopia had found out about her, her friends and family, or her world. Lutari Pond was protected in the largest of forests, in the heart of it, protected by the trees. Still, Luna also worried...
"Sweet Dreams" by gryphani
Several robots were walking their beats as automatic sentries. Above the Grundo was a smooth sphere of otherworldly gel, giving off a green radioactive luminescence. Her fearful eyes turned back to the figure in front of her. In his hand he held a beaker of a bubbling, putrid-smelling, disgusting green substance with flakes of nauseous yellow drifting in it...
"Faerie Vs. Electric" by sdcayklsjc
I sighed and walked slower. Why did I have to be the one to try out the Lab Ray? My brother deserved it more. I liked being a yellow Wocky, and I did not want to change! Not even one stat! I have always wanted to be painted faerie, but I would rather be yellow than be zapped by the lab ray. My owner, Tiffany, grew excited as we approached the Secret Lab...
---
Search the Neopian Times


---
Great stories!
---------
---------
---------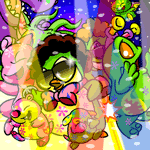 Finding Your Forte
Well, here it is, a guide to finding out what you want to do with your account! As the title says, this is for finding your forte on Neopets and exercising it to the extreme.

by spidrgrrl2004
---------
---------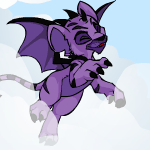 The Path to Freedom: Part Six
"I would like to say that with me as ruler of Neopia, I will make life better!" said Clara at yesterday's speech. She also promised to get rid of Sloth, Jhudora, Darigan, and all the other evils in Neopia...
by
bathschool123
---