Your questions answered!


Read the answers to the most commonly asked Neopets questions this week in the Editorial section. Each week the most popular questions will be answered by one of the creators of Neopets, so keep checking back to stay updated.


---
Quote of the Week
When I walk down the concrete or flattened grass paths of a certain Neopia Central park, it makes me so proud to hear the voices around me that no longer whisper: "There goes that man and his kite."
---
| | |
| --- | --- |
| It's that time of year again. The end of this month brings us the Grundo Independence Day, and a day after, as if to add insult to injury, Mutant Day is observed. With these two holidays in mind, I've decided to bring you an article discussing a very particular pet. My goal is to dispel most of the myths and misconceptions this pet has garnered over the years, and who knows, maybe even convince you to take one home with you in these two special days! | Whether they have been an elderly knitting aficionado for years or are a youngster wanting to get into the craft, this guide is sure to feed any knitting urges. The Top 10 Gifts for the Knitter in Your Life has been created to give you ideas for gifts for someone in your life who has caught the knitting bug. This guide offers a great range for a Neopian with any sort of budget. From books to supplies to wearables, we cover everything in the knitting community. |
What To Do?




If you're a resident of Neopia it is safe to assume that at some point you will find yourself in the familiar embrace of Neopia Central. Though Neopia Central is considered to be "modern Neopia" it often goes overlooked in favor of the more exotic lands of The Haunted Woods or Faerieland. Whether you are a resident of Neopia Central or a visitor you may find yourself asking; what is there to do here?
---
Other Stories
"Team Mutant" by hshtagcoffee
Neovia is nice in that it's home with a hint of sophistication. Part of the Woods in everything but name, it's a quiet haven within the safety of home's walls. Unlike his brothers who had come to the Woods much later than him, he can remember a time when the town hadn't quite been rediscovered and yet hardly remembers life without it. The tamer hustle and bustle than that of the Fairgrounds. The friendly inhabitants with a Haunted Woods twist. Neovia is a shining gem nestled within a diamond in the rough. Everything about it fills him fuller with pride for his home. Even better is its familiarity and comfort with its neighboring residents. He doesn't receive the looks so common anywhere else outside of the Woods. Not from Neovia natives anyways, although the classy atmosphere makes it a hotspot for out-of-towners who otherwise wouldn't step foot in the Woods. That's the thing that gets to him. Their looks that say so much more than they'd ever dare aloud. As if he and his brother and the others like them who call this place home are out of place. Intruding by daring to exist so blatantly. "I tried to get a reservation for Friday at that cafe we like," he overhears, not really intending to eavesdrop but certainly not trying his hardest to ignore it. From beside him, he sees Ray's ears perk in interest. By nature, they're both busybodies. For them, there's not much better than pet watching in Neovia on an early fall afternoon. Yaz, tucked between them on the bench they'd claimed as their own this morning, tunes in at their interest. He seems less inclined to care about the going-ons of other pets though Jax couldn't say if that came from his age or his general disposition. The culprit is a Cybunny, bright flowers blooming from her neck contrasting so abruptly with the muted tones of the town's natural flora. He can hear Yaz identifying the species under his breath, ever the enthusiast. They don't see a whole lot of tropical flowers around here and Yaz has spent very little time out of the Woods. Her companion, an Eyrie beautiful like the night sky, hums in acknowledgement and encourages her to continue. They make quite a picture, popping from the diluted background of town. Jax can't help admire them in their uniqueness. They stand out here but they are beautiful and he appreciates beauty in whatever form it presents itself.
"The Untold Tales of Dr. Death" by vaeneficus
It was early August, and the last days of summer were setting upon Neopia. With the heat subsiding and the leaves beginning to turn colors, the change had come as a welcome relief. The starry sky shone down upon the clearing, illuminating the campsite of Evelyn the Aisha and her friends. They had ventured out to a small forest to spend a few days in the great outdoors. She crossed her arms as the Cybunny twins began making shadow puppets on the tents with their ears. "That's nice, but we were supposed to be telling ghost stories," she reminded them. Beside her, a small voice spoke up. "But I'd rather sing songs and hear jokes," the baby Aisha said. It was Evelyn's sister, Ivy, who had made the quiet request. "I don't know any ghost stories," Hazel (that was the first Cybunny) said. "Well," her sister (Brie) replied, "I might know one or two." The other girl looked at her in surprise. "You know a story that I don't?" "Yes," Brie said, keeping a straight face. Hazel snorted. "I doubt that. We know almost everything about each other. And I know that you know that we don't know any ghost stories." She took a breath, recovering from the statement. Hazel squinted then. Her sister was smiling. "The one about the jelly Poogle doesn't count." The two debated furiously over whether or not they would tell Brie's story, but before they could make up their minds (or challenge one another to a duel) Evelyn decided to intervene. "How about I tell a story?" she said. "I have a good one saved up anyway." "What is it about?" Ivy asked. Evelyn let out a sly smile. "Dr. Death." "Yikes!" Brie said. "You mean that scary guy who works at the pound?" "The very same," Evelyn said. "You see, everyone has a story. And even someone as cruel as that didn't necessarily start out that way. Let me tell you about how Dr. Death got his mean streak." The girls gathered close, watching the flickering of the firelight across her face. "It all began at an old hospital facility, in a place called The Wellness Wing. It was a program run out of a half-abandoned hospital in Neopia. Their main purpose was helping pets who couldn't afford treatment. They took in all kinds of cases. And some got better, while others just vanished, never to be heard from again. To this day, some of them are still unaccounted for."
"The Moach and the Mage" by apothecary
Everyone knows each sorceress, wizard, mage, and magician has a familiar: a focal point and animated guide through which they channel their mystic abilities. Every famous Neopian magic-user has had a hidden companion, imbued with a special energy, that allows them to expend beyond their fair share of magic. Some sorceresses, like Jhudora or Illusen, have great and powerful creatures as their magical foci, famous petpets aged for centuries that have conquered trial after trial alongside their faeries. Others, such as Kauvara, who took after her uncle Klum the magician, have familiars that have remained secret. Nevertheless, every magic user has had a helping hand, an assistant if you will, who protects and adds to the capabilities of their masters. It was only a matter of time, once a young Neopet had begun their magical training, that they would need a companion to help them progress in their studies. Many would run to the Petpet Stall in Sakhmet or the Winter Petpet shop in Happy Valley to meet the dozens of petpets there, and find one which resonated with their magic. It was a coming-of-age ritual every spellcaster looked forward to. Today was the day for one such mage, a young Kougra named Xander. He had been waiting for months, training at the Pirate Academy and receiving his abilities in Faerieland, and he knew that now was the time for him to gain a companion to continue his training alongside him. Excitedly, he went to the first petpet shop he could find, Krawk Island Nippers. He dug through his pockets, looking for leftover dubloons, and excitedly stepped inside, smiling brightly at the shopkeeper. The older Kyrii grinned toothily at Xander, leaning forward on the counter. "Have you come to find a companion, little one? Someone to share in your adventures, perhaps?" He gestured at the pens surrounding him, and the myriad of petpets within. Xander nodded excitedly, clapping his paws together. The Kyrii chuckled, and pulled out a blue stepstool from behind the counter, handing it to Xander. "Get a feel for the little ones, then. Don't be shy, only a few of 'em bite." Immediately climbing on the little stool, Xander began to peer into the pens, eyes widening as Weewoos, Blibbles, and a particularly curious Farnswap sniffed him curiously. He examined them closely in return, even going so far as to extend a bit of his magical essence to brush the small creatures, but felt no returning tug or feeling of "rightness".
---
You Gotta Check Out The View!


This week's issue is brought to you by: Tyrannian Plateau
Search the Neopian Times


---
Great stories!
---------
---------
---------
---------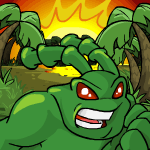 In Defense of Mutant Grundos
It's that time of year again. The end of this month brings us the Grundo Independence Day, and a day after, as if to add insult to injury, Mutant Day is observed.

by snail_speed
---------
---