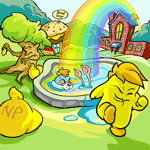 What To Do?: Neopia Central

by trixietrotter

--------

If you're a resident of Neopia it is safe to assume that at some point you will find yourself in the familiar embrace of Neopia Central. Though Neopia Central is considered to be "modern Neopia" it often goes overlooked in favor of the more exotic lands of The Haunted Woods or Faerieland. Whether you are a resident of Neopia Central or a visitor you may find yourself asking; what is there to do here?

Neopia Central is the bustling heart of Neopia, it is the center of commerce and the gateway through which we all entered the Neopia world. It is often taken for granted but Neopia would not be where it is today without the bright and friendly attitude the city offers to us all.

ATTRACTIONS:

There are many attractions located within our beloved Neopia Central.

Movie Central: The local movie theater and arcade in Neopia Central is the Movie Central. Your pets can come to watch short videos, play games, and even enjoy some concession snacks, all free of charge.

-

The Money Tree: The Money Tree is available to assist down-on-their-luck Neopians by offering donations. Of course, those more fortunate citizens can donate items directly from their inventory or can stop by the tree itself to offer a few Neopoints to those in need.

-

The Art Center: One of the more overlooked areas of Neopia Central is the Art Center located behind the Chia Statue next the the Rainbow Pool. The statue leads you down to the Deep Catacombs where the bustling underground Neopian Art movement resides. At the Art Center you can Learn How to Draw, try your hand at the Poetry Contest or take a trip through the Art Gallery. You can even grab the latest issue of the Neopian Times!

-

The Rainbow Pool: Probably one of the biggest draws to visit Neopia Central is the Rainbow Pool. At the Rainbow Pool users can use Paint Brushes to paint their pets or petpets any of the many fashionable colors available. Users can also view all the available colors and how they appear on all the different kinds of neopets as well as all the available paintbrushes.

-

Wishing Well: You can find the Wishing Well the Plaza, just off the Central's town square. At the Wishing Well you can select an amount of neopoints and make a wish for an item. You can make up to seven wishes every day. When wishing make sure that you provide the exact name of the item you are wishing for, there is no guarantee that you will in fact receive the item, but you never know! If the well has decided to grant your wish you will be contacted via Neomail by TNT. But even if your wish is not fulfilled you can still snag a snazzy new Avatar for the neoboards by donating exactly 48,673 neopoints with one of your daily wishes.

-

Alien Vending Machine: If you come across a Nerkmid make sure you bring it to the Alien Vending Machine. Inserting a Nerkmid into the machine could anything from a rare Paint Brush to another Nerkmid to Gross Food.

-

Defenders of Neopia HQ: The legendary Defenders of Neopia make their home in the Neopian Plaza. You can stop by and sign up to help battle the Defenders many villains in the Battledome and help make Neopia a safer place. When defeating one of the Defender's foes in the Battledome used to net you a snazzy trophy for your User Lookup, but they are currently unavailable. But trophy or no trophy you can still have a lot of fun becoming a Defender of Neopia!

-

The Kadoatery: If you can the time you can stop by the The Kadoatery and help feed one of the hungry Kadoaties. If you manage to feed seventy-five Kadoaties you'll receive an adorable new avatar to use on the Neoboards. But beware, it can be quite a competition to feed one of the sweet little Kadoaties and they often have rather expensive tastes.

FOOD:

When visiting Neopia Central you have to stop and enjoy the local food.

Food Shop: The Food Shop is probably one of the most well-known shops in Neopia Central. It is easily recognizable by its exterior appearance, it's a giant cheeseburger! It's a great place to pick up some classic foods like a mouthwatering Chocolate Milkshake or a delectable Caviar Sandwich!

-

Pizaaroo: Neopia Central's local pizzeria is Pizzaroo, stop by and grab a slice of some tasty Strawberry Cream Pizza or some nice Megapepper Pizza!

-

Smoothie Shop: The Smoothie Shop provides Neopia with tasty smoothies. It is the place to go if the Soup Faerie stops by the offer you a quest for a smoothie!

-

Neopian Health Foods: If health food is your cup of teeth then Neopia Central has the shop for you! Make sure during your visit you stop by and pick up some Frozen Cucumber Slices and some delicious Veggie Lasagne!

-

Hubert's Hotdogs: The go to place for the best gourmet hotdogs in Neopia! You can find any and every type of hot at Hubert's Hotdogs!

-

The Bakery: The Breadmaster wakes up every morning to provide Neopia with fresh and delicious baked goods! Everything from cupcakes to tasty cookies!

SHOPPING:

There are too many shops in Neopia Central to name here but we can cover some of the more popular ones.

-

Kauvara's Magic Shop: Kauvara's shop is the one stop shop for any kind of magical item you need, from battle magic to morphing potions!

-

Uni's Clothing: Come here to pick up anything from wigs to glasses to dresses for your pets, no NC Cash required!

-

Zazzle T-shirts: Want a keychain to represent your Altador Cup team? Just want to rep a Neopets T-Shirt in real life? Find the Zazzle shop in the Neopian Bazaar and ask a parent to help you out!

-

NC Mall: The ultimate location for clothing and accessories to dress up your neopets! The NC Mall is filled to the brim with the newest trends. Talk with a parent about setting you up with some NC Cash so you can shop the latest fashions.

There's too much in Neopia Central to cover here, but that just leaves more for you to discover yourself. Now that you know some of the hotspots and fun attractions of Neopia Central I'm sure you're itching to get out there and explore. So get out there and go have fun playing Neopets!