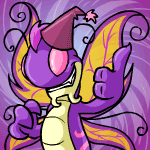 Sweet Bites: Buzz Day!

by silvernightingale

--------

It certainly may be the month of Sleeping, but our agile winged friends undeniably continue to live up to their namesake! Indeed, the Buzzes are perpetually in motion, dazzling everyone with their natural aerobatic skills. It is such a wondrous sight to watch, truly! A sight that, I'm sure, all the Buzz owners never tire of seeing!

Regretfully, this fact is quite the opposite with regards to a sure number of Neopian fruit farmers out there, who dutifully tend their fields be it rain or shine. Surely, the Buzzes does not mean to show off their fantastic skills of flight wherein they zoom to the tops of the Tigersquash trees and pluck at least three of the plumpest, most scrumptious fruits and whizz off in the blink of an eye, merely leaving the energetic buzz of their wings before stumping the farmers on the whereabouts of the literal fruit of their labour. No! Indeed not! It's merely their healthy appetite for all things berry and fruit! And so, ever the responsible Buzz owners that we are, we should ensure to enlighten our eager flying companions of their sweet craving. And what better day to dote on them than on the very exceptional Festival of Buzz!

Here are just some of the sweet bites that we can offer them on this joyous occasion:

1) Berry Buzz Ice Cream (Estimated at 600 NP and available in the Neopian Fresh Foods)
This is definitely one of the best treats any Buzz owner could possibly get their delightful pet on the day of the festival! It's sweet! It's berrylicious! And it's artistically made in the shape of a Buzz! But do be quick to purchase them because they get cleaned out pretty fast, especially on this celebrated day. And it's with reason, too! The mild taste of the wafer atop the scoop is in great contrast with the sweetness of the ice cream itself. It is such a delight to both the eyes and the palate.

2) Honey Topped Buzz Sundae (Estimated at 1,000 NP and available in the Neopian Fresh Foods)
Now this one has the more traditional fruity ice cream flavours that the Buzz would surely enjoy! Would you just look at the colourful presentation? The redness of the strawberry scoop is sure to lure anyone in and the green and yellow apple flavours gives a very distinct contrast to this sundae. Now just add up the generous drops of honey on top and we get ourselves a very content Buzz!

3) The Variety of Buzz Gateaux (Estimated at 1,600-2,200 NP and available in the Neopia Bazaar Bakery)
Listed in the order of their estimated price, the Strawberry Buzz Gateau shows off layers of creamy, mouth-watering strawberry mousse sandwiched between fruity strawberry jam and rich strawberry icing! If your Buzz yearns for berries the most, then this sweet bite is just the treat you're looking for! Seriously! A dessert can not get more strawberry-licious than this! If the flavour is not for your Buzz, then worry not! The Neopian Bazaar Bakery also features the Lemon Buzz Gateau. Now that one is baked especially for the Festival of Buzz! What a way to celebrate! We owners can also celebrate along with our pets with the Chocolate Buzz Gateau! It's a hefty chocolate sponge cake smothered with the most delectable chocolate icing. Who can ever resist such a temptation? And last but not the least is the Blueberry Buzz Gateau, which is a very special sweet bite in this category because instead of the usual sponge cake assembly, it boasts of its very nice and light blueberry mousse. This particular treat would quickly fill up your pet but will not make it feel overly bloated despite its generous serving size. They surely think of everything!

4) Crunchy Buzz Honey Delight (Estimated at 2,900 NP and available in the Neopian Fresh Foods)
Yes, yes. Our pet Buzz is truly an on-the-go pet—always flying off this way and that! This cereal is a good way to provide a quick and satisfying snack, fitting for their active lifestyle. The sweetness would also provide them with enough energy to keep those wings of theirs flapping as well as they search for even more sweet treats to head their way especially on their happy and fluffy festival day!

5) Buzz Honey Banana Bread (Estimated at 4,300 NP and available in the Neopia Bazaar Bakery)
If your Buzz craves something more of a tropical treat, then look no further and allow it to feast on this sweet bite! The Buzz Honey Banana Bread showcases and perfectly toasted slice of bread topped with banana and honey. Bananas mean potassium and potassium means muscular strength! And with a routine like our distinguished pet, this treat is perfect (for both pet and master alike)! Surely, we'll get what we pay for in this sweet delight!

6) Buzz Honey Lolly (Estimated at 4,800 NP and available in the Neopia Bazaar Chocolate Factory)
Unlike most lollipops, this lolly is soft. It's composed of layer after layer of succulent honey, so if it's an energy boost you're after, then you've got it in this tiny and delectable sweet bite! Just be sure to wash it all down with water once you and your pet are done. Too much of anything never proves to be any good so take extra caution in digging in to one tasty lick after another of this dessert. You've been warned! ;)

7) Chocolate Honey Buzz Bar (Estimated at 7,400 NP and available in the Neopia Bazaar Chocolate Factory)
What better way to celebrate the festival than with a treat that is especially made for the Buzz? We feature yet another one of these treats in the form of this chocolate bar! The meticulous combination of this sweet bite is sheer genius! Chocolate and honey—two of the most loved lip-smacking indulgences—rolled into one! It's sheer bliss in a bite!

8) Buzz Bread Salad (Estimated at 7,700 NP and available in the Neopian Fresh Foods)
Do not let the word salad fool you! This is not the traditional leafy vegetable salad despite the green hue. The tasty, soft Buzz tail bread cocoons the healthy green fruits of Neopia (gooseberry, zeenanna, and vinberry just to name a few) tastefully mashed together to achieve that one of a kind flavour that Buzz pets are absolutely passionate on!

9) Buzz Chocolate Bar (Estimated at 19,000 NP and available in the Neopia Bazaar Chocolate Factory)
Mister Kiko of the Chocolate Factory certainly knows his stuff! Wondering about the hefty price? Well, this gourmet sticky treat is filled with a divine melange of all the sweetest fruits that our Buzz pets just adore to consume! Let them taste this chocolate bar and Mister Kiko gives his guarantee that they shall fly off to those Tigersquash tress no more! You'll please the Neopian farmers and your pet's tummy all in one! It is a very effective way to spoil one's Buzz pet and the festival is just the occasion to splurge a little on them on.

10) Red Buzz Lolly (Estimated at 91,000 NP and available in the Neopia Bazaar Chocolate Factory)
This is yet another show of candy-making prowess on Mister Kiko's part as we show the mother of all Buzz sweet bites—the Red Buzz Lolly. Indeed, this is one of those fancy and sweet gourmet treats that would simply leave your Buzz in a state of glee as it devours this perfect morsel. The green of phear, the red of strongberry, the yellow of vinarok, the blue of agueena, and the outline of grey scorchipepper (an otherwise tasteless pepper in itself but with the cocktail of fruits abound, creates a very mellowing and binding harmony that brings the flavours together) make this Buzz treat the most unforgettable sweet bite to ever grace the world of Neopia.
And with that our list has ended but let it not mark the end of our fond treatment for our Buzz pets because if we really sit down and think about it, everyday should be the Festival of Buzz within our hearts. So share these fantastic sweet bites as well as your love with them to keep their hearts abuzz with joy!