Your questions answered!


Read the answers to the most commonly asked Neopets questions this week in the Editorial section. Each week the most popular questions will be answered by one of the creators of Neopets, so keep checking back to stay updated.


---
Quote of the Week
"Just because I have their blood in me doesn't mean I have to be one of them. It just means I have an advantage over others..."
---
| | |
| --- | --- |
| If someone asked you to name an item that could save your life, what would you say? A parachute? A slice of neopox pizza? A giant jelly that works like the giant omelette? (What a crazy idea!) Yes, those would all save you (except for the last, which is just plain crazy). But what about toast? Yes, I said toast. I have made it my life's mission to educate you on the powers of toasted bread... | We've all been there. What does it take these days to recruit members to your guild? Between beggars, annoying pop-up ads, and monotonous posts, Neopians have just seemed to have lost interest in the run-of-the-mill advertisements. So that's why I'm here--to tell you how you can be a better leader, get members to join your guild, AND get them to stay, just by following a few simple tips! |
The Rock: Inside Story




Now, something that has utterly amazed me is that people think rocks are just, well... rocks. But look beneath the rough surface... they are much more. Pet rocks like to spend their time sitting still, watching, not talking and funny enough playing. After observing rocks for quite a few weeks now, I have finally managed to write up a time table of what an average rock does every day...
---
Other Stories
"Priceless" by freefalldreams
If I hadn't been so bored, I would never have thought of playing with magic while Freefall wasn't home, but as it was, I happened to remember that there was a levitation spell in my spell book. It looked very interesting, and I'd never tried it before...
"We Could Be Pirates" by funkaneo123lala
"We could be pirates," Devin breathed, the stars reflecting in his merry eyes. The silence that followed was so eerie that the Pant Devil would curl into a ball and whimper. Devin flinched. "Oh, sorry. I'm not very funny." Silence. "It was just a joke..."
"The Eyes of Imari" by micrody
I am a Dark Faerie and my name is Imari. I reside within the Ice Caves of Terror Mountain, where many Neopians feel the need to explore. I have no wish for explorers of my abode. I left the perky, cheery clouds of Faerieland to get away from the joy...
---
Search the Neopian Times


---
Great stories!
---------
---------
---------
---------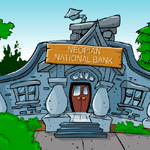 Something Fishy About the National Neopian
For those who are uncomfortable carrying around all of their money wherever they go, the bank is a haven that no words can describe. But, as with all things we respect and admire, we begin to grow suspicious as time goes on.

by queenjadia
---------
---