Your questions answered!


Read the answers to the most commonly asked Neopets questions this week in the Editorial section. Each week the most popular questions will be answered by one of the creators of Neopets, so keep checking back to stay updated.


---
Quote of the Week
"What do you mean, 'Who's Janet'?" the Korbat asked. "You are, of course." "I am?" I asked back. "Are you sure about that?" "Is Janet alright?" the Aisha said to the Bori. The Bori just shrugged and replied with, "I don't know, Natia. Let me try something." He walked closer to me. "Janet, do you remember us? Do you remember this place? Do you remember anything?"
---
| | |
| --- | --- |
| Neopia's own little music shop is located in the bustling Neopian Plaza at Neopia Central. A quick peek inside will show you dozens and dozens of instruments to select from, from sorts of shapes, sizes, and materials. If you're anything like me, it can be even be a little overwhelming at first. Luckily for you, I did a little research compiling some of what I believe to be Neopia's best rock instruments! This guide will go over all the types of instruments in your standard rock band, including guitars, basses, drums and more. | It had been a while since the BD Chat had something to buzz about. The excitement of the New BD had long worn off. The Smuggler's Cove had remained empty for years. After 15 years of barely venturing outside the BD Chat, it was time to for me to see what else this site had to offer. And with the Games Master Challenge underway I figured that would be a good place to start. With the BD forgotten, I set about playing flash games that I hadn't even realized existed. Then along came a volleyball. |
A Rockin' Guide to Neopia's Instruments!




I know, I know. You're all on your summer vacation and you can't believe there's an article about going back to school when it's the last thing you want to think about. Here's the thing though: school will come back faster than you think. When it does, you don't want to be the lone Quiggle who's still wearing a Yes Boy Ice Cream shirt, that's just embarrassing. You'll thank us for giving you all the details on the must-haves and have-nots this early.
---
Other Stories
"There Is Something In My Closet And It Is Roaring!" by applefaerie99
It was an early evening in Shenkuu. My friends, Jeulienna the Yellow Lenny and Manigolaia the Cloud Ruki and I, Zannidda, a Starry Xweetok, had just enjoyed a mouth-watering dinner together of Pirate Lupe pasta with Cheesy Onion sticks. The discussion on the table was about our favorite games from the Daily Dare, mine being Top Chip, Manigolaia's was Ice Cream Machine and Jeulienna's favorite was Carnival of Terror, loving the prizes we had earned from the Dare. We then started taking guesses on the upcoming Altador Cup. All of us had different teams we were supporting and were challenging each other on who would make it to the All-Star level first. Which team would become victorious was our main discussion, especially because I was from Shenkuu and my friends were from Terror Mountain, and we would cling to our homelands. After the big talk had its curfew, I stood up and went back to the kitchen and pulled out three giant, berries and sprinkles covered sundaes for dessert. We finished them in a rush until the last bite of each. If we sat any longer we would have fallen asleep at the table, so we decided we needed a brisk walk around the neighborhood before cleaning up the mess our friendly hang out had made in the dining room.
"The Song of the Skeith" by fleurdust
AAARRRROOOOOOOooooooooooo…. For the third night in a row, the terrible howl rippled through the darkness, freezing the blood of the friends around the campfire. The flock of Babaas stirred in their sleep, and a few awoke with startled bleats and jumped up in a flurry of fuzz. Amon the Chomby leapt up to tend to them. "What do you think it is?" asked Kasha the Kacheek. Her black eyes were wide and wondering. Like the rest there, all except Amon, she was Tyrannian, with a mop of untidy blue fur tangled with leaves and dirt. "Nothing to worry about," grunted Gritta, their leader. She was a huge, hulking Grarrl maiden, snout scarred from years of escorting Tyrannian travellers across the dangerous plains, and defending her flocks from stray monoceraptors, roaming Bearog packs and Babaa-rustlers. "Go to sleep." "I heard a story about a Werhond, born in Tyrammet and fed on Mutant Spyders until it got so big they had to drive it out into the jungle. It's still there, seventeen feet long and thirsty for revenge!" Lakki was an Usul, and Amon wasn't sure he liked him very much. He treated everything like a huge joke, and his eyes were small and mean. "Rubbish," said Kasha, shivering and cuddling up to the nearest sleeping Babaa. "You heard Gritta. Go to sleep." Lakki eyed Amon as the Chomby tiptoed back towards the campfire, trying hard not to wake any of the Babaas again. He took a bone from his hair and started picking his teeth with it. "What do you think, Cami?" Amon bristled, but bit back his retort. Lakki had taken to calling him 'Cami' because he was coloured Camouflage, and so stuck out like a sore thumb amidst all the Tyrannians there. The Usul never failed to remind Amon that he must be ashamed of his Tyrannian heritage, or was trying to be something he wasn't, and Amon had learned it was no good trying to argue. Lakki's tongue was quick and sharp, and his tail was quicker—more than once, Amon had lost his temper and charged, only to find himself flat on his back in two seconds with Lakki's tail wrapped around his ankle.
"The Spirit of Black Keep" by cosmicfire918
The reason he'd gotten himself into this, ArPharazonTheGolden decided, was because he could never say "no" to anything. The Faerie Draik perched on the edge of the bed in his cabin in a Shenkuuvian sky-ship, staring at the letter in his claws, not really seeing the words so much as coming to the realisation that he was hopelessly wishy-washy. He'd go along with anyone just to avoid a quarrel—and even then he'd end up petering out somewhere along the way, retreating to the safety of merely existing. Really, he just wanted to sit and read all day. No adventures for him. The world was so much safer from the library of his family's Neohome. With a sigh, Pharazon glanced out the porthole. It was late afternoon and the sinking sun was turning the clouds golden. A beautiful time of day, by anyone's standards, but it also meant soon he would have to venture to the dining room on the upper decks for dinner. He scowled and tucked his knees to his chin. He hated travelling, and he hated travelling alone even more. But Celice had been too busy to come and pick him up from Altador— Pharazon looked back at the letter in his hand and wished the Weewoo that delivered it had been waylaid. But no, here it was and here he was because, in true wishy-washy fashion, he had heeded its demands. Laying back on the mattress, he read the paper for the umpteenth time.
---
Search the Neopian Times


---
Great stories!
---------
---------
---------
---------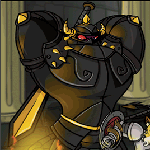 The Spirit of Black Keep: Part One
The reason he'd gotten himself into this, ArPharazonTheGolden decided, was because he could never say "no" to anything. The Faerie Draik perched on the edge of the bed in his cabin in a Shenkuuvian sky-ship, staring at the letter in his claws, not really seeing the words so much as coming to the realisation that he was hopelessly wishy-washy.

by cosmicfire918
---------
---