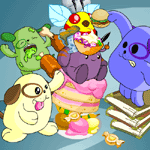 Celebrate Neopets 24th Birthday with these 24 Petpets

by tamimarieb

--------



It's Neopets' 24th birthday and you might be heading to some parties through Neopia. Don't forget to bring a little Petpet friend along with you for a great time celebrating Neopets' turning 24. It might be a hard decision when deciding what friend to tag along with you so, to make life easier we ranked 24 Birthday Petpets that will be perfect to bring along to any party you're attending.

1. Birthday Flowper: I mean look at them. A Birthday Flowper has a little adorable hat with a party blower in its mouth, ready to go. Take your Birthday Flowper to any Neopets' birthday bash because they are ready to celebrate and you know they will have a great time.

2. Birthday Doglefox: There are steamers, cake, and party supplies, what more do you need with your Birthday Doglefox? This little Doglefox will supply you with all you need for a party and have a blast attending any party with you.

3. Birthday Slorg: Look at that smile! Birthday Slorg is ready to have some fun with less slime and their towering cake and birthday hat. Don't leave this little Slorg behind.

4. Birthday Icklesaur: With a Birthday Icklesaur you don't even have to worry about a present because they brought one already! Dressed in steamers and party blowers, the Birthday Icklesaur will know how to have a fantastic time at any party, gift in hand.

5. Birthday Erisim: Who needs the cherry on the cake when you can have a Birthday Erisim on top of your cake?

6. Birthday Mazzew: Hope you like frosting because a Birthday Mazzew will bring a lot of it with them to your Neopets' birthday bash. They may have had a few licks getting to the party.

7. Birthday Ona: We need party games right? A Birthday Ona will bring their very own frosting slip and slide out for all to enjoy. You might get sticky!

8. Birthday Angelpuss: Everyone loves a little surprise now and again. With a Birthday Angelpuss, you can get a cute surprise jumping out of your cupcake! Try not to take a bite.

9. Birthday Feloreena: Never coming to a party empty-handed is Birthday Feloreena. With a cupcake ready to give out and a party hat to complete the look, a Birthday Feloreena is a great guest to bring along to any party.

10. Birthday Melvie: Well, Birthday Melvie might have thought it was a costume party but they still look great for any Neopets' birthday party in Neopia. Dressed head to toe in frosting and candles, Birthday Melvie will be the life of the party.

11. Birthday Barlow: Happy to be included and follow you from party to party is Birthday Barlow. This little one has the biggest smile around and a little frosting drool that will melt anyone's heart.

12. Birthday Polarchuck: Not to be outdone in cuteness, Birthday Polarchuck is right behind Barlow for heart-melting and adorable. While it looks like this Polarchuck had a little too much fun in the cake and ice cream, they'll have a great time partying.

13. Birthday Alabriss: Birthday Alabriss will fly into any party ready to go. With a frosting birthday suit and enough energy to fill the room, having a Birthday Alabriss as your plus one is a must for any party.

14. Birthday Kadoatie: This little one might seem snarky and grumpy, but trust me, they are a great little Petpet to bring to a party. With frosting hair, this Kad is as sweet as can be for any party you two stroll into.

15. Birthday Slymook: With a biscuit exterior and a smile that welcomes all, a Birthday Slymook is perfect to be by your side. Loaded with cherries on top, a Birthday Slymook is an adorable sidekick to have.

16. Birthday Lutra: They might not always be early to the party but a Birthday Lutra will look stunning walking into any event. With a frost hat and tail with sprinkles scattered throughout, they'll instantly turn heads. Don't forget the cute cherry they're willing to share.

17. Birthday Turdle: While this little Turdle can't fit in their shell anymore, they make up for it with the stunning frosting and sprinkle outfit they wear. Topping it off with little purple accents and the fact Birthday Turdle is ready to attend any party looking their best.

18. Birthday Babaa: These guys are dressed to impress, looking like a full-blown cupcake, candles and all. You might want to bring them to a low-key party though since their outfit can draw attention and they scare easily.

19. Birthday Kookith: A Birthday Kookith is happy to follow anyone around from party to party. They are up for the task of standing by their friends all night and will keep a happy little smile on their faces.

20. Birthday Quadrapus: They're a little less slippery since a Birthday Quadrapus looks like a biscuit but they are still down to play and have a good time. Have some party games you want to master? The four arms of a Birthday Quadrapus will help.

21. Birthday Warf: A Birthday Warf is dressed to impress as an adorable cupcake but their outfit might be hard to walk around in, which will result in a lot of carrying. Regardless, they look perfect for any Neopets' birthday bash.

22. Birthday Hasee: Birthday Hasees are adorable but they're a bit lazy and love lounging around and munching on delicious food. Might want to keep an eye on all the snacks at the party.

23. Birthday Nuranna: People might mistake your Birthday Nuranna for a balloon since they can float around in the air for short periods. Don't let someone snatch and take them home.

24. Birthday Meepit: We can't deny the love from a Birthday Meepit but those eyes keep staring at us. Might want to leave this little one at home so havoc isn't caused.

All these Birthday Petpets will have an amazing time with you celebrating Neopets' 24th birthday, well except for the Meepit. Have a great time around Neopets and thank you Neopets for giving us another fabulous year of fun and celebration.