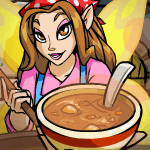 Neopia's Top Ten Must-Have Soups

by firaga26

--------

Soups. We are all familiar with the little bowl of liquid bursting with flavors and enticing aromas. In fact, the Soup Faerie hands out hundreds of bowls of soup to the starving Neopets crowding around her Soup Kitchen! Be it hot or cold, there's nothing better than curling up on your Nova Sofa with a bowl of delicious soup in hand. In this article, I present to you the top ten must-have soups in the whole of Neopia!

Let's get started!

1. Extra Creamy Soup
Presentation: The soup is served in a simple wooden bowl, which has a rough, countryside feel to it. The aroma of the soup isn't exactly very appetizing... it smells like veggies in sour cream.
Taste: A soup made by stirring leftover vegetables into hot water, adding some Kau Kau milk and heating over a charcoal fire. Although tasty enough, it has a thick texture and is generally hard to swallow, so be sure to have a glass of water on standby to wash the soup down your throat.
Rating: ***
~~~~~~~~~~~~~~~~~~~~

2. Hot Snow Soup
Presentation: Served in a bowl made of tightly-packed snow held together by magic, complete with rising steam, this soup looks wonderfully chilly. It reminds one of the snow abound Terror Mountain.
Taste: This soup packs a great sensation of hot and cold! Strangely refreshing and yummy. However, the abrupt change of cold to hot and cold again may be too overwhelming for some. May cause the color of pets to switch between red and blue for a period.
Rating: ***
~~~~~~~~~~~~~~~~~~~~

3. Chunky Mushroom Soup
Presentation: How cute, this soup is served in a small mushroom-like bowl. There are even three blue spots on its red covering.
Taste: Just like your ordinary mushroom soup, only much better. The mushroom bits are wonderfully juicy and sweet. This thin, slightly watery soup will definitely bring a smile to anyone's lips.
Rating: ***
~~~~~~~~~~~~~~~~~~~~

4. Neggdrop Soup
Presentation: This soup comes in a dark blue bowl with light blue patterns on its body. Freshly plucked herbs and neggs blended together give Neggdrop Soup its enticing aroma.
Taste: Simply marvelous indeed; the sweet negg pieces complement the zingy taste of the herbs. One of the most nutritious soups around in the whole of Neopia. Whoever said cures were horrible obviously hasn't tried this soup! Not only does this soup work wonders for your health, it's yummy too!
Rating: ****
~~~~~~~~~~~~~~~~~~~~

5. Cheesy Onion Noodle Soup
Presentation: This soup, in a dark wooden bowl, is topped with freshly grated cheese and garnished with a radish. A most appealing appearance indeed!
Taste: The perfect liquid dinner. Its presentation is nothing compared to its flavour! The soup tastes splendid, a mixture of meat and veggies. As an added bonus, thin yellow strands of noodles are included in this dish. All in all, this soup, on its own, serves as a full and satisfying meal.
Rating: ****
~~~~~~~~~~~~~~~~~~~~

6. Negg Noodle Soup
Presentation: Comes with a greenish-blue bowl and chopsticks. Appearance is very similar to that of Cheesy Onion Noodle Soup.
Taste: This soup tastes pretty similar to that of Cheesy Onion Noodle Soup too, except without the cheese and onions. However, the neggs added give the soup a rather sweet, sugary taste which is lacking in Cheesy Onion Noodle Soup.
Rating: ****
~~~~~~~~~~~~~~~~~~~~

7. Lenny Cream of Onion Soup
Presentation: This soup comes up tops in terms of appearance. It is served in a bowl the color of a Striped Lenny. The bottom is carved into the claw of a Lenny, which supports the bowl. Even the spoon resembles the feathers on top of a Lenny's head!
Taste: The soup is infused with onions and hence has a distinct hot, numbing taste. Although the appearance of the soup is great, it tastes suspiciously of garlic as well. Hmmm... it's certainly questionable as to why would garlic be found in ONION soup...
Rating: ****
~~~~~~~~~~~~~~~~~~~~

8. Cream of Tchea Soup
Presentation: The soup is served in an eye-catching Tchea-shaped bowl, topped with two Tchea leaves for the finishing touch. Even the steam rising from the soup curls up to form an image of a Tchea berry. A piping hot soup fit for a king.
Taste: Wonderfully hot and filling, this soup has the distinct, unsurprising taste of fresh Tchea berries. Combined with the richness of broth and peppery spices, Cream of Tchea Soup will knock your socks off! This is a soup for all you Tchea fans!
Rating: *****
~~~~~~~~~~~~~~~~~~~~

9. Spicy Tomato Soup
Presentation: This soup is spooned into a hollowed tomato, with the top acting as a lid. Nothing fancy or extraordinary about this presentation, but yet it has a simple, appealing charm of its own.
Taste: Red means hot! And boy, does this soup send the message across loud and clear! The Spicy Tomato Soup has a fantastic blend of pepper, tomatoes and hot spices, and it tastes out of this world! It has an extra ingredient that sets it apart from other tomato soups: Red Scorchipepper! Two slices are stirred into each bowl of Spicy Tomato Soup. Very good for curing colds and on chilly winter nights.
Rating: *****
~~~~~~~~~~~~~~~~~~~~

10. Aisha Tomato and Potato Soup
Presentation: Aww, how adorable! This soup is set in a red Aisha bowl and brims with cuteness and flavour alike! The spoon is in the shape of an Aisha's ear. Doesn't looking at the bowl alone whet your appetite for delicious soup?
Taste: The best of the lot. Pleasing to the taste buds, this soup consists of -like what its name suggests- potatoes and tomatoes mixed together in a saucepan and simmered over a slow fire for 20 minutes. Many different spices are then added into the soup to give it a wonderful aroma and unique taste. Aisha Tomato and Potato Soup leaves a heart-warming burst of flavour in your mouth that will delight your senses!
Rating: *****
And there you have it: the top ten must-have soups in Neopia! These soups rank top on the list in terms of their presentation and flavour. I certainly hope that you have enjoyed reading my article, and that it has given you a better idea of the marvelous soups that abound! This is firaga signing off. Till next time, folks!