Your questions answered!


Read the answers to the most commonly asked Neopets questions this week in the Editorial section. Each week the most popular questions will be answered by one of the creators of Neopets, so keep checking back to stay updated.


---
Quote of the Week
"My heart lies with this land, and I will not allow you, who aren't even Darigan, to send us to war."
---
| | |
| --- | --- |
| Yes, decorations. Every year on Halloween I dress up my neohome with the help of my pets, and it becomes the neighbourhood's most spooky and spectacular vision of Halloween bazaar that anyone has ever seen! Jack-o-lanterns, streamers, spooky giggling and anything you can imagine go into my display. So now, I'm taking a moment to help you, the worried but excited Halloween fan! I'm going to let you in on my secrets to a spooktacular Halloween display that will knock the socks off... | The following word will cause one (or more!) of three reactions: a) Screams b) Hurl c) Death. What utterly horrible, squishy, slimy, terrifying thing could cause such reactions? None other but fungus, of course! When most people see or hear of fungus, a disgusting, moldy granny's bathtub comes to mind. And hey, we can't blame you for recalling these sickening images. But really... in the nick of its uber filthiness, Neopia couldn't be what it is today without this stuff. Why? Allow us to explain... |
Food for the Frugal




You're saving for something and can't afford expensive Gourmet food for your pet, yet it seems awfully mean to force nonexistent jelly and omelette down their throats day after day as a meal. After day. So, you'll ask yourself, what are some cheap, but not disgusting, foods that will fill them up? Not just that cheap brown sauce or scrawny fish? Here's your answer! Not really, I'd appreciate it if you didn't eat the screen, or me. Thanks, a little safety tip before we get started...
---
Other Stories
"Memoirs of a Kad Feeder" by averryyy
Sometimes I really dislike my owner. Not hate, because hate is a strong word, but dislike. Seriously, just because I offer to kad feed for her to get the avatar, it doesn't mean she should make me keep a stupid journal about it! I mean, she should know by now that I totally do not like writing!!! I complain about it enough. So she stomped in all grumpy, like...
"My LAST Shopping Trip to Neopia Central" by dave_ofwales
The wagon stopped abruptly, and who should open the door but some fool in a blue costume. Called himself the Pant Devil! Of course, I was in no position to challenge his integrity, and he demanded the item I held in mental contemplation. Now the simpler sort of folk would do as he asked, but being educated I knew how to solve this...
"Assuming" by champ100543
I would have neomailed more but I've been so BUSY. Maybe you have, too, but couldn't you throw together a neomail every now and then? Remember last Halloween? We dressed up like vampires and ran around scaring the little kids and egging old people's houses. It was really fun. We ALWAYS spend Halloween together. Why didn't you call and make plans?
---
Alas, Poor Alpine Challenge


This week's issue is brought to you by: Game Graveyard
Search the Neopian Times


---
Great stories!
---------
---------
---------
---------
---------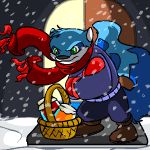 Cold as Snow
He regarded the short pink Xweetok in front of him. For a minute it seemed like he wasn't going to answer her at all, but then he spoke in an icy tone.

by punctuation_ninja
---