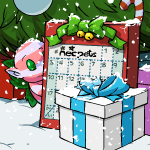 All About the Advent Calendar

by babygirl122187

--------

Also by layeredcrazy

Can you believe it, fellow Neopian? The winter season has sprung upon us and the end of the year is not too far away. Luckily, the month of Celebrating is a jolly time indeed. Throw on your Candy Cane Hat and get ready for some fun. It is time for one of the most anticipated events of the year: the Advent Calendar! Everyone enjoys the many surprises of the Advent Calendar. Several new items get released, all of which are cuter than the last. Collectors may find this time to spice up their collection. Avatar collectors anxiously await this event in hopes that seasonal avatars are rereleased. Neopians across the world awake in the early mornings to visit this special place and be welcomed with a wonderful surprise and a sack full of goodies. It is a jolly good time indeed for everyone!

But what IS the Advent Calendar?

If you have traveled the wonders of Neopia for over one year, we are sure you already know about the many joys of this event. If you are rather new or would like to spice up your knowledge, you are in the right place! The Advent Calendar runs all throughout the month of Celebrating. You can visit starting on December 1st all the way through the 31st once per day for a wonderful surprise. You can visit the Advent Calendar by journeying to Terror Mountain and clicking on the Advent Calendar. Upon visiting the Advent Calendar, you are greeted with a heart-warming (or silly) animation and the ability to collect a daily prize. When collecting your prize, it can be anything from some holiday treats and Neopoints to possibly a Neocash item! It is even rumored that you may be able to collect a secret avatar during the event. There are all kinds of wonderful goodies that you can load up on so be sure to visit it every single day! Since this event gives out Neopoints and/or Neopoint items, remember that you can only visit the Advent Calendar on your main account.

History of the Advent Calendar

Although we are unable to get news from year one, we have confirmed that the Advent Calendar has been available for quite some time! From the December 1st update on Year 2, "You haven't forgotten to collect today's prize at the Advent Calendar have you? Tut tut! You can collect the prize by going to Happy Valley and clicking on the Advent Calendar link." This means that we have had over ten years of Advent Calendar fun! The earliest prize that we have found was on December 1, 2000. "You find 200 Neopoints!!! You find a Wet Snowball!!!" Luckily, the prizes have been getting better every year. Starting in Year 4, if you visited the Advent Calendar on December 1st, you were awarded the Plastic Fir avatar. This avatar has since been available seasonally but could always be subject to change.

Best prizes given out

The real reason most people "waste" their time visiting the Advent Calendar every day in December is because it's actually not a waste at all! You can get some very profitable items from it. I have compiled a list of cool, and in some cases, expensive items that TNT has handed out for free over the years to show their appreciation.

December of 2000 was the earliest that we have found that prizes were first recorded. Can you believe that the Advent Calendar has been around for so long? While the items vary each year, they all are generally holiday-oriented. You never know whether you are going to get a Christmas Tree Negg, a Holiday Shopping List, or maybe something extra special that hasn't even been released yet! In that December of 2000, there were quite a few nice items handed out with a total of 17,100 Neopoints over the 31 days. Some of the better items given out were an Orange Negg, a Rainbow Negg, a Blue Negg, an Ultimate Icy Negg, and an Icy Negg. On December 25th, you would have awoken to a nice gift under your holiday tree. You would have found 2,000 Neopoints, a Turkey Dinner (Yum!) and a Christmas Paint Brush! On December 26th, you would have found 1,500 Neopoints, another Turkey Dinner (leftovers, I assume) and a Christmas Tree Negg.

In the years to follow, there was a range of 13,780 – 24,887 Neopoints given out. During these years, most of the prizes were fantastic! Some of these prizes included a Snowbunny, Two Dubloon Coin, Year 5 Stamp, Christmas Petpet Paint Brush, Seasonal Stamp, Ring of Sloth Stamp, Snow Petpet Paint Brush, and another Christmas Paint Brush. Stamp collectors must have been especially thrilled with all of those r101 stamps! These stamps are excellent collector's items. Most items that the Advent Calendar gives out are r101 or (now) r180. They are all brilliant items to stash in your safety deposit box as many of these will not be released again.

This year also included a fun tradition. Everyone knows that it would not be December without TNT's nearly annual Holiday Hoax. When you collect your daily prize and you see a "You also find a Rod of Supernova!!!", it will be most likely be followed by a "... and as you to go pick it up, the Pant Devil snatches it and flies away. Boo hiss". Oh TNT, why must you taunt us so?

What Can We Expect This Year?

Even though nothing on Neopets is ever set in stone, we are still crossing our fingers that this is one annual event that will never disappear. You will awake daily to get several cool new items, possibly an avatar or two, and you can definitely expect to receive a lot of wonderful items to add to your collection!

Hopefully, you are now educated enough about the history of the Advent Calendar to make this year's season extra special! Grab your Gingerbread Sled and ride it down Terror Mountain to begin the many joys of collecting your daily prize at the Advent Calendar!