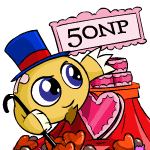 Feel the Love

by cheeseworld101

--------

On Valentine's Day, one of the most popular things to do is to show your friends on Neopets how much you love being their friend. One of the most popular traditions is to send someone a Valentine, a special name for a letter derived from the name of this date. However, many people love nothing more than receiving a little trinket from a friend that says how much their friendship is cherished. This Valentine's Day, you may want to do the same; it only takes a short amount of time to send over a small gift to a friend. But wait! Here's the problem: you don't know what to buy! There are so many different items in Neopia, but finding the right one can be difficult. This is why this guide is here for you; you can find some popular items right here in this guide to buy for your friends without having to search everywhere.

Go ahead: read on. I've listed various items that are perfect for the occasion. All you have to do is search the item of your choice with the Shop Wizard and then send it right over.

1.) Valentine Rose Bouquet
A fun bouquet with a cute little balloon.
Nothing says more than flowers, of course! This pot of flowers is consistent with the color theme of Valentine's Day. This item is something sweet and sentimental that is perfect for a very good friend. Many items suited to this holiday are less expensive, however; you should be sure that you are sending this to someone very special to you.
Estimated Cost: 50,000 Neopoints

2.) Oozing Chocolate Heart
This oozing heart is filled with a tasty cherry filling!
This item is very well suited to a friend who you may not have known for a long time, or who you simply don't know as well as some of your other friends. This item is much cheaper and is quite nice for someone who wants to send his or her friends something nice, but doesn't want to spend much money.
Estimated Cost: 700 Neopoints

3.) Instant Roses
Grow your own roses with these fantastic seeds.
The Instant Roses item is yet another item that is good for a newer friend who you don't know extremely well. It's a simple gift, but it is very appropriate for Valentine's Day. This item says, "Thank you for being a nice friend!" without being too expensive or flashy.
Estimated Cost: 800 Neopoints

4.) Heart Shaped Box of Toffee
This delicate box is full of delicious toffee.
If you have a best friend or someone who is very special to you, this is a great item to send over. This item truly shows that you think the person who you send the item to is special to you and it is one of the most popular Valentine's Day items. If you don't mind spending a little extra for your friend, I recommend this item especially.
Estimated Cost: 18,000 Neopoints

5.) Pretty Pink Pillows
These fluffy pillows make any bed just that much more fluffy.
If you are looking for a more creative way to express your friendship with someone, this item is perfect for you! This item is not specifically associated with Valentine's Day; your friend will appreciate an item that is a more unusual gift but still sends the same message as many other Valentine's Day items.

6.) Pink Knit Purse
This darling hand knitted purse is simply charming.
Yet another creative idea for Valentine's Day, this item is perfect for a gift for a good friend. Its price is moderate, so you can buy it for almost anyone and you don't have to worry about spending too much. The great thing about this item is that it is wearable, so your friend can customise his or her pet with it; it won't lie in a safety deposit box or gallery like other items.
Estimated Cost: 7,000 Neopoints

7.) Valentines Negg
What better way to tell someone you love them than with a Valentines Negg?
I feel that this item is one of the most wonderful Valentine's Day items. It's a very beautiful item, and it really embodies the fact that you care for the person you are sending the item to. Although slightly more expensive than other items, this is a wonderful thing to get for very good friends; they will appreciate your gift very much.
Estimated Cost: 25,000 Neopoints

8.) Gold Valentines Ring
This intricate design has little diamonds interwoven into it for extra sparkle.
This item should truly be saved for someone very special to you. It is a beautiful item that shows you care very much for the lucky person who receives this item. If you send this to someone, it means that the person is extremely special to you. I recommend choosing only one person to send this to.
Estimated Cost: 50,000 Neopoints

9.) Bottle of Love
This stylish glass bottle is filled with hundreds of red paper hearts.
Probably the second most popular item for Valentine's Day, the Bottle of Love is an obvious choice for a gift. If you feel like sending an item over quickly and you can't decide on just one, this item is the best choice for you. It is not overly expensive and many Neopians love receiving this item; it is very popular on wishlists.
Estimated Cost: 4,000-5,000 Neopoints

10.) A Mysterious Valentines Card
Send this to somebody on the 14th of February!
This item is undoubtedly the most popular gift to send on Valentine's Day for numerous reasons. The first is that it gives both the sender and the receiver a new site theme. The second is that, although not a very original choice for a gift, it is a sweet present and makes those who receive it feel very special. The price tends to inflate right before and on Valentine's Day, but it is wonderful to send to a good friend.
Estimated Cost: 50,000 Neopoints
There you are: 10 wonderful ideas for presents that you can send to your friends on Valentine's Day. Of course, these are not all the items you can choose, but the items in this guide are some of the most popular items for the holiday as well as some creative ideas if you want to send your friend something more unusual.
Another option, however, if you do not feel like buying a gift for someone on Valentine's Day, is simply to send someone a NeoGreeting. Searching the word "valentine" brings up many different options for different cards you can send to family and friends. Or, just send your friend on Neopets a quick Neomail saying how much you love being their friend.
You don't have to do anything extravagant for Valentine's Day; the items in this guide are just ideas for presents you can send to people. If you use your imagination, you can come up with all sorts of ideas to show your friends how special they are to you. No matter what you do, your friends will be thankful that you spread the love.
Happy Valentine's Day, Neopia!