Your questions answered!


Read the answers to the most commonly asked NeoPet questions this week in the Editorial section. Each week the most popular questions will be answered by one of the creators of NeoPets, so keep checking back to stay updated.


Do you love to tell stories?


There is a great place in the Catacombs where you can participate in a Storytelling Competition! If you are good at telling campfire stories come along and help out!


Things to know about the Battledome


If you are participating in the Battledome, make sure you know all you need to about it. Check out the FAQ page, all of the instructions pages, and news pages.


The Neo-Market Report


Unfortunately, another of this week's big losers on the floor happens to be Cybun Electromatics, whose CEO Miss Cyberta Green is here with us today.
Get the gossip here!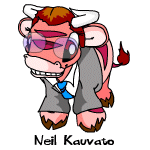 Are you getting beaten up in the Battledome?
If you are stop by the Healing Springs and pick up a potion or two!




New Game

There is a new game in Neopia starting today, and that game is Poogle Racing! Come and check out what all of the excitement is about...

Guild Spotlight

Contests Galore is all about contests and having fun. They have a daily trivia contest as well as ongoing contests. You should check it out if you want to be part of a guild where your participation counts.

If you love to help and protect others, then Angels and Avengers Guild is for you. They have daily giveaways, contests, clues, tips and lots of fun! Be sure to check out their exclusive Friend Finder Service and free classified ads!!

The Battledome Guild is where members can help each other train and fight in thedome. You can learn and share your tips about your dome experiences. Don't forget their slogan: Donít mess with the best!

We want to know what you think about the new Neopian Times! Your opinion counts. Let us know at...
neopiantimes@neopets.com