Your questions answered!


Read the answers to the most commonly asked Neopets questions this week in the Editorial section. Each week the most popular questions will be answered by one of the creators of Neopets, so keep checking back to stay updated.


---
Quote of the Week
Gormball requires extreme acts of athleticism, such as juggling, tossing, catching, and getting wet without making a scene.
---
| | |
| --- | --- |
| You have been chosen by the Kreludan Grundo Liberation Front for your logical abilities and knowledge of the Kreludor mining policies to extract precious gems from the moon's surface and strike a mighty blow at the heart of our Unnamed Nemesis' plans for Kreludan Oppression. Using our Heroic Antigravity-eNabled Neuro-enhanced Artificial Hypermobility unit (or HANNAH unit) you will navigate the mines, avoiding the S750 Kreludan Defender Robots that have been strategically placed by our Nemesis to cripple us, and return safely to the surface with the gems in tow... | Hubrid Nox is this Chia who lives in a tower in the Haunted Woods. He appears to be very evil (and even has an evil laugh to go with it that sounds a bit like this: MWA HA HA HA HA!) and tries to raise armies of undead so he can take over the world. He seems to be pretty stereotypical, not unlike Sloth, and they both have cliche plots that involve blowing things up and having huge armies. Oh, and neither of them have succeeded yet. Hubrid Nox, as revealed in Neopia magazine this week, loves cheesecake and is best friends with the Quiggle from the Coconut Shy. He hates the... |
Why We Need Our Faeries




Quests, healing... sparkles, any way you look at it, faeries are an important part of our lives here on Neopia. They take part in everything from offering quests to running the beautiful and popular Faerieland. However, we've come to depend on them so heavily that I think we almost take them for granted. I don't think anyone could have anticipated how dreary a Neopia without faeries would be. Well, now we know...
---
Other Stories
"Close Calls" by champ100543
There were one-hundred fifteen in all, twenty-six more than his old personal best and forty-nine more than he had received on his last run. And - even better - he had successfully shut down the conveyor belt! For a minute, the neopet basked in the glow of his accomplishments, a truly satisfying experience. Then, however, reality set in. The Grundo Thief stared in horror at the day's catches, and realized what a daunting task he had ahead...
"How to Lose it All in the Stock Market (And Why I No Longer Care)" by rhosymedre
I sit on my bed and turn my attention to my Calendar Planner, which is sitting on the end table. I flip through it to Febow's birthday---only a few days away. I already know what I'm going to get him: a Gold Shoyru Yoyo, one he's been looking at for quite some time but could never save the four hundred thousand neopoints for on his own. I close my Planner, thinking about work: the Stock Market has been...
"We Want Lunch" by _sme_
"All young pets are cute," he thought with a sigh, "but that cuteness wears off." Indeed that is how he found himself back at the pound that first time. He had grown only a little older but was starting to eat more and demand more attention. "I just can't keep up with you," she had said. "And that name... well, it just says it all!" The Techo rolled his eyes to himself and began tracing a brick on the wall with one claw. "As if I had a choice what my name was..."
---
Search the Neopian Times


---
Great stories!
---------
---------
---------
---------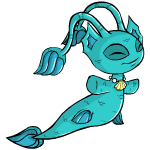 One Wish
Abigail was afraid of the sea, and, despite the ironic fact that her Neohome was planted directly on the beach, she never set foot on the sand. However, Jane was the exact opposite, and loved the sea, devoting every waking moment by the ocean.

by rachelray179
---------
---