Your questions answered!


Read the answers to the most commonly asked Neopets questions this week in the Editorial section. Each week the most popular questions will be answered by one of the creators of Neopets, so keep checking back to stay updated.


---
Quote of the Week
We're here to help you, by the way," she said to them. "You don't have to listen to Vakhtang anymore. His reign is over." "What did you do to him?" one of them asked incredulously. She smirked. "Showed him what true warriors are made of. Come along with us—there's someone who'd like to meet you. He has a much better offer to extend."
---
| | |
| --- | --- |
| Sometimes you just want to take your pets on vacation but you don't have the time (or the Neopoints) to take them away to anywhere fancy! Well Roo Island is the perfect place for just that! Pack up your Neopets and take them to Roo Island for a days amazing vacation full of fun and excitement! | Neopia is an incredibly happy place, but it's still possible to have bad days here! You could be feeling down after mispricing an item in your shop or after having the Pant Devil show up and snatch your favorite plushie! So it isn't all glamour and glitter in the world, but there are plenty of ways to cheer yourself up. |
Neopian Colleges




It always comes, that day in which your Neopet grows up and heads to college (or at least a lot of them do) and you wonder which college is the best for your Neopet. Which one has the best programs, lowest tuition and newest facilities? Well, that's what I'm going to discuss in this article
---
Other Stories
"Stealing the Stolen" by juggal3tt3j
"Well if you're so great, you take on Balthazar then!" Farren08 shouted as he slammed the door in Stevens40's face. After their argument, Farren didn't want to be around anyone- he was a horrible werelupe that might snap at any moment after all. Stevens probably thought Farren had tainted blood because of his species and upon meeting the great Balthazar he would turn traitor on his own family. Plus, as their argument had actually been about, Stevens had better Battledome stats so of course he thought he would be better suited to free the bottled faeries than Farren. Farren knew the Haunted Woods better than anyone, so he headed towards the wooded area near the Deserted Fairgrounds without paying much attention to the route he was taking. He always ended up in familiar territory, and if not he knew he could always count on the moon to guide him. As he walked, he let his thoughts wander as well. Even if he did run into Balthazar, Farren wasn't sure what Stevens meant by turning. Did he think he'd run off to join Balthazar in the faerie hunting business? That was absurd…everyone knew Balthazar was one warped Lupe with a crazy obsession with the faeries because of his run in with dark faeries as a pup. Really though, what would he do?
"Of Shades of Grey" by miu1109
Shade is born from the malicious darkness of Neopia, her appearance typical of any Dark Faeries. Just like any Dark Faeries, her first years are accompanied by another Dark mentor, who would teach her the duties and responsibilities of a Dark. "We're different from the other elements," her mentor stated gruffly as she begins her first lesson, "we don't have time to waste on trivial things unlike them, and we don't belong under the sun. Know that, and remember that, young Darkling." Shade nods, absorbing every word like a sponge. But she never really does comprehend the words until she has experienced it herself, because even though Dark Faeries are just another element along with the other Faeries, the treatment towards them is evidently very different. ("Hey, isn't that a Faer—" "Shh, she'll hear you! My mother's told me, approach any Faerie but the Darks! They're dangerous!" "But, we've been lost for so many hours! I'm tired and scared!" "Shush! Anything would be better than a Dark Faerie! Who knows? Maybe a Light Faerie would be nearby?") They are merely minor stings, a prickling in her heart that Shade learns to endure. We don't belong under the sun, she recalls, and follows after her mentor for their night patrols.
"Trouble at the Neocola Machine" by lunarchronicles
"Are you sure this will work?" Brekker paced back and forth in front of the Neocola Machine, the shoes of his space suit scuffing up the thick purple-brown Kreludor dust. His four green ears bobbed and flopped over his helmet, though there was no wind up here to stir them. His older brother, Lantsov, rolled his eyes and went to scratch his nose before remembering his own borrowed space helmet. "Have I ever steered you wrong before, little brother?" Brekker didn't answer, mostly because he could think of several instances when Lantsov had steered him wrong, solely for the pirate Blumaroo's own amusement. That was how brothers – especially older brothers – operated. He looked down at the Fake Neocola Token on a String that trailed behind him as he paced through the moon dust. Maybe it wouldn't work, and Lantsov was lying, but the thing did look real… would the vending machine really be able to tell the difference? The thing was, the little alien Aisha was pretty desperate for a transmogrification potion. Brekker knew that there was an avatar to be gained in getting one, and he was pretty sure he could convince his owner to use one on a lab rat so he could run off to the Neoboards and display it. But he was flat broke, and all of his previous Neocola Machine attempts hadn't paid off yet.
---
Someone Bring Me a Laugh!


This week's issue is brought to you by: King Skarl
Search the Neopian Times


---
Great stories!
---------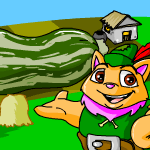 A Trip to Meri Acres Farm
After my last trip to the eerie Deserted Fairgrounds, I decided my next weekend trip needed to be a bit more comforting and in full daylight. This time I went off the beaten path in Meridell.

by hectic_haley
---------
---------
---------
---------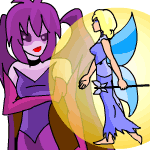 Of Shades of Grey
You might have heard about it, that Faeries are born with their soulmate's first words to them written on their skin.

by miu1109
---