Your questions answered!


Read the answers to the most commonly asked Neopets questions this week in the Editorial section. Each week the most popular questions will be answered by one of the creators of Neopets, so keep checking back to stay updated.


---
Quote of the Week
"Be careful. You don't want to lose each other, do you? I have no clue what this crime ring is doing, but I know it's dangerous. You've lost enough family without something happening to either of you." The rainbow Xweetok game a side smile. "Listen to your former babysitter, got it, you two?" Jane and I laughed a little and nodded.
---
| | |
| --- | --- |
| Thousands and thousands of years ago, Baelia was actually Baelia, the Happy Faerie! She blessed Neopians, pets, and petpets with many boons and items (sorry petpetpets, you guys weren't discovered until much later). She held an aura similar to the Faerie Queen Fyora, and smiled every day. She was loved and worshipped by all Neopians, pets, and petpets (again, sorry petpetpets). All was well, until the day she was captured. | Can you really get lucky at the Haunted Woods' Deserted Fairground? I don't know about you, but every time I venture there, I end up with all sorts of bad luck. Pets coming down with an illness, items being turned into soot, and losing countless neopoints to these fair games. This article aims to take a deeper look into these carnival games to see if it's truly bad luck. |
HOSTING A GREY DAY FEAST




There is nothing more appropriate for Grey Day than a Grey Day Feast. This guide is to help prepare even the most novice of Neopian Hosts turn a glooming grey gluttony into a deliciously droll dinner. Before we begin, it is important to note that there are 256 shades of grey, ranging from platinum and silver to charcoal and slate. Expert hosts may enjoy the challenge of limiting themselves to an all-grey theme to stay true to this day, but I encourage novice hosts to work within their budget and explore all the colorless shades in Neopia.
---
Other Stories
"Lost Desert Aisha of Good Luck & Fortune" by _the_spardel_queen_
"So..." a desert Lupe says, addressing the crowd of tourists as he walks around them, "you are hear to seek good luck & fortune from the mythical pyramid of Buthayna" he says with a smile. He stops in front of you and says, "I will advise you all now, this tour isn't for the faintest of heart." He turns around and walks towards the entrance of the pyramid, blocked off by a large slab of concrete covered in hieroglyphics. He has thick, black fur and bright red eyes. He wears a gold and royal-blue striped headpiece, and carries a large staff in his left hand. "If you are not afraid, my name is Anubis, and I will be your guide. Follow me." he says as he puts his hand on the concrete slab, the hieroglyphics turn from gold to red and it rolls to the left, revealing the dark, dusty entrance of the pyramid. I look around at the other tourists, they seem slightly worried and scared, not knowing what dangers could lie inside the pyramid. I am scared too, but I don't let it show. I have been on a year-long expedition around Neopia, documenting my findings and research top historical landmarks from each land. My research will then be compiled and submitted into the Neopian Times, and hopefully I can become a famous writer one day.
"Boom Goes the Dynamite" by erroro
Now Jane has probably gone a little too far from the line of sanity, but she was a good Mum. With her coffee bean eyes and messy reddish brown hair, she always looked like she had just hopped out of bed, usually with a pencil stuck in it somewhere... it's kinda hard to tell, actually. At least I know I can always count on her. But I also know I can count on her to drop a bomb on me at the last minute. And on a regular day, I like bombs. Only the ones that actually explode though. "Lysandrias!" Jane exclaimed as I entered. "I just had the most amazing idea!" "And what does it have to do with me?" I asked, arching an eyebrow. Mum was practically shining. "We're going to enter the Pet Spotlight!" "No!" I immediately cried out. Me? In a contest? No way. No way in all of Neopia was I going to enter THAT contest. It was even worse than the beauty contest; especially so because you couldn't just harass people into voting for you! My mother could have just drawn a potato with ears, and the rest could be history! The problem was that the spotlight had special judges. I also had no idea where they lived, so my tactic would be useless. "The Pet Spotlight?" my younger sister Ramsily echoed, poking her head in from the living room. "That sounds like so much fun!" "For you," I growled. "I don't do contests."
"The Apathy of Life" by warriorcats
When I first glanced over and caught a glimpse of her fur I thought it was silver, and it instantly took me back to that night in the park. But as my head whipped around and I saw her in full I realized her fur was not silver...But grey. A grey Kougra. Her fur-while a depressing shade- shined and her eyes were rimmed by a little less red than most grey pets. As I squinted with the effort of getting a closer look I noticed that her eyes themselves were not sad like almost all grey pets. They were scared. I looked away right as her gaze glanced over to me. She didn't notice my look of surprise to my relief. She was too caught up in meeting the entire family at once, much to her displeasure. Everyone was babbling greetings. Asking how she was, where she came from, how they were excited to have her in the family. And Rellexia talked over all the others, feeling the need to name every single pet under her roof. Grumbling I pushed my chair away from the kitchen table and started towards the door. "And that one there is Col- Ninja? Where are you going?" Rellexia asked worried. "Out." I said and pushed the door open. I headed out to Neopian Central Park, where I used to skateboard, and walked around in endless circles for hours. There was something about the little Kougra that triggered my memories and it bothered me. A lot.
---
Search the Neopian Times


---
Great stories!
---------
---------
---------
---------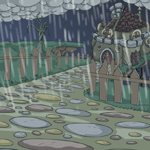 HOW TO: HOSTING A GREY DAY FEAST
There is nothing more appropriate for Grey Day than a Grey Day Feast. This guide is to help prepare even the most novice of Neopian Hosts turn a glooming grey gluttony into a deliciously droll dinner.

by cchiphorsey944
---------
---