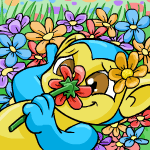 Homemade Recipes for Spring

by josephinefarine

--------

Ah, Spring! It's right around the corner, as gloomy winter days gradually give way to warmer weather and chirping birds fill the trees. The days grow longer and as does the list of seasonal ingredients available during this time. With an abundance of asparagus, artichoke, rhubarb, and a growing list of juicy fruits and leafy greens, now is the perfect time to create brightly-colored, fresh dishes with your Neopets! As always, I've gathered a list of ready-made dishes from stores that are just as enjoyable to prepare and eat at home.
Asparagus Wrap
Sandwich wraps are always a wonderful appetizer for any party or potluck; if the weather permits, my Neopets and I will prepare a dozen of them and hold a picnic at the park in Neopia Central. Asparagus Wraps are perfectly filling and very healthy—their vibrant colors are sure to impress anyone you serve them to! I prepare my wraps with some avocado; additionally, adding a touch of lime and cilantro brings out a zesty, fresh flavor to the sandwich, making it a hit with my Neopets. To prepare six wraps, you will need:
24 spears of asparagus
1 ripe avocado, pitted and peeled
1 tablespoon of freshly-squeeze lime juice
1 minced garlic clove
1 ½ cups of cooked rice
3 tablespoons of plain yogurt
3 medium-sized tortillas
⅓ cups of cilantro
2 tablespoons of chopped Organic Red Onion
In a medium saucepan, bring water to a boil. Place the asparagus in a steamer basket, cover, and steam them until tender (after approximately five minutes). Immediately rinse the asparagus in cold water after they have been removed from the boiling water, and thoroughly drain them.
In a small bowl, mash the avocado, lime juice, and garlic into a puree and set it aside. In another bowl, combine the rice and yogurt and thoroughly mix them. In a large frying pan over medium heat, soften each tortilla (this should take 20 seconds per side).
On a flat surface, lay out the tortillas and spread the avocado mixture equally among them. Top each one with the rice mixture, asparagus, cilantro, and chopped onion. To create the wrap, fold in both sides and the bottom of each tortilla, then roll it closed. To serve, cut each wrap in diagonally in half.
Artichoke and Feta Pie
A flaky pie crust, artichokes, and tangy feta combine seamlessly to create this heartwarming dish. Served alongside a fresh salad, this pie is the perfect meal to have for dinner among friends on warmer nights! When I first tasted this dish in Altador, I completely understood how nicely artichokes and feta complemented one another, and just had to recreate the pie at home! Additionally, the recipe I have developed is far more affordable to its pricier alternative. Artichoke and Feta Pie is quite simple to make, and can double as an appetizer or a light dinner; serve it warm or at room temperature, for any gathering, picnic, or party. For this dish, you will need:
⅓ cup of heavy cream
4 ounces of Altadorian feta, crumbled
Some sea salt and ground pepper for seasoning
1 pie crust (such as a Meatless Pie)
8 ounces of marinated Faerie Artichoke hearts (drained and chopped)
1 tablespoon of olive oil (available at Exquisite Ambrosia in Altador)
1 negg
Blend the feta and heavy cream until smooth, then add the salt and pepper. Add the artichokes and olive oil into the blend. Spoon the mixture into the pie crust and fill it evenly. Brush the edges of the pie crust with the negg and place the pie in the oven. Bake it for 10 to 15 minutes, until the pastry has turned golden-brown in color. Remove it from the oven and allow to slightly cool. If you would like extra garnish, sprinkle on some parmesan cheese and parsley. Enjoy warm or at room temperature!
Rhubarb Cheesecake
Rhubarb is often a centerpiece in many springtime dishes. When sweetened, it makes for delicious crumbles, pies, and tarts. I find that preparing in cheesecake is one of the best ways to eat this red vegetable. The Bakery in Neopia Central is well reputed for its cheesecakes, and their Rhubarb variant is superb. If, however, you want to prepare your own, you will need…
1 cup and one tablespoon of Wheat Flour
¼ and ½ cups and 2 tablespoons of sugar
½ cup of butter
3 cups of chopped rhubarb
2 ounces of cream cheese
2 neggs
1 cup of sour cream
In a bowl, combine 1 cup of Wheat Flour, ¼ cup of sugar, and ½ cup of butter. Mix them until the blend is crumbly, then, pat it at the bottom of a pie pan. In another bowl, toss together the rhubarb, ½ cup of sugar, and 1 tablespoon of Wheat Flour. Pour this mixture onto the crust. Bake for 15 minutes, then set it aside.
In another bowl, beat together the cream cheese and ½ cup of sugar until it has become creamy. Then, beat in the neggs one at a time. Pour this blend over the hot rhubarb mixture in the pan. Bake the cake for 30 minutes, until the filling has set. Enjoy once cooled!
Fruity Bread Salad
Now that strawberries are in season, I like to serve them with anything and everything! With brighter days, it's so much fun to serve bright, colorful dishes; this is why salads are so popular in the spring. Adding strawberries to these healthy meals not only adds a splash of vivid color to the plate, but balances the savory taste of a salad with something sweet and acidic. To quickly prepare a delightfully refreshing Fruity Bread Salad, you will need:
½ cup of cubed Altadorian Bread
A pinch of salt salt and pepper
1 Mixed Greens Salad
1 ½ cups of Sliced Strawberries
1 cup of Organic Cucumber Slices
¼ of a thinly-sliced red onion
Strawberry vinaigrette
To make croutons, toast the cubes of bread in a skillet and set them aside. Arrange the Mixed Greens Salad, sprinkle on some salt and pepper, and top with the strawberries, cucumbers, and onions. Then, add the croutons and drizzle the salad with the vinaigrette. Serve as a side dish to a larger meal, or enjoy as a light lunch!
Angel Hair Salad
I prepare this pasta salad almost every time I have company in the spring months, and everytime it has received rave reviews! The wonderful thing about this dish is that it is so simple to prepare, but it pops with flavor! All of the ingredients combined together create a satisfyingly delicious combination. I was inspired to create this dish after an outing to Kelp in Maraqua, but was surprised at how easy and inexpensive it was to create compared to the restaurant alternative! To make this salad, you will need:
1 pound of angel hair pasta
½ cup of olive oil
5 minced garlic cloves
1 ½ cups of parmesan cheese
2-3 tomatoes, diced
A handful of basil leaves
1 Bag of Nuts
Boil water and add a handful of salt before cooking the pasta. Cook it until al dente, after about 4 minutes. Drain the pasta and place it in a serving bowl. Meanwhile, saute the garlic in olive oil until they are sizzling and lightly brown (but don't burn them, otherwise they will taste bitter!); pour the garlic and olive oil over the warm pasta and toss it all together. Sprinkle on a teaspoon of salt (to taste), and add the parmesan cheese. Toss everything again, and let the pasta cool slightly.
Right before serving, top the noodles with diced tomatoes, nuts, basil, and parmesan cheese. Lightly toss, but don't let the toppings fall to the bottom of the bowl. Serve and enjoy!
These were five of my favorite meals to serve in spring! All use fresh, brightly colored seasonal ingredients that are sure to put a smile on your Neopet's face. As always, these recipes are alternatives to existing, pricier dishes found throughout Neopia. I encourage you to try them out and make your own alterations. Experiment around, and you will no doubt create some delicious combinations! Happy spring!