Your questions answered!


Read the answers to the most commonly asked Neopets questions this week in the Editorial section. Each week the most popular questions will be answered by one of the creators of Neopets, so keep checking back to stay updated.


---
Quote of the Week
Elwin straightened up without realizing he was doing it. His chest puffed out slightly and he found himself rising up on his tiptoes to appear taller to Zarex. This Grundo was a hero after all, the one who held back the swarms of Section Six on Kreludor. For him to accept Elwin into his ranks was nothing short of…well, magical.
---
| | |
| --- | --- |
| At the top of the world hidden from the warmth of the sun and never experiencing the change of seasons sits Terror Mountain. This place is cold and unforgiving yet the population hasn't yet migrated to warmer weather, citing their love of the ice and having adapted to the elements. If there is any true sign of these frozen folks having become accustomed to these conditions it is in their love of ice cream. | The days grow longer and as does the list of seasonal ingredients available during this time. With an abundance of asparagus, artichoke, rhubarb, and a growing list of juicy fruits and leafy greens, now is the perfect time to create brightly-colored, fresh dishes with your Neopets! As always, I've gathered a list of ready-made dishes from stores that are just as enjoyable to prepare and eat at home. |
History of Daily Dare Prizes




As Daily Dare has evolved over the years, so have the types of prizes that AAA (and Abigail) award to those who can achieve the required scores. I found it very interesting to look back at how daily prizes have evolved over each edition of the Daily Dare and thought it a fine idea to share my findings in this report. I have also chosen my favorite daily prize from each edition as an added bonus to this article! Now let us take a look back at the history of Daily Dare prizes.
---
Other Stories
"Sunrise and Darkness" by neptunely
A Hissi wound its way around her legs, forming a glittering, slithering bracelet. An Xweetok waved shyly as it splashed in a nearby stream. "You made a beautiful day today," she squeaked out. Sandy smiled benevolently at her and the Xweetok blushed before scurrying off. As Sandy continued on, the animals thinned out and disappeared altogether. She was approaching her shrine, which the creatures were only permitted to visit in the afternoons. For now, she was allowed to be alone in the palace built to honour her. She reached her shrine and entered the wooden structure. The open ceiling allowed the light she had created to pour in and reflect upon the gold and gems that encrusted the room. No one dared steal any out of respect for the Spirit. While she was kind, she was also immensely powerful, and the creatures knew not to test her. At the centre of the room was a small, raised pedestal. Upon it were her offerings: tasty candy, interesting stones, and - she sighed happily – hoof wax. She opened the jar and sat down to shine her feet. Then, everything went dark. Sandy awoke in a room of rough stone and blackness. Even the light from her body could not penetrate the dark that surrounded her. She saw movement in the shadows. It was a creature of blackest black, pure darkness. From it a rough voice resounded: "Hello, Sandy. Do you know who I am?" The terrified Ixi replied: "Yes. You are Baku, the Spirit of the Night. What do you want with me?
"WoozleBee the Mighty" by samsimmer
I am Woozle the Fierce! I am the most feared pirate in all of Krawk Island! Nay, in all of NEOPIA! WoozleBee tilted his body back and let out a vicious…squeak. Reddening at the cheeks, he cleared his throat and growled in a slightly more ferocious manner. Would being intimidating ever become easier? He inspected himself closely in the Ancient Cursed Mirror, which had been handed down to him from Cap'n Threelegs, his intimidating pirate trainer, a fortnight ago. He squinted disapprovingly at his grey, too-soft fur. It was far too fluffy, far too silky, far too…not scary. With a sigh, he opened up his Mud Facepaint Kit and slathered thick, stinky mud across his fluffy cheeks, matting his fur and making his stomach heave. Being a pirate was sometimes a nasty bit of business, to be sure, but it was vitally important that WoozleBee managed to be extra fierce today! After all, it is not every day that a mere JubJub has the opportunity to graduate from Cap'n Threelegs' Swashbuckling Academy! "You missed a spot," a ghoulish voice said from behind him. A shiver ran through WoozleBee's body and, instinctually, his fur shot out in all directions. WoozleBee growled as he turned to face his Ghost Goople petpet and friend, Goobs."Oh drat, Goobs! Look what you did! I look like a dirty, unwound cotton ball now!" WoozleBee whined, spreading more mud into his fur in a vain attempt to make it lie flat. Goobs laughed heartily and floated circles around the young JubJub.
"Coronation of a King" by wellthatsfantastic
"Hail!" a sweet voice called out, echoing slightly across the cave walls. Hailstorm turned around to find a pretty chocolate Peophin making her way to him, her face flushed with a blush at the echo. "I'll never get used to the echo of this place." Pure Decadence whispered as she flashed him a grin. Hail felt a grin of his own cross his features. "You don't have to whisper Deca. Just… try not to project so loudly!" Deca tossed her head, her dyed amber mane fluttering behind her. She was dressed his opposite, him in a silver tunic and black pants and the purple hair that was his only act of rebellious youth and her in a long sweeping gown the color of autumn leaves. The gown seemed to dance with light from the sun despite the fact that the sun rarely shown in this area of Terror Mountain. Decadence tossed her head again. If there was one thing she was vain about it was showing off her new hair style. Hail had to smile again. "Your hair looks fantastic." Deca smiled brightly. "Why thank you for noticing… finally. Honestly though Hail it's not my fault I project. Have you ever tried speaking underwater? If you want someone to hear you let alone understand you well you have to be loud." With a shrug of her shoulders she settled onto a bench placed against the wall. "Enough about me though. What about you? How are you feeling? I almost stopped at the Healing Springs to get you a potion in case you fainted. You do look a little pale." She laughed a sound not unlike the wind whispering through the trees.
---
Come Show Chadley Your Best Stuff!


This week's issue is brought to you by: Daily Dare
Search the Neopian Times


---
Great stories!
---------
---------
---------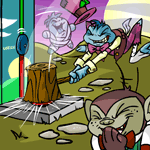 Testing Arnold's Strength
I'm here to ask the tough questions and test the strength of my targets. While Arnold was wrapping up at his stall and going for one of his many 6-hour naps, I showed up on the scene.

by auraphic
---------
---------
---