1 - When people buy from my shop, why don't I get the NeoPoints?
When someone purchases something from your shop, all your earnings go into your shop till. You can withdraw money from your shop till by clicking on your Sales History. Here it will show you all recent sales and tell you how much you have in your till. Type in the amount you wish to withdraw and your account will be credited immediately.
2 - If I adopt a NeoPet, can I change its name?
No, once a NeoPet is named, that is what it will be called forever. If you do not like the name of one pet, keep searching until you find one that you do like.
3 - What is happening with the Trading Post?
The Trading Post has been re-opened, so things should be back to normal. If you experience any problems with your trades, please email bugs@neopets.com with your username and details of your problem.
4 - How do I get my picture shown in the gallery?
If you have done a NeoPets related picture that you would like to get published in the gallery, you need to email it in to us. Simply drop an email to pics@neopets.com including your username, a title for the picture and the image as an attachment. If you have drawn your picture by hand, you need to scan in into your computer first.
5 - Are there going to be any new worlds?
Yes, new areas of Neopia are being discovered all the time. Only this week an earthquake in the Ice Caves opened up a brand new area - Tyrannia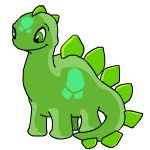 I come from Tyrannia!
6 - 'Something has happened', What do I do?
If you get a message saying 'Something has happened', don't panic. This is all part of NeoPets, sometimes it is good, sometimes it is not so good :)
7 - Where are Neobadges?
The Neobadges are found in the Link to Us section, they are also linked to from the World page.
8 - Where is the Neggery?
The Neggery is located in the Ice Caves. It is the colourful Negg-shaped building towards the bottom right hand side.