Your questions answered!


Read the answers to the most commonly asked Neopets questions this week in the Editorial section. Each week the most popular questions will be answered by one of the creators of Neopets, so keep checking back to stay updated.


---
Quote of the Week
Snow covered every flat inch of Happy Valley in a thick white blanket and Sopherie watched in amusement as Jaidenenk tried to keep up with her, obviously unfamiliar with the snow. Jaidenenk did spend his time in warmer climates. Jaidenenk turned to glare at Sopherie. "Admit it! You're finding this funny!" Jaidenenk said accusingly at her. They had left the docks half an hour ago and they were heading to the Advent Lodge, which was where the Advent Calendar was held. Even though it wasn't the month of Celebrating, the Advent Lodge still had plenty of visitors and it was the ideal place to get information.
---
| | |
| --- | --- |
| Concealed behind a veil of powerful Faerie magic lies one of Neopia's tallest towers, completely invisible to the naked eye. The Hidden Tower is home to an impressive collection of rare and extravagant artifacts, ranging from devastating battledome weapons to luxurious hand-made dolls. Owned by the one and only Queen Fyora, this soaring vault of treasures is her most guarded secret, which is why this elusive tower is only accessible to the elite and most-well established set of Neopians. | Followers of Sloth always get a bad rap. From shaming in popular culture, to a constant shunning on the boards, life is not always easy if you *heart* sloth. Because of this, some followers of our glorious leader want to hide their love while in public. It's not easy, by any means; the love Sloth followers have for their leader is without bounds. But, as a follower of Sloth, you are not alone. Here are a few tips on how to make your love for Sloth a little less obvious, and avoid the pains of a public shaming! |
Making Merry In Meridell




Ahhhh the Neopian Month of Swimming! Quite often a time when your Neopets have earned themselves a well-deserved break from the Faerieland Employment Agency. Hordes of holidaymakers flock to various Neopian destinations, perhaps the most popular being Kiko Lake (well, it IS the month of Swimming, after all). But why not break away from the trend and visit the land of Meridell instead?
---
Other Stories
"Daniel from Merrida" by alienigenosidad
My mother used to always tell me that everything was going to be fine. Sometimes, even with no prior context given. She would look at me, as I dropped my head and stared at my bare feet, feeling unsure of myself, grab me by my chin and say, "it's going to be fine". I never really understood what she meant until now. I'm from Merrida, Meridell. I was born on the North of Meridell, far away from the Darigan Citadel but yet not too far to say I'm a Brightvale citizen: so you can tell our location favoured our village (my family and all the villages) during the wars. I think it is something I should be thankful for. Sometimes I am, but some other times I feel it might have made no difference at all. These suburbs have always been as quiet as they can get, and as calmly as you can feel the winds. surrounded by forests and rivers in which you can enjoy a lovely twilight evening in. Huge trees lined the road, telling a different story each season: fresh green buds bursting open to reveal delicate blossoms that eventually fell to give rule to the warm earthy leaves that crumbled and shattered when stepped on and eventually left the tree as bare as a skeleton. The long pathway had small trails marked by the old wooden carriages from the civilians that would happen upon Merrida, but now they were used only to discover new berries and fauna species. I think we never thought of making Merrida any bigger. My favourite part of the day has always been when the sun would set around six-ish, and the sky would turn into a sweet tangerine color canvas, contrasting the leaves of the tallest trees. A marvellous moment, in which you wouldn't want to blink - not even once. You could see Ukalis and Wibreths hang on to the branches of the trees and say goodbye to the last glimpse of the sun.
"Edna's Quest" by demento
The glow of Karipo's lantern did little to dispel the damp gloom of the forest at night. She pulled her cloak tighter around herself and glanced to the left and right, catching sight of a lone Whoot watching her from the treetops. Somewhere in the distance, a branch crackled as if it had been stepped on. She stiffened, frozen in place for what felt like a long time...and then she bolted. Moonlight fell in scattered rays through tangled webs of branches, chaotically lighting the way through the woods. Karipo's mind raced with thoughts of what might be following her. Ghosts? Terrible mutated creatures? A pack of particularly hungry werelupes? Each option seemed more horrifying than the last, and the further she allowed her mind to go, the faster and faster she ran. What a foolish idea it had been, venturing into the woods alone for the sake of completing a quest! She bet her siblings were having fun at the fairgrounds, browsing the marketplace for souvenirs, or sightseeing in Neovia. Karipo resigned herself to the thought that if she got out of there alive, she was never coming back to the Haunted Woods for a vacation. Her train of thought was sharply interrupted when she tripped over an exposed tree root, lost her footing, and slammed to the ground with enough force to send the items in her basket tumbling down the hill before her. Fear exploded into full-blown panic. Karipo scrambled to her feet and rushed to gather the objects Edna requested for a potion: a green apple, honey sticks, and a turnip. Frankly she thought it was a horrifying combination, but, well, Karipo didn't want to ask questions. She just thought it would be fun to run a quest for the old witch who lived in the tower at the edge of the woods.
"The Flyer" by _starryeyedsurprise_
I always look forward to the times when my grandmother comes to stay. She's my dad's mother and she comes from a little fishing village on the outskirts of Kiko Lake, and she's small and round and cuddly, just like you'd expect from a plushie Kiko. You should hear the lovely funny way she talks. Sometimes you can't understand what she's talking about and I have to get my dad to translate. When she's here for a holiday she never stops cooking, from the minute she arrives until the minute she leaves because she is so convinced that my dad and I don't get enough to eat. "Ee, shkinny," she says, poking me in the ribs. "There's not a scrap of meat on them bones of yours. We'll soon fettle that." And she rolls her sleeves up, puts a pinny on and sets to work baking cakes, cookies and the yummiest mince beef and potato pies you ever tasted. One morning, during the Festival of Neggs my mother was out for lunch with a friend, whilst my dad was out shopping, Grandma and I were having a great old time rolling out pastry and baking strawberry tarts. I was glad to be indoors in our nice cosy kitchen, especially with my grandma for company. She was cutting out the circles of dough and I was putting them in the tray and spooning dollops of jam into them. Quite a lot of the jam was finding its way into my mouth. "Give over, our Eastly," said my grandma, rapping my knuckles with a wooden spoon. "You'll not want any dinner. And then it'll be me that gets the blame from your mam." Just then there was a loud bang at the back door and Keriso, my zombie Draik best friend, stuck her head in.
---
Stay Cool For The Summer


This week's issue is brought to you by: The Slushie Shop
Search the Neopian Times


---
Great stories!
---------
---------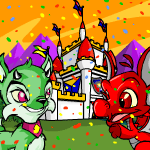 Making Merry In Meridell
Granted, you won't find a lake there in which to swim, but the month of Swimming is also the time when Neopia celebrates the discovery of Meridell! In a world that is increasingly complex and stressful, why not whisk your Neopets away for a vacation filled with simple pleasures and delights.

by tallydepp
---------
---------
---------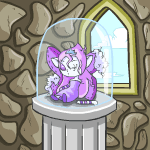 Origins of the Hidden Tower's Antiquities
When you gaze upon the vast array of antiquities, do you ever wonder how the Queen of Faerieland came to possess such rarities? I certainly felt the begging curiosity of how each item came to be.

Also by earthlingdreamz



by rebourne_
---