Your questions answered!


Read the answers to the most commonly asked Neopets questions this week in the Editorial section. Each week the most popular questions will be answered by one of the creators of Neopets, so keep checking back to stay updated.


---
Quote of the Week
Apples would be bobbed for, pumpkins would be carved, and baking competitions would indubitably be held. Trick-or-treating would, of course, be had by all participants before one final congregation in the town square for the crowning glory of the festival: Mr. Pratt's trick.
---
| | |
| --- | --- |
| If you happen to be stuck for something to do on this night most creepy, why not consider holding your very own spine-chilling bake sale? You don't need to be super kitchen savvy, you just need basic mixing skills and the right ingredients. Plus you'll be making a profit whilst filling numerous hungry tummies; win - win! So if dressing up, trick or treating, and scary pranks are not your thing, why not... | I'm of course speaking of GHOSTS! If you're one of those many Neopians that likes to go all out on your Halloween theme, but just can't decide what direction to go this year, then maybe it's time to bring back an old classic. With the aid of some more unique and original items that Neopia has to offer, you can spruce up the ghostly theme and make it work for you this Halloween. |
Friendly Spooky Petpets




With the time of ghosts and ghouls upon us, spooky petpets are experiencing a sharp rise in popularity. Many Neopians want to present their beloved pets with a frightening friend to accompany them out trick or treating. Unfortunately, disastrous results can occur when you don't do proper research before making your purchase. Here are thirteen safe and spooky petpets who pose no threat to your Neohome and can be found...
---
Other Stories
"Be Careful What You Wish For..." by viiangel
She walked through the maze of tombstones, creaking wrought iron gates, and jack-o-lanterns, towards the now audible music of the fair. The sky lit up with lightning and the storm that never seemed to leave Castle Nox. That place was REALLY haunted, and it gave her the creeps! She shuddered again. "Okay, Wakka, just get an AMAZING costume, and GET OUT!"
"Trick" by geniusbulb
Everyone knows that Neovians give out the best candy on Halloween! I mean, seriously! The Crumpetmonger lady lives there, and she gives out so much delicious stuff my mouth waters just thinking about it. The only reason the town isn't swarmed with trick-or-treaters each year is because it's only accessible through that creepy path from the gypsy camp. This puts most people off. But my brother Jack and I know all...
"Two Times the Fun" by 2dancers2robots
"I'm just gonna be a ghost," Garo said, hoping to steer the conversation a little farther away from some kind of all-out brawl between Lex and Colfer. The pets nodded. Of course, a ghost was a perfectly respectable costume for a day as spooky as this one. And then, of course, Wesson, the proverbial runt of the litter, came bounding up next to them, grinning as his Island wreath banged against...
---
Search the Neopian Times


---
Great stories!
---------
---------
---------
---------
---------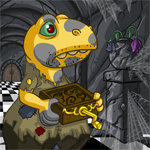 With Many Faces: Part Four
I can't tell you how I escaped from the wizard, because I don't remember doing it. What I can tell you is this: I used the Time Box to get back, I still had the travel watch, and...

by encroached
---