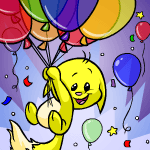 Kacheek Day Gift Ideas

by xbebedawlx

--------

Kacheek Day is here – which means celebrating one of the most wonderful species in Neopia!

With each new Kacheek Day there come new colours, clothes and items all specially dedicated to one of the most popular pet species. Of course, owners will also shower their beloved Kacheeks with gifts to celebrate being ...well, a Kacheek! Why else?

But wait - what if you get stuck for gift ideas? Hopefully this article will shed some light on what Kacheeks love, and what will make this Kacheek Day extra special for you and your furry friend.

Kacheeks Are Cool
This book is, undeniably, one of the best books a Kacheek or Kacheek lover alike could read. As the title suggests, it gives reasons (101, no less!) about why Kacheeks are the coolest species in Neopia. Not only will this book give a confidence boost to your beloved Kacheek; you can also use all 101 reasons to win any argument about how the Kacheek is by far the best species.

Best Friend Card
Kacheeks are modest by nature and often need a little pick-me-up just to prove how much you treasure them. This vivid, happy card not only will appeal to the Kacheeks' bright and sunny personality but the message "To my Best Friend" will show how much you care about your special Kacheek and how great they are to have around you. A great choice for Kacheek Day.

Pink Flower Bouquet
Kacheeks are happiest outdoors and love flowers. This beautiful pink bouquet of flowers not only smells heavenly but also looks wonderful. As an added bonus, this item can also be placed in Neohomes – so your Kacheek can put their gift in any room of the neohome to serve as a small, temporary reminder of how wonderful Y12 Kacheek Day was! Just be sure to keep them in a vase of water to keep them looking freshly-picked for days.

BKG Ticket
This ticket admits one to see the legendary Blue Kacheek Group perform at the Tyrannian Concert Hall. Tickets can be purchased for a small fee at a ticket booth in Tyrannia – though you have to get in early: only 5,000 tickets are available! Of course, you can always buy a BKG ticket from a user shop. Don't forget to pick up some merchandise before leaving the arena after experiencing the BKG. Caps, posters, jackets, CDs and shirts are all available so your Kacheek can show their love for the Blue Kacheek Group to the world!

Melted Kacheek Cake
Kacheeks are sweet by nature. So why not give them an equally sweet gift? This chocolate cake is smothered in layers of smooth icing and decadent chocolate: making it the ultimate indulgence for any Kacheek. Give it a miss if your Kacheek is on a diet, though – it's a very fattening treat!

Grassy Meadow Background
Kacheeks love meadows. The fresh air, the flowers, and the sunshine – what's not to love? So why not swap your Kacheek's normal background for this idyllic meadow? It is fairly inexpensive and matches almost any Kacheek's sunny personality. A perfect choice for Kacheek Day.

10th Birthday Miss Prissy Kacheek Grooming Kit
This wonderfully girly grooming set is a perfect choice for your more prim Kacheeks who take pride in their appearance and making themselves look beautiful. It comes complete with all sorts of lotions and potions to make your Kacheek look extra pretty for Kacheek Day! Your little princess will thank you over and over for this lovely kit.

Cuddly Kacheek Plushie
Awww, this Kacheek plushie is absolutely delightful! Complete with bright, happy clothes and a sweet expression, it's hard to deny how cute it is. Any Kacheek will love this cheerful little plushie and want to cuddle it all day!

Robot Kacheek Repair Kit
Some Kacheeks just love to tinker, and this kit is perfect to both repair and also create new things. Blender is broken? Your Kacheek can now fix it! Your angelic robot petpet has short-circuited and is now destroying everything in sight? With this kit (and plenty of band-aids) your Kacheek can fix it!

Kacheek Pyjama Gown
This absolutely darling gown is versatile and will suit any little Kacheek princess. Whether you use it as an actual gown, or team it with a pretty wig and accessories, it can also double as a pretty summer dress. To complete the pyjama ensemble, just add the Kacheek Pyjama cap, slippers and doll. Who knew going to bed could look this stylish?

Kacheek Mail Carrier Jacket
The blue and gold of this jacket are an amazing combination, and need not be used only for a mail carrier theme. This jacket can be used as a set with other items to create an entirely new and original customisation; or can be used with other items from the set for your aspiring mail carrier!
Here a just a few gifts that you could buy your lovely Kacheek for the upcoming celebration! Even though every Kacheek is unique and special, it can be guaranteed several of these gifts will make a perfect present for any Kacheek – no matter how fussy!
Though of course, Kacheek Day is not just about expensive gifts. It's about appreciation and showing your special Kacheek you love them – and this can be just as easily expressed with a hug!
Kacheeks are one of the most popular species, with over 16 MILLION created (that's 6% of the Neopian population!). And it's no surprise, with their sweet, laid-back natures and their easy-going approach on life they are impossible to resist.
They are also available in 46 colours, meaning that Kacheeks of any personality can find a colour to perfectly suit their nature. Whether your Kacheek is a girly princess or rough tomboy, any Kacheek will find their true match.
If you don't already own a Kacheek, then why not? Take the plunge and create one today! If you have a Kacheek, you've got a friend for life.
So what are you waiting for?
Have a wonderful Kacheek Day; I hope you and your Kacheeks have a lovely time! :)