Your questions answered!


Read the answers to the most commonly asked NeoPet questions this week in the Editorial section. Each week the most popular questions will be answered by one of the creators of NeoPets so keep checking back to stay updated.


The Neo-Market Report


Neil Kauvuto and Maria Blumaroono will have a special report on the Chiatech Insider Trading scandal...
Get the gossip here!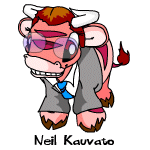 NEW GAME!
Test your skill at the new game Whack a Beast! See if you can beat that Beast!
Check out some of the new Guilds. Everything you ever wanted in a guild is here at Strange_Place, the guild made for Neopians by Neopians. The guild includes: Fair Competitions (using a polling system), Html Help, Banner making, and A nice sense of humour.

We want to know what you think about the new Neopian Times! Your opinion counts. Let us know at...
neopiantimes@neopets.com