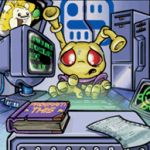 Typing Terror: Tips & Tricks

by butterflybandage

--------

The infamous game that requires not just skill, and accuracy, and timing … but luck. A game avatar that's considered one of the hardest to achieve, it's one of the least popular on the boards and one of the most enviable.

Thankfully there's a great strategy that you can follow that will make your life incredibly easier when trying to get the avatar. Below, I'll go over the point system, level breakdown, and tips that will guarantee you those necessary 3,600 points for the avatar!

Point System

This game is about Clockwork Grundos that invade the Space Station, and in order to defeat them you must type the words that appear on them! As the Grundos get closer, there is a higher chance of them hitting the protective glass you're sitting behind. You have 3 lives (meaning you can get hit 3 times before losing) and each life, at the end of the game, awards you 100 bonus points per life. Keeping all your lives gives you a nice 300 points, which is essential in getting the avatar!

There are four different types of Clockward Grundos: normal (yellow), upside down (red with words upside down), dysfunctional (purple with parts missing), and the Boss (gigantic and gold). Each Grundo type is worth a different amount of points, which I'll get into a little bit later.

At the end of each level you are awarded an accuracy bonus. After the first five levels you will receive an accuracy x2 bonus (meaning your accuracy percentage multiplied by two). After the last Boss level, you will receive an accuracy x3 bonus (your accuracy percentage multiplied by three). You can get a maximum 100% accuracy, meaning there is the potential for 200 points per level for the first five levels and 300 points for the last level. If you get 100% accuracy on all five levels plus the final Boss level, that's 1,300 points! You're a third of the way there on accuracy ALONE.

Okay, now onto the different types of Clockwork Grundos. The first "normal" type of Grundo is the yellow one. Each one of these you defeat gives you 5 points per word. The next type is the red Grundo with the words upside down—they give you 20 points per word. And finally are the dysfunctional, sparking purple Grundos that give you a whopping 100 points per word! These guys are absolutely vital in ensuring you get the avatar, because what's better—defeating 10 yellow Grundos or 3 dysfunctional Grundos?

The Boss Grundo gives you 25 words, and each word is worth 20 points. That's 500 points right there! The only hard part of the boss level is that it's timed; you have 60 seconds to defeat this guy or you lose! It's actually not that hard, just knowing there's a countdown is a little bit nerve-wracking.

At the end of all these bonuses (200 accuracy bonus x 5, 300 accuracy bonus, 100 life bonus x 3, 20 point per Boss word x 25) you end up with 2,100 points—that means you have to earn at least 1,100 points to get the minimum score requirement for the avatar.

Level Breakdown

There are five levels plus a sixth final Boss level. As you defeat the Clockwork Grundos and advance through the levels, the length of the words increase by one letter and the number of Grundos you have to short-circuit increase by two (until you get to the final Boss level, then it's an extra five letters).

There's no time limit during the first five levels, which is nice but doesn't really decrease the stress—the Grundos walk towards you, so you've still got to pay attention and make sure they don't hit your protective glass (remember, you need those bonus points)!

Level One starts with three-letter long words ("cut", "hut", "quo") and you have to beat 12 to move on to the next level.

Level Two moves on to four-letter long words ("fyre", "wurm", "zoom") and you have to beat 14 to move on to the next level.

Level Three increases to five-letter long words ("azure", "czars", "typos") and you have to beat 16 to move on to the next level.

Level Four has six-letter long words ("cystic", "python", "zygote") and you have to beat 18 to move on to the next level.

Level Five insanely features seven-letter long words ("oysters", "vulture", "quoting") and you have to defeat an incredible 20 Clockwork Grundos to face the final Boss!

Level Six, the Boss level, features one ginormous Grundo that forces you to type 20 eight-letter long words in 60 seconds to defeat him. Some of these words include "dyslexic", "juvenile", "quotient", and "yummiest" .

After you defeat the Boss, congratulations! You've completed the game!

Tips To Get The Avatar

Now onto the most important part of the guide yet. There's a certain amount of luck you have to have in order to get the avatar, so don't think having an insane typing speed is going to be a huge factor in getting that 3,600 points!

Think back to when I mentioned the points each type of Clockwork Grundo was worth. If you have to short-circuit 16 Grundos in the first level, imagine the point difference if you got all yellow Grundos, all red Grundos, or all dysfunctional Grundos—80 points, 320 points, or 1600 points! You'll never get all red or dysfunctional Grundos at any time, but do you see why they're important in getting the avatar score? Remember you have 1,100 points you need to make up in order to meet the requirement!

While there's always the chance you'll get lucky and see more dysfunctional Grundos in later levels, a good way to gauge if you're on the right track towards the avatar is to make sure you have AT LEAST 400 points after the first level and AT LEAST 2,500 points before you fight the Boss. Anything less than 2,500 points will not guarantee the avatar score!

Another good tip is to practice typing those words! Some are common words like "dyes" or "awarding", but some are more difficult and less common, like "nymph", "xelqued", "zyrolon", and "uzi". Thankfully there is a training mode on the game that is a great way to increase your speed and accuracy. You won't be awarded any points—it's training, after all!

Restart your game if you lose any lives and, while accuracy isn't nearly as important, try to keep it as close to 100% as possible (obviously getting 99% isn't going to destroy your chance at getting the avatar, but skating by with 20% isn't going to help). Lives are ESSENTIAL in the avatar, and you should treat it just as seriously as defeating those bots!

The last tip is a somewhat risky play that only more experienced typists and players should attempt. Getting the red Grundos and dysfunctional Grundos are obviously way better than getting the regular yellow Grundos. If you're only getting the yellow ones, just wait … if you just try to get them out of the way, you're ruining your chances of finding a higher point Clockwork Grundo. Obviously if they get too close, you'll lose a life, but there's always the chance that if you wait a few seconds a red or dysfunctional one will come out and you can get more points.

Typing Terror is a great game to play if you're trying to pass the time—aesthetically, the avatar is beautiful, and it's a great one to add to your collection so you can brag to your friends! You don't have to be an incredible typist to play this game, you just have to pay attention and know what you're doing. If you keep in mind you should have 400 points at the end of the first level and at least 2,500 points before going to face the Boss Grundo, you should be good to go! You might have to restart a few times, but you'll get it eventually.

Best of luck in getting the avatar or even trying for a trophy, and thanks for reading!