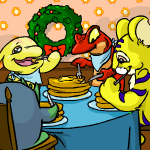 Breakfast! Y13 Holiday Edition

by mojoschweni

--------

Snow days, hot cocoa, building Abominable Snowmen... We all love this time of year, don't we? The Month of Celebrating is full of fun, festivities, and FOOD to share with your family, friends, and Neopets. Why not start with a delicious breakfast inspired by the season?

I'm Mojo, a firm believer that breakfast is the most important meal of the day. I don't understand how people get through the day without it! Come along with me to discover ten of the best breakfast foods leading up to, during, and even after the holidays.

Cinnamon Spice Scone

Item Description: "This scone is perfect with a nice cup of tea."
There is nothing better than waking up to the warm sweet scent of cinnamon wafting throughout your Neohome on a cold winter day. I like to surprise my pets with this treat on mornings where school's been cancelled due to inclement weather. They always know it's a snow day when they smell these warm flaky pastries baking in the oven! It's a simple yet scrumptious treat that will definitely start the day off right.
Snowflake Winter Coffee

Item Description: "This coffee is flavoured with fresh snowflakes."
Yes, I know what you're thinking. Snow Coffee? Put your presumptions aside for the moment, because this wintery beverage is simply amazing. We all love snowflakes- imagine someone bottling up that crisp taste from winter's first snow that dissolves on your tongue within an instant, and putting it in liquid form! Harvested from Terror Mountain, this drink is only made from the freshest of snowflakes, guaranteeing perfection in every sip. Ahhhhh.
Peppermint Pancakes

Item Description: "These peppermint pancakes are perfect for a winter morning treat!"
Pancakes must be one of the greatest breakfast foods ever invented. So of course I had to find the perfect plate for the holidays. I've never really liked peppermints, but this dish totally rekindled my love for these minty fresh sweets. In every bite you'll find a tantalizing crunch of mint, and the thick cakes complement it perfectly. You may think that the pink syrup makes it sickly sweet, but I assure you it is a perfect balance. Definitely one of my favorite foods for this time of year!
Ham Casserole

Item Description: "This delicious casserole is filled with, well no one is quite sure what goes into this casserole... "
In this recipe, it's all up to you! I like to think of this as a delicious way to use leftovers, any time of year. Ham is a very popular meat for Neopians during the holiday season, and this is an excellent way to use your extras the day after. It's a classic for those who favor a more savory approach to their morning. What a great way to save those scraps too!
Fancy Mug of Neggnog

Item Description: "Neggnog for the holidays is quite a tasty beverage."
Of course Neggnog is for breakfast! Something like this is too good just to be eaten with cookies. (Bonus- it's also a wearable!) Neggnog is the perfect drink to share with family and friends during the Month of Celebrating. As TNT says, it'll have you feeling jolly in no time! You might be a bit drowsy later on, but sometimes that's one of the pains of having a delicious breakfast. It's worth it, I promise.
Taelia Muffin

Item Description: "This pretty muffin even has edible chocolate Taelia wings."
Inspired by the beauteous snow faerie that lives on the peak of Terror Mountain, this muffin is a great option for Neopians on the go during those busy mornings. There is no excuse to skip breakfast! So grab a muffin, like this one, before heading out the door. The Taelia Muffin features edible chocolate wings created to be near copies of Taelia's, and a heaping mound of gradient blue frosting on every muffin. You may ask why it's not called a cupcake, because it looks so sweet... Don't ask questions! Just eat, and be happy that at least its name sounds nutritious.
Hot Apple Oatmeal

Item Description: "This breakfast meal is quite healthy and filling."
Am I the only one who likes oatmeal? Hmph. Well, this kind is especially perfect to kick off any day of playing out in the cold. Hot Apple Oatmeal is one very healthy breakfast to help you and your pets grow big and strong too! This oatmeal is thick, fruity, and absolutely delicious. It'll warm your pets from head to toe before they head out into that winter wonderland.
Snowberry Crepe

Item Description: "The crepe may be hot, but the snowberry filling inside stays icy cold."
This is a tropical fruit that stays cold all year round! I definitely would not recommend the fruit itself for breakfast this month. However, the Snowberry Crepe is different. The warm crepe balances out the icy cold snowberry cream inside. This is a great option for those pets that prefer a light breakfast every morning.
Blazing Stone Mug of Borovan

Item Description: "Best to use a pot holder to pick up this mug."
I felt obligated to include at least one kind of Borovan for the fans out there who live for the 20th day of Celebrating, known as Borovan Day. You may think that this is just some ordinary Borovan- but you are definitely mistaken. Reports say that you may need to wait 10-12 hours before this will cool down properly! It is delicious, however, and a favorite of those daredevils who like to take risks with their breakfast beverages.
Sausage Stocking

Item Description: "A tasty seasonal treat for any Neopet!"
Sausage Stockings haven't been very popular the last few Christmas seasons, but I don't know why! I mean, who wouldn't love to find a fat pork sausage ready for eating on the Day of Giving? I'd have it sizzling away in a frying pan in no time. You can't beat a breakfast meat like sausage (or bacon!), and certainly not a tasty seasonal treat like this one.
Well, there you have it! Every Neopian should start out their day with a good breakfast, and the holiday season is no exception. Happy breakfasting, Neopia!