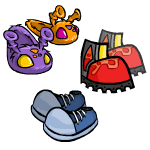 The Seven Shoes You Must Have in Your Closet

by rialene

--------

Are you looking for shoes generally wearable by any pet that are not sold at the NC Mall? Not sure where to look or what to buy? Tired of endless searching all over Neopia?

Good news! Your days of looking and searching are over. Here are seven must-have shoes everyone must own to make customizing quick and easy. These must-have shoes are wearable by any kind of pet, relatively affordable and are widely available in the market.

1 - Blue Shoes
Description: Blue shoes look good with many things.
Type: Special
Weight: 1 lbs
Rarity Index: 40
Top on the list of must-have shoes because they go with absolutely everything. The soft blue color with matching white shoelaces makes it wearable by both male and female pets. If you have basic pants, basic shirt and basic hat in your closet, then you will need these blue shoes as your basic shoe. Perfect for everyday wear! These shoes are very affordable and can even be bought at the ever stocked general store for only 466 neopoints.

2 - Tacky Lighted Holiday Shoes
Description: Uh... well you can wear these if you really like them... This was given out by the Advent Calendar in Y9.
Type: Clothes
Weight: 1 lbs
Rarity Index: 101
Red is the color for holiday and the lighting effect makes it all the more festive. Everyone must have one pair in their closet ready to be pulled out anytime during holidays. It's a must for those who want to keep their pet stand out among the rest. These shoes are very cheap too and cost around 440 neopoints.

3 - Wellington Boots
Description: All weather rubber boots that are high enough to keep you dry in the wettest conditions.
Type: Clothes
Weight: 1lbs
Rarity Index: 56
It doesn't get any easier – or more affordable – than these simple Wellington Boots. They're ultra-comfy rubber boots so your pet can wear them not only during rainy season but all year round. These boots will even make your pet's legs look extra long. Definitely a must-have shoe! You can buy these shoes at the ever stocked general store. Estimated price is about 419 neopoints in shops.

4 - Stylish Volcano Run II Shoes
Description: These shoes are extra tough so they won't melt in the heat of a volcano.
Type: Clothes
Weight: 1 lbs
Rarity Index: 101
Red and yellow color is a surprisingly wearable neutral and the lava-looking outlines give that tough-rock edge look but are still totally stylish. Extra tough means extra protection for your pet. A must-have shoe for that outdoor-themed overall look you want for your pet. If your pet loves playing Volcano Run II, then these shoes are the best pair to wear. Estimated price is 2,700 neopoints.

5 - Kreludan Grundo Slippers
Description: Orange always goes on the left foot!
Type: Clothes
Weight: 1 lbs
Rarity Index: 101
The purple and orange combination is more popular if not a better choice than a plain-colored slipper. These Kreludan Grundo Slippers makes it easier for your pet to slip into the right pair because orange always goes on the left foot. Everyone must have these slippers because not only are they cute, they never go out of style. The price for these slippers is approximately 5,496 neopoints.

6 - Novelty Blue Blumaroo Slippers
Description: Awww... look at those cute little faces!
Type: Clothes
Weight: 1 lbs
Rarity Index: 78
If you can't bear to part with your pet, why not opt for a pair of Novelty Blue Blumaroo Slippers. They are super soft and super warm. Reminds you of your favorite pet even when you're asleep. Everyone must have one pair of these slippers in their closet. It's just one of those basic things your pet need. Approximately around 7,980 neopoints.

7 - School Girl Shoes
Description: The socks are permanently attached. Sorry.
Type: Clothes
Weight: 1 lbs
Rarity Index: 93
These shoes may probably go out of your budget but definitely an investment. With the socks permanently attached, you'll never have to worry where you tossed them after school. These shoes are ever dependable and always on-the-go. The shine is more elegant than regular leather. The School Girl look adds an element of sophistication to any pet. You might want to save up because these shoes cost around 200,000 neopoints in the Trading Post.
There you have it, the seven shoes you must have in your closet! So no more searching for hours around shops. No more what to buy or what to wear problems. These shoes should keep your pet ready for customization anytime. So what are you waiting for? Stock up and save up!
EXTRA MUST-HAVES
I did some extra searching and found the following items that I think belong to your must-have list. Why these socks? Because like the seven shoes I listed above, they are also wearable by any pet and affordable. And besides, socks are worn as an alternative to wearing a shoe.

Snow Wurm Socks
Absolutely warm and soft socks you want to keep touching. The white color and the razor-cut teeth like edges piping around the ankles make this a must-have to complete your pet's attire. The little eye of snow wurm on the side makes it even more adorable. Around 9,000 neopoints.

Torn Fire Gym Socks
How much more heat do you need when you have these socks? Definitely the best leg warmer for your pet. The fire design gives your pet that tough image. These socks cost around 2,300 neopoints.

Torn Pink Gym Socks
These socks may be pink but the blue patches balances the overall look that will surely fit any type of pet. Absolutely a must-have in your closet. Same price at around 2,300 neopoints.

Torn Rainbow Gym Socks
Want a sock that goes perfectly with any outfit? Why not try rainbow-colored socks? Estimated price is 3,000 neopoints.

Torn White Gym Socks
One of the basic socks your pet need. The green patches add a little style rather than just plain white. Very cheap at about 1,500 neoponits.
All in all, seven shoes and five socks that should be included in everyone's list of must-haves in their closet. Now, what else are you reading this for? It's time for some shopping!
***TIP – Start buying from the cheapest ones and then work your way up to the last item. Also try refreshing the Shop Wizard many times to get the lowest available price in the market.
***NOTE - The prices are just estimates and are subject to change.