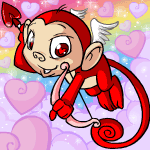 Top Ten Ways to Celebrate Valentines Day

by shiscabar

--------

So Valentine's day is coming up and you don't know what to get that someone special. Last year was a disaster – you completely forgot to get your neofriends gifts. This year you want things to be different, not to mention that you also want to also spoil your beloved neopets. What to do? You haven't planned anything and you are not sure where to begin. Never fear! This list has lots of gift ideas and ways to help you celebrate Valentines Day in style.

1) Send a Valentines Neogreeting – Low on neopoints at the moment? Not a problem. A Neogreeting is the perfect way to say Happy Valentines Day. Tell your friend how much they mean to you in a personal greeting. The best bit? It is totally FREE! I personally like the Puppyblew "I Love You (Animated)" Neogreeting but you don't have to stop at one – send a few throughout the day.

2) Hold a Valentines Day sale in your shop – Spread the love around. Why don't you discount all the items in your shop by 10% on Valentines Day? Don't forget to put up a special Valentines Day shopkeeper and greeting for the day. Don't forget the background – be sure to choose a pink theme or find something with love hearts.

3) Gallery Item - Check out your friend's gallery; perhaps they have a theme and there are several items on their wish list. Maybe they have a Pirate theme – get them a dubloon or a pirate book. What if it is a Winter theme – how about an icy negg or a snow puff? If they have a gallery full of various and special items, then the choice is easy; go shopping in Neopia or perhaps travel further afield to Altador and browse the shops there for that special item. There are many rare and unique gifts just waiting to be wrapped and given as presents.

4) Book your Neopet into the Neolodge – Don't forget about treating your own Neopet to some pampering on Valentines Day. When was the last time you took them on holidays? No matter what your budget is, there is a hotel that will be just right for your Neopet. Aquatic pets like Jetsam and Peophins will love the swimming pools and spas. I bet you didn't know that Blumaroos and Lutari loved playing Tennis. Your pets will come back relaxed and happy – if not very full from all the the sumptuous meals.

5) NC Mall Valentines Day Gift – If you happen to have a gift box from the NC Mall, head over and check out the romantic items for sale. Who wouldn't love to be sent a pair of Rose Petal Wings? Perhaps your neopet has fallen in love – what better way to show this that with a Heart Head Bonk. Is your pet going to a Valentines Day party? If so, the Sweetheart Ball Gown is for you. For those with a broken heart, there is even a thought bubble made with you in mind.

6) Help people on the Neoboards – Valentines Day is the perfect day to spend some time helping others. Why not spend some time answering questions some Newbies may have or what about helping your fellow Neopians with a faerie quest? You will be surprised how happy you will make someone when you are able to give them a 'healing potion I' to complete a quest.

7) Plushie Toy – Have you noticed your friend's Poogle looking sad lately? Get them their very own Poogle Toy to play with! Pink and red, of course, are THE colours to get plushies in for Valentine's Day. If pink isn't really your style, try rainbow or the ever hard-to-find magical plushie for the ultimate surprise – just be careful that your pet is ready for a surprise when they play with those toys.

8) Flowers – A bunch of flowers? No, think about flowers that keep on blooming. Think of a flowering plant your friend can put in their Neohome Garden. It doesn't matter if you have an old or new neogarden; you will be able to find something that is perfect. Blossoms are particularly pretty this time of year. What about something more adventurous like a Fire Bush or the ultimate plant – the Valentines Day Tree? They really do exist, you know.

9) Chocolate – MMMMMMM Yummy! Everyone loves chocolate. Make your way to the Chocolate Factory and be dazzled by all the different candy on offer. This gift is good for the neofriend with a sweet tooth. A Chocolate JubJub for your pet? Perhaps some Neodrops or some Jelly Beans? The choices are endless. If you are lucky, you may come across special candy like a Chocolate Heart – beware of the Mouldy Chocolate Heart - unless of course you are friends with a mutant neopet.

10) A Mystery Valentine's Day Card –Every year there is a buzz around this item as people rush to get their hands on the ultimate present. What is so mysterious about this card? If you don't know already, I won't spoil the surprise, but it is a great way to say you care on Valentines Day. You never know; you may get a special gift in return. Just make sure you send it on the 14 February as somehow it just isn't special if you send it on another day.

Hopefully these ideas have helped you with planning this year's Valentines Day. You don't need to spend a lot of money to make it a special time for your friends and neopets. It only happens once a year, so make sure you make the most of it. Your friends and neopets will be happily surprised when you show them just how much you care. Oh and remember, on Valentines Day, too much pink is never ever enough.