Your questions answered!


Read the answers to the most commonly asked Neopets questions this week in the Editorial section. Each week the most popular questions will be answered by one of the creators of Neopets, so keep checking back to stay updated.


---
Quote of the Week
It was a dark and stormy night. Forks of lightning sliced through the black sky, thunder pounded in my ears... Just kidding. It was actually a pretty mild afternoon. I'd just eaten a really juicy pineapple.
---
| | |
| --- | --- |
| I'm sure many Neopians have been missing the sight of Hubrid Nox since his unfortunate demise, but fear not - now you can create your very own Hubrid Nox plushie to sit by your computer! To make this crochet plushie, you will need: a 3mm crochet hook (US size C crochet hook); knowledge of how to do the DC (double crochet) stitch (US single crochet - SC); DK (US light worsted) wool in the right colours (black, pink, red and pale blue)... | Cloud JubJubs are very strange and different from other cloud pets. When most pets are painted cloud, their body turns a light blue color and they gain cloud markings. When a JubJub is painted cloud, they turn completely into an adorable little cloud, with only their feet and facial features remaining. Like I said, it is strange. After a little interactive investigative work, we managed to answer five main questions... |
Alternative Paint Brushing




So you took days, months, for some of us even years to save enough neopoints for the paintbrush; and when you finally have enough, you buy a White Paint Brush on the Trading Post for a reasonable price, your hard work finally paid off. That is, until you see the Christmas Zafara your friend has. Realizing that the Christmas Paint Brush costs a mere 50k, you begin scolding yourself for never noticing this alternative, over a million...
---
Other Stories
"Nox Day Pranks" by orlando_bloom_bigfan
The sound of gleeful laughter rang out through Magax's graveyard. He was dedicated to protecting it, but that didn't mean he couldn't have a good laugh sometimes. And today was the perfect day. It was his old enemy's special day, and Magax had every intention of reminding him in some less than special ways. He had everything planned, and now it was time to set things in motion...
"Keep Smiling" by blueys45
"You're okay... I knew it... I knew you had to be alive! This... This is wonderful..." Lampyri muttered under her breath. Then for no rhyme or reason, a monotonous laugh began to make its way out of her mouth. With each passing second, Lumin became even more disturbed by what he was seeing. But if he was going to do anything about it, he needed answers first. "What happened? What are you doing here?"
"A Hard Nox Life" by herdygerdy
Martha paused as Castle Nox came into view. The same untended grounds. The same patchy tiling on the roof. The lights, magically enchanted, still gleamed from every window, inviting beacons in the gloom. False beacons of hope, to many Neopian travellers. A bolt of lightning coursed across the sky. Martha gave a little smile. Nothing had changed. Then she noticed the door was ajar, and the reality of the...
---
Villains, Creeps, and Ne'er-Do-Wells


This week's issue is brought to you by: The Gallery of Evil
Search the Neopian Times


---
Great stories!
---------
---------
---------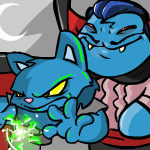 The Personal Memoirs of MAGAX
I knew neither my father nor mother. Any memories I once would have possessed of them I can no longer recollect; they are eternally lost to my subconscious.

However, I did know, and was actually quite familiar with, one of Neopia's most notorious villains; the late, great, Hubrid Nox.



by rielcz
---------
---------
---