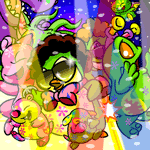 How to throw the best Neo party ever!

by k3l26

--------



Hey there! We heard you're planning to throw a party. You've already read Flotsam Party Ideas and Gelert Day Party Ideas, but you still need a little more inspiration. Whatever the occasion, whether it is a birthday, celebration, holiday, or simply to have a party, here is your one of a kind guide to throwing the BEST party Neopia has ever seen.

Written by yours truly, Kellian (k3l26) and Maile (sunshine482), who both hope you have a wonderful party!


1. Theme
To start planning, you should start with a theme. This will make your party look coherent and put together! Holiday parties can be focused around the holiday, simple enough, right? But if your party is for a birthday, you can consider birthday themed or focus on an interest of the birthday Neopet! For example, if he or she really likes Usukis, you can plan a Usuki party. Some other theme ideas include: faerie, plushie, games, petpet, and pirate.
So now that you've figured out your party theme, it's time to get down to business… party planning! Let's start with the basics, your party decorations!


2. Decorations
Decorations are the best way to set a celebratory mood. To start, every party needs balloons. Luckily for you, Neopia has plenty of options to choose from. There are basic balloons in red, yellow, green, and blue. There are also more theme-specific options too. If it's a birthday party, you can set up an assortment of Neopets 10th Birthday Balloon Bunch, Pink Birthday Balloon, or Strawberry Cake Birthday Balloon. Did you choose a petpet themed party? There are so many to choose from, including but not limited to: Doglefox, Faellie, Slorg, Snorkle, Ghostkerchief, Kadoatie, and Meepit.
You'll need more than just balloons, however. A Pile of Confetti is a great addition to your decorations, just strew some over the floor and tables to add color everywhere. Don't forget to hang up Streamers Garland or Birthday Streamers on the walls! Lastly, a piñata can double as both a decoration and a party game. You can choose your least favorite Neopian villain to whack around, like Meuka, Balthazar, or Boochi. Fill the piñata up with an assortment of candy, chocolate, and small toys, hang it up, and it's good to go!


3. Location
An important part of party planning is choosing a location to have the party! After all, where would you put all those beautiful decorations? Consider how many Neopets and Neopians you'll be inviting before deciding on a location. If it is a smaller party, why not host it at your NeoHome? It'll be cozy and you'll have an excuse to show how much effort you've put into decorating your home!
If your NeoHome doesn't have enough room to have your party but you still want to have the party indoors, consider renting a space. Kelp and the Golden Dubloon offer private party rentals at a discounted group rate.
But if the weather is good, you can also host your party outdoors! There are so many lands in Neopia and each one offers a different outdoor experience. If you want a classic outdoor scene, have your party at Neopia Central, Meridell, or Roo Island. If you want your party to be surrounded by unique scenary, consider Mystery Island, Faerieland, and Tyrannia. Lost Desert and Terror Mountain have extreme temperatures, so it's best to avoid those.


4. Invitations
It wouldn't be a party without guests! Decide on your guestlist, including all your Neopets and Neofriends. Let them know ahead of time that you're having a party, and then send physical invitations to them so they won't forget. The best way to personalize invitations is to make them yourself. Head over to the School Supplies store to get crafting materials. You'll need Starry Stationery, Box of Crayons, and Golden Glitter Glue. Make sure to include the location, date, and time of your invites. Be creative! Include the theme of the party and decorate as such. When you're finished, put the invitations in the provided envelopes and they're good to go!
Send out invitations two weeks before the party date and request RSVPs no later than three days in advance.


5. Food and Drink
It's the day before the party… it's time to go shopping for food and drinks! The classics are crisps, popcorn, and pretzels – so set those in bowls on the food table – but it's nice to have more substantial food for your guests too.
First, let's go over what NOT to have as party foods. Since your guests will be walking around and enjoying the activities, you should not offer sit-down foods like Salisbury Steak or Fresh Green Salad. Second, definitely do not set out gross foods. Bean Yogurt Surprise, Chocolate Liver Casserole, Rotten Egg Salad? These items should never see the light of day, much less a party. Your guests will lose their appetites if they walk over for some refreshments and see these horrible things.
Instead, put out a party favorite – pizza! Head over to Pizzaroo in the Neopian Plaza to place your orders for a few pizza pies. The best part of pizza is the great taste, but it's also a versatile food! You can adjust the toppings according to your guests' preferences. Get a classic Pepperoni Power! Pizza, Vegetarian Pizza, and a Whole Chilli Deluxe Pizza. For healthier options, you should also set out some Tasty Guacamole with a Bowl of Pita Chips. And don't forget a Grilled Veggie Platter or two for all your vegetable-loving friends.
Since it's a celebration, you'll need a cake! The Bakery is a great place to get all sorts of baked goods. The Minimalist Cake, Blueberry Deluxe Cake, and Celebration Cake are all good options. For birthdays, you could get the Super Fancy Birthday Cake – don't forget candles! If you want to mix it up, you can serve lots of cupcakes instead. If you have enough time and can bake, you might want to make your own! Get inspired by 10,001 Chocolate Cake Recipes or 109 Cupcake Recipes, gather up your ingredients, and unleash your inner Breadmaster!
Last but certainly not least, your guests will need beverages! While it's always nice to have a Bottle of Water on hand, how about making a Jug of Fresh Lemonade? A cooler with cans of all flavors of Neocola would be popular too.


6. Games and Activities
A good way to keep your party exciting and your guests entertained is by setting up games for them! There are many activities you can do indoors, including board games and card games. Set up Jetsam Fishing Game, Yooyuball Pro Edition Board Game, and Snow Wars II - The Board Game and invite everyone to play. Have a deck of playing cards on hand too and get ready for competitive games of Cheat! and Go! Go! Go! This is also the time to open the piñata if you set one up. If you chose to have your party outdoors, you can also play hide-and-seek, ball games, and other sports. Toss around a Grarrl Frisbee, kick around a Kreludan Ball, and play some Smiley Hockey.


7. Goodie Bags
The final touch to your party is making goodie bags for all your guests to take home. It's a small but meaningful gesture, a thanks to everyone for attending! Customize the outside of the bags according to your party theme and then fill them with little gifts. Add a colorful kazoo in the bag, along with a party hat, wrapped chocolates, and candies. You can also add small toys like yoyos, tops, and Negg goo. To make it really special, you can add a photo from the party! Your guests will remember all the fun they had long after the party is over.


The day of your party, work on setting everything up early in case of any surprises. But if you've followed this guide, you should be well-prepared! After the preparations, it's time to wait for all your guests to arrive, thanks to those invitations you sent out early. Now all there is to do is enjoy your party that you worked so hard for! Turn up your Ghost Meepit Dance Party Ultra Remix and celebrate!