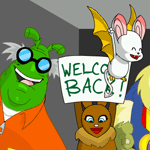 Wish You Were Here!

by cadetbush

--------



"Are you sure that you have everything that you need?" Angela asked.

"Positive," I told her. "Even if I didn't, you've been more than generous! Two weeks away from the Pound and a four week vacation at AstroVilla before I have to go back? You're the best foster owner ever!"

"Now, you know that I won't be waiting for you when you get back, right?" Angela checked. "Someone from the Pound will come to get you. I'm just sending you on this vacation so that your first four weeks back in the Pound's custody can be a bit more fun."

"I know," I assured her. "I still wish that I could live with you, though."

"I wish you could too," she said, giving me a sad smile. "But I already have one pet, and I can't adopt every pet I've fostered, or else I wouldn't be able to keep fostering them. My account would have filled up years ago."

"At least you bought me Fiona so that I don't have to be alone," I offered, petting my Eizzil. "I just hope they have muffins at AstroVilla."

"Trust me. They will," Angela promised.

"Now boarding, the 5:30 flight to AstroVilla. Now boarding, the 5:30 flight to AstroVilla. Thank you," a voice boomed over the loudspeaker.

"Here's your ticket," Angela said, handing me a purple boarding pass. "And be sure to send me a Neomail tonight so that I know you made it okay."

"I will," I promised. "Thank you for everything that you've done for me!"

"It was my pleasure," Angela grinned.

I gave her the biggest hug I could manage.

"I'm going to miss you so much!"

"I'm going to miss you too!" she replied. "Have a good trip, and maybe you'll have a new owner waiting for you when you get back instead of the Pound."

"I hope so!"

"Last call for boarding the 5:30 flight to AstroVilla. Last call for boarding the 5:30 flight to AstroVilla. Thank you," the voice chimed over the loudspeaker.

"I'd better go," I said, tears pricking the corners of my eyes. "Bye, Angela!"

I gave her another giant hug.

"Goodbye, Tracy. And goodbye, Fiona. I'm going to miss you both!"

O O O O O

Dear Angela,

I just wanted to let you know that I made it to AstroVilla safely. It was a long trip, and it took most of evening to get here, but it was worth it. I've never traveled in anything so cool! The seats were really comfortable and they reclined with just the push of a button. And best of all, there were pockets in the seats in front of the seat we were sitting in that were filled with all kinds of things, like a map of the stars with constellations charted on it, a colouring book, a box of new crayons, three books–including a fancy electronic one, a notebook, a pen, and a puzzle magazine! I spent most of the trip reading–I figured that that's what you'd want me to do, since you were the one who taught me how to read. I also solved all of the puzzles in the magazine. But I'd have to say that the coolest part of my trip was the in-flight meal. I think the flight attendant said it was called an "easy-to-make insta-meal." It came in a sealed food tray, and I pulled this tab on the side and the meal was cooked right in front of me. I've never seen anything like it. It didn't taste nearly as good as your cooking though. I'll never forget that spaghetti that you made for all of us on Wednesday. It was the best I have ever eaten!

Anyway, it's been a long day, and I think that I'd like to go to bed. Did I tell you that my hotel room has its very own king-sized bed and its own hot tub? It also has a mini-refrigerator that's full of space snacks, like chocolate eclair paste. I had a tube already–it tasted almost as good as the real thing. However, I still can't wait to try the food in the restaurant tomorrow. I'll send you a letter to tell you all about my first day tomorrow.

Wish you were here!

-Tracy

P.S.

Tell Olivia that I said hi. I miss her almost as much as I miss you.

O O O O O

Dear Tracy,

I'm glad that you made it safely to the hotel and have had such a great time! Olivia has always had a great time when she's stayed there. She also told me to tell you that she says hi, and that you need to try the fluffy faerie hot cakes at the restaurant, and to order a glass of freshly-squeezed florange juice with them. She said, and I quote: "It's like having a pile of gourmet deliciousness for breakfast."

Keep having a great time! I look forward to your letter.

-Angela

O O O O O

Dear Angela,

I can't believe how many fun things I've done today! First, I jumped on my bed for about half an hour (I know that I probably shouldn't have, but who gets to jump on a king-sized hotel bed every day?), and then I got dressed and went to the restaurant where I ordered Olivia's breakfast of choice. She's right–it is a pile of gourmet deliciousness. But tell her that the next time she comes, she needs to order a plate of honey toast with it. It's amazing!

After I had breakfast, I went to the games floor and played my first ever game of laser tag! I lost my first seven games, but I won the last two with the help of my new friend Toby. He's a Grarrl, and he's staying at AstroVilla while his owner is on vacation. He also taught me how to play Gormball, Time Tunnel, and Toybox Escape. I'm getting really good at Toybox Escape.

After an afternoon of playing games, Toby showed me where the burger bar was. We made the most enormous burgers. Mine had three hamburgers, five slices of cheese, several strips of bacon, slices of tomato, lettuce leaves, and a few red onion rings. I forget what all Toby stacked on his, but he had more than ten hamburger patties! I guess Grarrls are always hungry.

After lunch, we went to the concert hall because Yes Boy Ice Cream was playing. I'm not exactly sure what I thought of their music. I think I like the songs that you played on the radio by that Philharmonic group better. Anyway, once the concert was over, I went upstairs to the anti-gravity deck and spent an hour just bouncing around off the walls. I wonder if that's what it would feel like if I were a faerie Kougra instead of just a yellow one. But I'm not sure I want to be a faerie Kougra, not since I visited the swimming pool. The water in the pool is heated, and there are a bunch of waterslides and diving boards. There's also a wave pool, a lazy river, a whirlpool, a water polo court, and a water playground. If playing in water is always this much fun, I think I'd rather be painted Maraquan.

All of that swimming made me hungry, so I went to the ice cream store and had dinner. Yep. Ice cream for dinner. If there are any advantages to not having an owner, it's that no one can tell you not to have ice cream for dinner. And no one can tell you not to have five flavours, and not to drizzle those five flavours with five flavours of syrup, and not to sprinkle it with rainbow sprinkles and drown it in whipped cream. Nope. No one at all. And I didn't even get a stomachache.

It was late when I got back from dinner, and the pool had already closed, so I went back to my room and took the fanciest bubble bath I knew how to create with the complimentary soaps, shampoos, conditioners, and bubble baths. Then I sat down and starting writing this Neomail to you. Tomorrow, I'm going to go back to the pool as soon as it opens, and maybe I'll go to the amusement park floor later on in the day. I hear that it has eleven rollercoasters, a carousel, and a Ferris Wheel. There are probably even more rides. I can't wait to find out!

Wish you were here!

-Tracy

O O O O O

Dear Tracy,

Well, it sounds like you're having a good time! I do wish that you were making healthier food choices, but I suppose you are on vacation, and I did pay for it because I wanted you to enjoy yourself. Olivia now desperately wants me to send her up to AstroVilla for a holiday. Unfortunately, I can't really afford something like that right now. Paying for your holiday pretty much emptied my bank account. Don't feel bad, though. Olivia and I have spent a lot of time in the games room, so we're building it back up. It'll be a while before we can afford to foster another Neopet, however.

By the way, how's Fiona doing? Have you managed to find any muffins for her?

Continue to have a wonderful time!

-Angela

O O O O O

Dear Angela,

I'm sorry that it took me so long to get back to you. Vacation has kept me super busy this past week. Fiona is doing really well. She's been going everywhere with me, including places like the pool, the spa, the library, the amusement park, the theatre, the games room, the gardens, the golf course, and the grand ballroom. I think her favorite place is the breakfast restaurant. They have an all-you-can-eat muffin buffet that she just can't get enough of. They even have choco-strawberry muffins, like the ones that you make on Saturday mornings.

Anyway, Fiona and I still have a lot of stuff to do today. This hotel has more than fifty floors of fun and games, and we've only visited twenty-seven of them so far. We're going to visit them all before the last three weeks of my vacation are over. Say hi to Olivia for me!

Wish you were here!

-Tracy

O O O O O

Dear Tracy,

Now it's my turn to apologize for taking so long to get back to you. I know that it's been a few days. Olivia came down with Kikoughela and I've been taking care of her. She's feeling much better now, and I'll be sending her back to school tomorrow, but I still think that she should take it easy this weekend. Maybe you should take it easy this weekend too. It sounds like you and Fiona have been very active, and while being active is fun, it can also be pretty tiring. You don't want to wear yourselves out. However, after eating all of that food at the restaurants, you probably need the exercise.

Keep having fun!

-Angela

O O O O O

Dear Angela,

Why didn't you tell me that Olivia was going to come and visit me this weekend? I can't say that I'm sorry though. She and I ran into each other at the amusement park, and we've been having non-stop fun ever since! And thank you for the books that you sent me–Olivia gave them to me after dinner, and I was up half the night reading them. I'd tell you more about Olivia's and my adventures, but I don't want to spoil the fun for her when she gets back. I will say that we've played a lot of laser tag, been swimming in the pool, and invented some pretty fantastic cheeseburgers. I'll also say that it's the most fun I've had all vacation–and I've had a lot of fun.

It's also made me realize just how much I'm going to miss you when this vacation is over. I doubt I'll be able to write you from inside the Pound. But I'll be able to write to you from my new owner's house, and I promise I will! You and Olivia–you're the best friends I've ever had. And until I'm adopted, you'll still be able to visit me at the Pound. You will, won't you?

Anyway, thanks for sending Olivia on holiday! I'm so glad that I got to spend more time with her before the vacation is over.

Wish you were here!

-Tracy

O O O O O

Dear Tracy,

Of course I'll visit you! I'll even visit you when you're adopted, even if I have to travel all the way to Moltara to do so. However, I expect that you'll soon be so busy with your new owner that you'll forget all about me. Well, maybe not all about me, but I'll be more like a footnote in your memory. Something that you reference every now and then, but don't really think about when you're writing the exciting book of your life. And it will be exciting–I'm sure that when you're adopted, you'll go on all kinds of adventures.

Also, I'm not sure if this will be of interest to you, but I posted something on the Pound Neoboard about you. I expect that the offers will be pouring in soon. I wouldn't be surprised if you had a new owner by the end of the week.

Best of luck!

-Angela

O O O O O

Dear Angela,

I just got a Neomail from the Neopian Pound! I've been adopted! The only trouble is, I don't know who I've been adopted by. They sent me their username, but I don't know who it goes to. I've included a piece of paper with their username on it in this Neomail. Could you look them up and tell me something about them? Maybe where they live, whether or not they have other Neopets, or what kind of food they like? I would really appreciate it!

Wish you were here!

-Tracy

O O O O O

Dear Tracy,

Your owner is very excited to meet you. She just bought a new plot of land on Roo Island and is working on building a new house as we speak–or in this case, write. She loves to play games in the games room, and her favorite kind of food is Altadorian food. You asked if she has any other Neopets–she has one other pet, who also can't wait for you to check out of the Neolodge. Oh–and there's one more thing. The Neopet is a crazy Xweetok named Olivia, and her owner's name is Angela.

I did post about you on the Pound Neoboard, and within a day someone offered to take you in. It's always bittersweet, watching one of my previous foster pets being taken into a new home, but I found that this time, it felt more bitter than sweet. I realized that there was only one thing left that I could do–adopt you myself. And so I did.

Olivia and I are working on building a new house on Roo Island so that we'll have more room for you to move in. It's also great because we'll live close to the games room, as well as the Roo Island Carousel. It'll be like living in an amusement park–and from what I heard about your time with Olivia, you two will probably enjoy that. I told you before you left that I wouldn't be there to pick you up when you came back from your holiday. It looks like I was wrong, and never have I been so glad to be. Olivia and I both will be there to welcome you home. Until then, we'll work on designing our new house.

Wish you were here!

-Angela

The End.