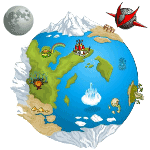 5 Neopian Holiday Destinations

by rickrelics

--------

Greetings, Neopian fellows! As you may know, Christmas is just around the corner! That holiday full of happiness and love is starting once again! A lot of you may be really busy these days buying gifts, sending Neogreetings, or even adding the last details to your Neohome decorations! However, maybe you are forgetting something really important. It is nice to treat others these holidays, but… have you thought how you're going to treat yourself this Christmas yet? If you're thinking about going on vacation, that's a really nice idea! But… where should you go? Well, worry not! Because I've traveled all around Neopia, discovering wonderful places to stay on every trip, and I'm here with some advice for you if you don't know where to go on your vacation!

Terror Mountain:

The first and most obvious destination is Terror Mountain. Every Month of Celebrating, the Winter Starlight Celebration is held here. There's a lot of fun stuff to do! You can stay for some days in a warm, cozy cabin, visit the Advent Calendar for some daily prizes, and even visit the Snowager's lair and safely steal something from his treasure, since he's hibernating this whole month. If you've had enough adventure, you can always go skating on the lake. Or you could do some classic winter activities, like play Snow Wars or build a snowman or a fort. After that, why not go for a delicious cup of borovan? This destination is simply one of the best.

Mystery Island

If you don't like the cold weather of Terror Mountain, or you don't want to see snow anymore, then Mystery Island is the perfect place for you. The Island has warm weather the whole year, so you don't have to worry about blizzards while you stay there! You may think that in this nice tropical paradise, Christmas is not celebrated, but that's not true! The natives get in a festive mood and decorate the entire Island! The Tiki Tours now offer a festive ride around the Island, a big Christmas tree is placed in the middle of the beach, and even the palm trees are decorated with Christmas lights! It's beautiful. Sometimes, the guests of the Island reunite and perform some amazing Christmas plays near the Tiki Tack shop. In this month, Jhuidah prepares an excellent hot chocolate in her cooking pot for you to enjoy, and before you go to sleep, you should join the natives around a bonfire near the harbour, and sing with them some Christmas songs! Mystery Island is definitely an amazing holiday destination.

A Hotel

If you'd like to try something different this year, then you should stay a couple weeks in a hotel. Yes, you read that right! Stay at the AstroVilla Deluxe Hotel. You and your neopets will love your stay there. With all the facilities, such as En-suite Bathroom, Fitness Center, Burger Bar, Laundry, Sauna, and many more, your neopets won't want to leave that beautiful place. Swim at the swimming pool, go play tennis, or just stay in your Deluxe Room and relax while reading the latest issue of the Neopian Times. You'll definitely have a good time here. For some reason, a lot of Neopians don't go to the Hotels these holiday weeks, so most of them are nearly empty, which is really good, since you can explore the entire buildings without being bothered! And if you've heard spooky hotel ghost stories, don't worry. The AstroVilla Deluxe Hotel is well known for not having the twins Lanie and Lillie wandering in their corridors. :P

Virtupets Space Station

If you still feel unsure about passing some weeks on a nearly empty hotel, then I bet you'll love this holiday destination: The Virtupets Space Station. If you can't decide on a place to go to in Neopia for your vacation, then try going somewhere outside Neopia! This destination is kinda unusual, but it's still a good choice. Every Christmas, the Grundos working at the Supply Deck get festive and decorate the entire Station. They put some Christmas trees made of Neocola cans, and even the Evil Fuzzles stop being evil and help with the decorations! The whole month, some nice Christmas songs can be heard through the loudspeakers. Of course, the Hangar is decorated too! The spaceships there now serve as reunion centers where Grundos go when they're not working. And on New Year's Eve, these spaceships will take you on a trip to Kreludor. For what, you may ask? Well, every year, you look up at the sky to see the fireworks. But now, you can look down to Neopia to see them! It's a beautiful show. And the almost nonexistent gravity makes it better and funnier! It is definitely a beautiful place to go. It will be a magical and space-ial day for you and your neopets.

Home

The last and best place to go these holidays, is… your Neohome! Yes, that's right! Home sweet Neohome. If you don't feel like leaving your cozy own palace, well, you don't have to cross your door to have a wonderful Christmas! Most Neopians agree that there's no place like home. It's your very own fort, your shelter, your place. When you come home cold and tired, there's nothing better than warming yourself up sitting near the fire. After a long day, it's always nice to stay in bed, and read the Neopian Times while you listen to your Jazzmosis CD. And after that, you can have tea! What I'm saying is, your Neohome is probably the best place where you could 'go' on your vacations. Have fun while decorating it! Set up your Christmas tree, put up some lights, some Christmas garlands, make cookies and some coffee, and invite your friends to your Neohome! Host a fun Christmas party, and make sure no one is alone this Christmas!

I really hope you liked this advice. :) Remember, wherever you go, make the most of it and have fun! Good luck, and enjoy your vacation! Happy Holidays!
Search the Neopian Times


---
Great stories!
---------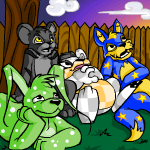 What Your Favorite Pet Species Says About You
Have you ever wondered if there's a special reason why you can't get enough of a certain pet species? If you're just crazy for collecting every single Quiggle item on the site, or if there's a hidden method for your madness? Our favorite things are often a representation of ourselves and our personality. Find out what your favorite Neopet species is saying about you!

by pikachewz
---------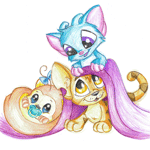 Dreaming of Adventure: Part Three
"Hey, this isn't helping. What will help is entertaining Stevie and Stacie. You know them better than I do. What do they like?" Sweet tilted her head in the direction of the two babies. The brown Kacheek looked at Stevie and Stacie sitting on the couch. They both looked back at her with good-natured smiles. She felt a tug at her heart.

by 77thbigby
---------
---------
---