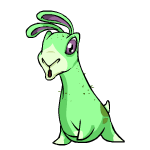 Shear, Treats and Fun On Gnorbu Shearing Day!

by bowz_gurl_4lyfe

--------

The 6th day of Sleeping marks the introduction of the Neopet species known as Gnorbu. Every Gnorbu in Neopia deserves to be treated extra special on this day, known as Gnorbu Shearing Day. As Gnorbu all around Neopia are getting ready to have their fur cut off today, there are a number of ways for Neopians to show their appreciation for these fun-loving Neopets that I would like to recommend.

Gnorbu Avatar
Using the Gnorbu Avatar is a great way to show appreciation towards Gnorbu today. The avatar has a cute but some-what goofy looking blue Gnorbu which reflects their personality. This avatar is available for anyone to use. Just head over to the Neoboard Preferences page to set your avatar to this one and you can perhaps consider jazzing up your Neosignature to match this Gnorbu themed avatar!

Tales of Gnorbu Tails
Approx. Price: 1,200 NP
If you would like to know more about Gnorbu, reading Tales of Gnorbu Tails will certainly allow you to understand Gnorbu better. This book has all of the details about what it is like for Gnorbu to have a tail. The tales that have been told from generations of Gnorbu about both the happy and the sad times of having a tail are all in this book. It will surely be entertaining to read these tales.

Gnorbu Mane Care
Approx. Price: 1,200 NP
As a Gnorbu owner, I'm sure you are well aware of the maintenance that goes into grooming your Gnorbu. If you are a new owner or you are considering adopting or creating a Gnorbu yourself, you should definitely give this book a read. This book is very insightful, as it will teach you the proper ways and the best techniques of grooming your Gnorbu ensuring that they have the best looking mane.

Gnorbu Conditioning Shampoo
Approx. Price: 200 NP
There is no better way of starting Gnorbu Shearing Day than by washing your Gnorbu's fur with this cute looking shampoo. This shampoo is specifically made for Gnorbu to use on their fur. Not only is the colour and scent of this shampoo inviting, but it will also ensure that your Gnorbu's fur is healthy, clean, shiny and soft. This is a nice treatment for your Gnorbu and their fur before they have to get it sheared off. Furthermore, the shampoo will help your Gnorbu's fur grow back nice and soft.

Blue Gnorbu Brush
Approx. Price: 120 NP
You do not want to just stop at the shampooing stage. To help make sure your Gnorbu look their best on this day, using this adorable looking brush on your Gnorbu's fur will do that just that! The brush comes in the shape of a Gnorbu and is perfect for any proud Gnorbu to brush their fur with. When you brush your Gnorbu's fur regularly with this brush, you will see just how much your Gnorbu loves showing off their fur.

Gnorbu Shears
Approx. Price: 150 NP
This is the perfect tool for shearing off your Gnorbu's fur today. This pair of shears has a friendly Gnorbu face on it, which will help your Gnorbu feel better about getting their fur sheared off.

Gnorbu Chocolate Pudding
Approx. Price: 5,000 NP
A great treat for any Neopet, especially for your Gnorbu! Why not surprise your Neopet(s) with this delicious chocolate pudding? Not only will they be thrilled to receive such a terrific treat but they will also eat every last bite of this dessert.

Vanilla Gnorbu Cupcake
Approx. Price: 1,000 NP
This cupcake is made to look just like a Gnorbu's face, making it perfect for celebrating Gnorbu Shearing Day. This adorable looking cupcake has the vanilla scent that will make any Neopet's mouth start watering. However that's not all, as the taste of this cupcake will leave your Neopet(s) wanting even more.

Meaty Gnorbu Pie
Approx. Price: 3,000 NP
Talk about a piece of work! It takes a very talented chef to make this meat pie. The perfect sculpting of a Gnorbu on this pie shows great skills and the taste is just as good. Since the pie takes a long time to make into perfection, any Neopet would be lucky to get to eat this Meaty Gnorbu Pie.

Gnorbu Salad
Approx. Price: 800 NP
This salad is perfect for those who like to eat healthy. Tomato, baby cabbages, carrots and mixed greens are the ingredients used to make this salad into a cute Gnorbu shape. Surprise your Neopet(s) with this and see how happy they will be, especially your Gnorbu!

Gnorbu Wool Noodles
Approx. Price: 1,800 NP
For any Neopet that loves a hot meal. This Gnorbu shaped bowl of hot noodle soup is filled with noodles and wool balls. Using the chopsticks provided may take your Neopet(s) a little bit of time to get used to. Plus, be careful, the soup is steaming hot!

Apricot Gnorbu Juice
Approx. Price: 900 NP
A Gnorbu themed drink to go with your Gnorbu themed food. This healthy and yummy drink will quench your Neopet's thirst instantly and help food go down better.

Orange Gnorbu Cake
Approx. Price: 1,000 NP
Every celebration needs a cake and this Orange Gnorbu Cake is a no brainer for this event. The cake is made up of chocolate base along with orange frosting giving it a hint of citrus smell and taste mixed in with the sweetness of the icing and cake.

Gnorbu Wool Candy Floss
Approx. Price: 4,100 NP
Who doesn't love Candy Floss? This wool candy floss is moulded into the shape of a Gnorbu. The candy floss is as soft, fluffy and sweet as it looks. It will melt right into your Neopet's mouth! Mmmm!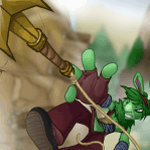 Shenkuu Warrior
Difficulty: Medium
One of the most famous Gnorbu in Neopia is Princess Terrana. She is the youngest daughter of the Emperor of Shenkuu and the star of the game Shenkuu Warrior I and Shenkuu Warrior II. In this game, Princess Terrana aspires to be the best warrior. Therefore, she must train by practicing climbing up trees and mountains with her grappling hook and rope. Why not partake in this training and adventure with the Gnorbu Princess in the Game Room and earn yourself some Neopoints?
Well, it seems you have reached the end of my ideas for how you could celebrate Gnorbu Sharing Day with your Neopet(s). I hope you enjoyed reading it and maybe that you were able to treat your pet(s) to some of things I mentioned. I hope you and your Neopet(s) have a lot of fun during this joyous day. Remember to be nice to any Gnorbu you may come across today!