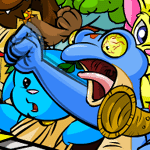 Top 10 Snacks for your Altador Cup Rally

by seoulful

--------



The Altador Cup is the biggest sporting event in Neopia. While everyone is busy choosing teams, stocking up on AC apparel, and practicing their Yooyuball moves in their neohomes, you're thinking about what to do when the games finally begin! You and your friends will be getting together every day to play YYB, sling slushies, shout out to your favorite players, and have an all around memorable AC season. You're so busy you can definitely work up an appetite as mean as your game face. The thought of your mother's Burnt Jelly makes you shudder outwardly. Surely you won't be living on that again this season? If your Altador Cup spirit has made you feel a bit more courageous, might I suggest ten delicious snacks to serve you and your friends this season as you shoot for that All-Star trophy.

10. Assorted Mini Biscuits
These biscuits are perfect for you and your friends. They are small and lightweight, which makes them easy to carry to the AC Colosseum with you! With crunchy cookie on the outside and creamy frosting on the inside, you'll feel that punch of sugar re-energize you after just one biscuit. The frosting in the middle comes in a wide variety of colors; bring a red biscuit to your friend on Team Shenkuu, or a yellow biscuit to your neighbor on Team Altador!

9. Curried Chicken Tea Sandwiches
I know, they sound a bit too fancy for a sporting event snack! But I promise you these sandwiches are just what you're looking for. The curried chicken is so delectable you'll be looking forward to lunch! (No more skipping vital meals to play that extra YYB game!) Just as you're famished and feeling tired for the day, you'll find a few of these bite-sized snack-wiches in your pocket. The spices in the curry are peppery and sharp. As your taste buds start flaming, you'll also kick into gear and find your second win.

8. Small Chokato Pie
The Chokato has been a favorite in Neopia since its discovery. Now you can enjoy it in pie form! Hot and steaming, this personal sized pie will fill you up in no time. It's the perfect meal and desert wrapped up in a flaky dough. As you sit on the sidelines waiting for your turn to jump in and help out your team in Shootout Showdown, eat up this hearty and homey comfort food. You'll forget the chokato is a vegetable filled with essential vitamins when you bite into the chocolatey pie filling. Just don't spill any on your jersey!

7. Fruit and Vegetable Hand Roll
For those of us who won't be satisfied with just one vegetable, we're lucky to have the Fruit and Vegetable Hand Roll! This is an amazing healthy snack for you and your teammates. Starchy rice will keep you feeling full, while essential nutrients from fresh fruits and veggies will keep up your energy levels all day. The convenient seaweed wrapper makes this a great hand-held snack for the Colosseum. When was the last time you ate fruits, vegetables and rice without a fork? Hold your Fruit and Vegetable Hand Roll in one hand and your team flag in the other! Convenient, delicious and nourishing, you just can't go wrong with this snack.

6. Sausage and Chips Hot Dog
Let's face it – Make Some Noise is intense. You're so busy standing up, stomping your feet and waving around your team's foam finger that you can't possible eat a full meal at the same time, right? Wrong! The Sausage and Chips Hot Dog is just what you need. A generous portion of hot chips tops this serving of sausage and beefy dog. Yum yum! Indulge yourself in this salty fan favorite, perfect for anyone cheering from the stands. You and your friends will feel satisfied as you all munch on this meaty meal and watch your team score goal after goal.

5. Peanut and Chocolate Slushie
After hours and hours of Slushie Slinger, the last thing you want to think about is another slushie. But this one isn't for your thirsty customers, it's for you! The perfect blend of peanut butter and chocolate makes this slushie thick and creamy. The added protein of the peanuts makes this slushie better for you than any milkshake! And who can argue with chocolate, the best complement to a heap of peanuts? So when you're tired and thirsty from slinging those slushies, take a moment to make one of these for yourself. You'll be glad you did!

4. Mystery Food Tube
Another portable snack! But... what is it? That's doesn't matter! You're exhausted, starving and you need food immediately. You don't care what it is. That's when the Mystery Food Tube comes in. Slip one of these in your pockets and you'll have food wherever you go. This tube of pure nutrients requires no fork, knife, plate or napkin. Your body will be wriggling with energy after eating this pea-colored mush! Just be sure not to eat it out in the open. The players may think you and your friends are eating toothpaste... how embarrassing.

3. Flaming Hot Chips
Why eat Flaming Hot Chips, you ask? Because your team is on FIRE. You're unbelievably pumped up because you just scored the winning goal. Your team is undefeated this season so far. Your fans are the loudest in the colosseum. So share some crunchy chips smothered in hot chili and flames with your teammates as you celebrate your victories. After a few bites, you'll feel your face heat up with excitement for another game! Your opponents will run in fear as your team blazes through the stadium after eating this spicy snack.

2. Rainbow Sherbert Ice Cream
We couldn't go through an entire snack list without including just one ice cream cone. But this ice cream is a wonderful choice for your AC season. You and your friends can cool off after an AC filled day with this multi colored, multi-flavored ice cream. There's a fruity flavor for everyone and a team color in every scoop. Take a break from your fiercely competitive side. Enjoy how perfect these flavors are together, and remember that the AC is incredible because of every team's contribution.

1. Super Food Platter
Warm, toasty bread. Wholesome green vegetables. Thick-cut buttery potatoes. Lean chunks of marinated meat. This platter is every AC player's dream meal before and after a big game. Pump yourself up with this platter and feel every carb and vitamin flow through your bloodstream. Post game, fill yourself up again with this hefty meal and replenish all of your essential nutrients with this platter. There's enough to go around, so invite your whole team over for a post game dinner, and remember the amazing plays you made that day.
Good luck to all of the AC teams this season, and remember the importance of your meals. Eat well and play well!