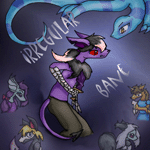 Irregular Bane: Part Four

by saro_the_legendaerie

--------

Art by saro_the_legendaerie

Bane sighed as he dusted the table tops once more. It seemed like a never ending job, and in many ways it was. That's what happens when your shop has a dirt floor, I guess, he mused, sneezing as he disturbed a dust bunny.

He continued following the broom as it made its way around the shop, carelessly throwing dust and dirt around until the Cybunny was coughing and rubbing the dust out of his eyes. Stumbling backward, his hind paw hit the wall. It made a curiously hollow 'thunk'.

Bane smoothed his hands over the wall, feeling for seams. Upon finding one, he scored deep in the wall with one metal-covered talon, tracing along the square shape until the shape of a small door was revealed. He pushed it, and the door swung inwards, a gust of frigid air sweeping through the shop and letting down a fine layer of dust and frost over his fur. Around the edges of the doorway shimmered the colors of a Faerie-made portal.

Why here? What is this?

He glanced at the clock, mentally calculating how much time he had until he was supposed to open shop. He bit his lip. I still got time. That hidden door was calling out to him and his mischievous, adventurous nature, seeing as he had cleaned Price Oasis from top to bottom and still had twenty minutes to spare. A week of experience had already proved its worth to him, having cut down cleaning time from fifty five minutes to a half an hour.

After checking outside to make sure no one was waiting to be let in, Bane slipped through a small door in the back, squeezing himself through the portal's small doorway. Stars and rainbows and flashing light assaulted his vision, then he was skidding across an icy floor toward a bend in the small tunnel.

Digging in his claws for traction, Bane crept forward, aware of the total silence. It's like a Tomb in here! No... more like the Snowager's Cave.

With caution, the Darigan poked his head around the corner, leaning around a stalactite just enough so one ruby eye could perceive a glowing shape lying on a small pile of dust and frost covered items. The air in there was freezing, too cold for any regular Neopet to stay in for more than perhaps ten minutes.

But the creature lying on the pile was no ordinary Neopet. It was a female Ghost Draik, stretched out on the cold ground in sleep, a chain attached to the tip of her tail. Long dark hair was trimmed asymmetrically and tied in a ponytail on the shorter side. She was wearing a short-hemmed, long sleeved dark purple shirt with matching knee-high boots and mini skirt. Little wings floated above her back, apparently unattached to the rest of her.

But the Draik wasn't what caught Bane's eyes. He could just make out, under a cover of blurring dust and sparkling ice, the distinct shape of a Negg. Before his mind even registered the item, he was already creeping forward.

The Draik's even breathing provided a rhythm for the Cybunny's deliberate steps- one, two, pause, one, two, pause. A deep shiver had been slowly building itself inside of Bane, and just as he grasped the Negg by the stem with his strong white teeth, it racked his body, sending a fine misting of fresh dust over everywhere, including inside the Draik's nostrils. She sneezed, and opened violet eyes that turned violent as soon as they met Bane's.

Caution was thrown to the wind as Bane tore across the floor, claws scoring the layer of ice on the floor as often as they slid uselessly around. A mighty roar that rivaled the Snowager's echoed through the cavern as the Draik hurled herself onto the Darigan Neopet, teeth snapping shut on his tail and flinging him to the far corner of the room.

Bane scrabbled upright just in time to dodge the raking, serrated talons that scarred the wall behind him as he slid between her legs, down the tunnel and into the portal, but not before a well-aimed Evil Snowball exploded on the back of his head, her parting roar echoing in his mind.

"Just you try to raid my lair again, scavenging rat!"

Raiding the Lair... I like that name, Bane mused, dusting himself off as he took in deep breaths of tropical air. Raided From The Lair.

X-X-X-X

"You want to do what?" Saosis crossed her forelegs grumpily, freshly brushed mane gleaming as she stood in front of Bane, the latter of whom was holding a can of black paint.

"I wanna redo the shop. New shop keeper, new look, new name! I've even got it all picked out, you know? I wanna call it 'Raided From the Lair'. What do you think?"

"I think you're like, a totally over ambitious shop keeper," Saosis remarked. "And, um, why 'Raided From The Lair?' "

"Well, I found this portal in the back that leads to this cave in Terror Mountain, and I stole a Purple Negg-"

"You did what?" The Uni's voice jumped an octave. "Tell me you didn't just steal from Frilexis!"

"Who, the Ghost Draik girl? So what if I did?"

"That 'girl' is your Employer's prized Gallery Keeper! You may as well have stolen from the Employer herself- you wouldn't have a vengeful Ghost plotting your demise as we speak!"

"She can't be that bad, " Bane muttered, more hopefully than skeptically.

"Lexy held a grudge against a Starry Skeith who ate her when she was an Ice Draik Egg for seven years, " Saosis clarified coldly.

He winced. "Ouch. Where is the Skeith now?"

"Rumor has it she fed him to the Snowager, who she delivers Neggs to on a regular basis. " The Uni shrugged. "Then again, it's only a rumor."

"That makes me feel so much better, " Bane replied dryly, finishing with a sigh. "Well, there's nothing I can do about it now, right?"

"Nope."

"All right. So, then, which color do you like better, Jet Black, Shadow Black, or Darkest Gray?" he asked, holding up three paint cans in turn.

With a stamp of her hooves and a glare, Saosis left the shop once more, leaving Bane to his redecorating.

A few messy hours later, Bane stood back and surveyed his work. After selling the old furniture, he had scrabbled together enough Neopoints to buy some very nice looking stone furniture. The walls were black, as he intended, and the floor was charcoal-colored stone tiles. All in all, it looked quite nice to him, and the Cybunny smiled.

He felt... good. Unlike he had ever really felt when he was a thief. It was nice to build something with your own two paws, instead of just stealing indiscriminately for a quick profit. This shop was something all his own creation.

My own creation. Mine.

Bane hadn't had something all his own for a long, long time. And it felt pretty good.

The door opened, and his first customer to the new shop walked in.

"Hello, and welcome to-"

Wordlessly, the Faerie Lenny snatched the Dewy Apple Plushie, tossed the Neopoints carelessly at the Cybunny shop keeper, and slipped right out of the store.

Bane sighed, shook his head, then forced the smile back on his face at the next customer. "Hello, and welcome to Raided From The Lair. I'm Bane. "

He sighed as he took his place behind the counter, sitting and watching the crowds of Owners and their Neopets pass him by. Yeah, I still miss a life of freedom and friends and thievery. But I have nowhere else to go. It'll have to do for now.

X-X-X-X

"Aw," he growled, watching the last item- a Plain Omelette- be picked up and carried over to him by a sprightly little Camouflage Lupe. Out already? But the morning rush is just starting!

"Here's your Neopoints, sir."

"Thank you. Have a nice day," he muttered.

Distracted, Bane took the Neopoints, glancing downwards to see if he had to make change, then stashed the coins in the register. Once the Neopet had bounced away, the Cybunny set up the 'needs restocking' sign on the back door his Employer used, then he locked the door to the shop behind him.

I can restock this myself, he thought with a chuckle. Time to remember who I really am!

Tying his black hair back in a tight ponytail, Bane began to slip through the shops, silent as a cloud's shadow. Crimson eyes narrowed, and his body flattened out as he made his way into the jungle, wishing he had his Obsidian Dagger, just in case he ran into a fellow Irregular.

But I'm not one of them anymore. That time is gone, and things can never go back to the way they were. The only thing I can do is keep going forward.

Bane knew exactly where to go. To Techo Mountain. There was bound to be a few stray Codestones lying around there- the trembling tattooed rocks were easily sold and worth a good deal. Few things were better to steal than a Codestone.

Lying still on the ground, Bane let the shadows of the surrounding foliage shroud his body as he stretched every Cybunny sense to the maximum, listening for footsteps, scenting for the earthy tang of Codestone, looking for that flash of tan.

At last he spotted it- a forgotten Tai-Kai Codestone, shaking in the shade of a fern as if terrified at being forgotten. Bane let his mouth play up in a smirk. Bingo.

He crept forward, acutely aware of even the slightest sound, then without warning hurtled himself across the clearing, snagged the Codestone, and ran all the way back to his shop, laughing behind the vibrating rock in his teeth.

To be continued...