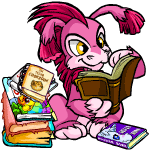 Ogrin Reading Guide

by erikakaiser

--------

Ogrins are number forty on the list of popular Neopets, down in the dregs with equally ignored species like Tuskaninnies and Gnorbus. Their Morphing Potions are some of the cheapest in the Marketplace, and not being Limited Edition, Ogrins are easy to discover and to adopt. What makes them less popular? It's hard to say. They're described as extremely intelligent, albeit shy, and as curious lovers of nature. Perhaps not having boisterous personalities, like Kougras and Shoyrus (both in the top three most popular pets), makes them less approachable to prospective owners. Whatever the reasoning, it's unfortunate – Ogrins make wonderful companions!

Equally ignored is literature about Ogrins, so with the aid of my book-loving Moehog, Hialeah, who enjoys well-written stories and sympathizes with being an unpopular species, we've compiled a list of quick book reviews:

Ogrin Survivor

An epic tale of a group of Ogrins that were in a tragic boating accident.

As a Key Quest prize, this book is all over the Shop Wizard, typically for under 10 NP. Can't beat that! It's a little dry and hard to get through in some places, but a real tear-jerker at the end. At such a low price, it would be great as part of a starter pack for new Neopets that want to read more books, or as the subject of a book club meeting. The tufted bookmark is a nice addition, as well.

Ogrin Grooming

This book gives all kinda tips and tricks for keeping your Ogrins coat beautiful.

If you're an Ogrin owner, this is the book for you! Averaging about 2,000 NP, the price is well worth the information inside. Ogrin fur is famously soft and beautiful, but equally notorious for getting matted and tangled. Not an Ogrin owner? Stop by the Grooming Parlour on your way home from the Magical Bookshop, and this book combined with a brush or some styling gel would make a great Day of Giving gift for someone who is!

An Ogrins Wild Life

The tale of an Ogrin who moves from the city to a life in the wild.

This book is about 600-900 NP, and details a young Ogrin's difficult transition from the hustle and bustle of Neopia Central to eking out a living in dark and treacherous forests. Very eye-opening, and leaves you feeling grateful for the securities and comforts of your Neohome. The spine is also covered with faux Ogrin fur, meaning if you fall asleep while trying to squeeze in that reading time before bed, it doubles as a reasonable pillow.

Chocolate Ogrin Cookbook

Who better to learn to cook from than a Chocolate Ogrin?

Not only does this book feature some Ogrin-friendly vegetarian recipes, but it's written by an Ogrin! At a bit over 1,600 NP, it's perfect for any current or aspiring chefs, and makes a great addition to a kitchen bookshelf. If you have any Milk Chocolate or Mint Chocolate Ogrins cluttering up your Safety Deposit Box, there's a recipe for chocolate cake that calls for them as garnish so you can put them to delicious use.

Ogrin Mountain Climber

Learn about the difficult trials and tribulations that this Ogrin went through to climb a mountain.

Another one that's great for book clubs, this book is wonderfully inspirational, although it does carry a hefty price tag at around 4,000 NP. As a bonus, the center of the book contains some beautiful full-color pictures of Neopia's mountain ranges, including the snow-covered Terror Mountain. If you or anyone you know is dealing with a difficult situation, or facing hard choices, Ogrin Mountain Climber will absolutely lift their spirits and raise up that "can do" attitude we all need from time to time.

Ogrin Cross-Stitch Book

Now you can embroider anything you please with these Ogrin patterns.

This book fills a fairly empty niche as far as Neopian books are concerned, since the only other books Hialeah and I are aware of that feature sewing are How to Stitch, Quilting Made Easy, and Quilting for Quiggles. This is definitely the only one about cross-stitching specifically! It contains a lot of tips and tricks, although most of the book is patterns, so it helps if you have a general idea of how to cross-stitch beforehand. 700 NP is a steal for such a unique book!

The Ogrin Hunter

This is a guidebook for all Ogrin hunters. It tells the rules and guidelines for any Ogrin that wants to hunt.

For about 7,000 NP, you can give the gift of knowledge to any Ogrin – in this case, knowledge about hunting. Very accessible and easy-to-read, with lots of resources for further learning. While aimed particularly at Ogrins, it's also useful for any other species that might be interested in honing their hunting skills – my Lupe fancies herself quite the ferocious hunter, and this is definitely going to make its way into her Starry Stocking over the fireplace.

Ogrin Deluxe Book

Everything you ever wanted to know about Ogrins.

Finally, there's this behemoth, which – while not as long and tome-like as some other compendiums, like Fyora's Rule, which took me and Hialeah several months to get through – details everything there is to be known about Ogrins. What they're like, where they come from, the best way to care for and communicate with them; the list goes on. As a Y7 Advent Calendar prize, this book is now retired and carries a high price tag (around 10,000 NP), but is a must for any Ogrins and Ogrin-lovers out there.

That about wraps it up for the Ogrin books currently circulating in the wide world of Neopia. If you find yourself unsure of what to get any book-lovers, Ogrin-lovers, or Ogrins on your Day of Giving list this year, try keeping the above books in mind! And while you're at it, try raising awareness about ignored and neglected Ogrins, and maybe consider adopting one yourself. They might not be able to fly, bounce on their tails, or have an entire poseable and dressable doll set based on their species, but they're kind and wonderful creatures.