If you have a Facebook account,
click here
to continue logging in.
If you don't have a Facebook account, click here to log in with your Neopets information.
QueenAphridite the Royal Aisha




Neopet

QueenAphridite has a Petpet!



Hera the Plushie Faellie and its Mootix
(2040 days and 7 hours old)


Statistics
Owner: _the_spardel_queen_ (_the_spardel_queen_)

QueenAphridite likes gathering food.
When meeting others, QueenAphridite would act very friendly.






- Attributes -


Age: 3,700 days old (88,803 hours)
Birthday: 21st December (Y7)
Level: Amazingly High
Gender: Female
Height: 48 cms.
Weight: 49 lbs.

Fishing Skill: 323

Jobs Completed: 9
Jobs Failed: 0
Job Rank: Novice



- Battledome Stats -


Hit Points: 69 / 340
Strength: ULTIMATE (401)
Defence: ULTIMATE (275)
Movement: ULTIMATE (235)
Intelligence: ULTIMATE GENIUS (842)

Played: 4
Won: 3
Lost: 1
Drawn: 0
Score: 179

Challenge QueenAphridite
in the BATTLEDOME!




QueenAphridite's rating

:

4.6 stars





Something Has Happened!
You are now eligible to use 'Faellie - It's Alive!' as an avatar on the NeoBoards!





In every fairytale, theres is always the evil step-mother... and Aphridite had one that was as evil as they come. She had twelve daughters, all who loved to dance and often snuck away in the middle of the night. When her father passed, her step-mother remained Queen, but she would be next in line. And the step-mother did not like that. She wanted her eldest, Black, to be Queen.

So she knew she had to get rid of Aphridite. She commanded one of her soldiers to take Aphridite and get rid of her. But, the solider couldn't do it. Instead, he took her to a tower many many miles away where the Queen wouldn't find her. The tower was guarded by a dragon and it had no exits or doors, only one window.

But, after 18 years of living in the castle, the Queen with the help of her magic mirror, found out that the princess was still alive. She spent a spinning wheel to the tower, one that the princess would sting her finger on. And sure enough, she did, and she instantly collapsed and fell into a deep sleep, one that would last 100 years.

99 years passed and the tower had been covered in vines with giant thorns on them. The princess had still been fast asleep on her bed, but her hair had never stopped growing. It was now over 70 feet long and was a beautiful shade of red. The dragon that guarded the tower was gone now, and over the years a river developed by the tower.

TO BE CONTINUED…
QueenAphridite
the fairy tale princess ♥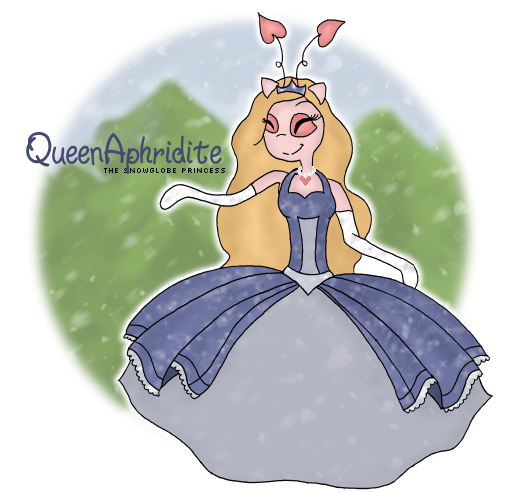 I was created on December 21st, 2005 @ 11pm!
Created and hand-painted by my owner, and I am NEVER UFA/UFT!

» css