Your questions answered!


Read the answers to the most commonly asked Neopets questions this week in the Editorial section. Each week the most popular questions will be answered by one of the creators of Neopets, so keep checking back to stay updated.


---
Quote of the Week
It was strange singing, but it had carried an echoey tune out of the volcano, and it hadn't been scary at all. He feared the plains more than the mountain, but agreed with his grumblebug companion that it would be better to know what was in the volcano before moving right next door, so to speak. The plains worried him though – would they ever make it back to their little corner of paradise at all?
---
| | |
| --- | --- |
| Gadgadsbogen is one of the best times of year! It is a month-long celebration on Mystery Island held annually for the Month of Running. It is devoted to all the mysterious and delicious tropical fruits found all around the island and is a way to show off the newest harvest and the newest fruits coming into existence. | This article will hopefully help you get down into terms as to how you should customise your pets for the upcoming season. Leave all those winter, snowy wearables you have been untiringly seeking right inside your closet, and start racking up anything Spring related you might want to start creating your outfits with! |
Interview With The Grand Bogen




Every year, Mystery Island explodes with fruit and fun for the annual event of the Gadgadsbogen Festival. This is the time of year when all the previous year's fruit dries up and retires and a whole plethora of new crops sprout all over Mystery Island, thanks to a super fast Mynci helping to spread seeds on his quest to be the best. But we're here to focus on the man of the hour, the one who leads the charge into the fruit buffet, Rufus the Yellow Kougra!
---
Other Stories
"Curious Cases of Scamandre the Mage" by butterflybandage
The rolls of parchment were splayed across the frazzled Draik's desk, taking up more room than the confused Fleeper. It stared at the tip of a wand poking confidently from below the desk, and ruffled its feathers in annoyance when prodded. The desk belonged to a one Scamandre, a brilliant (yet strange) mage currently working with the Petpet Protection League, holding the lesser known position of Honorary Pest-Control and Head Mage of Investigation into Curious Creatures. Essentially, this meant that the very talented wizard was given the position of knocking on doors, flashing his shiny badge, and inquiring as to whether or not there have been any sightings of questionable Petpets—ever heard of Turmaculus?—and, if there were any unauthorized Petpets on the loose, he chased them. An "unauthorized" Petpet was a critter that didn't belong to any Neopian and was not inventoried at a Petpet shop—whether this was a result of abandonment or illegal trading, it didn't matter; Scamandre's job, as the plaque above his desk boasted, was to act as "pest control" and do something about those pesky Petpets. Yet, in this moment, he was mentally cursing the day he ever left home to study magic.
"Kasheera's Home" by hollywoodshowbox
Her Magtile, Bahtra, curled herself around Kasheera's foot, providing what little comfort she could. Even though everyone knew that tonus had thick skin, Bahtra knew that Kasheera was feeling lonely. After all, Kasheera and Bahtra only had each other – they would hurt anyone who got too close. "C'mon, bee." Kasheera called, turning away from the hustle and bustle of the Tyrannian Plateau to look for some place quiet. Kasheera knew that she couldn't go down into the Jungle – not since the last time, at least. She thought about how her owner had painted her Magma and then just... left. Not a word, not a sign of her owner, just up and disappeared. All that Kasheera had for company was Bahtra, who had also been painted Magma. Initially, Kasheera had been worried about her owner. What happened? Where had she gone? Soon, the worry turned into pain: what had she done wrong? Was she not loveable anymore? Kasheera knew her owner hadn't officially abandoned her, but she almost wished that her owner had. After all, anything was better than sitting in limbo. But now, Kasheera was just quiet and alone. She had accepted that her owner wasn't coming back. She also accepted that is was just going to be her and Bahtra.
"Home Sweet Home" by placebo_533
They were so close. Too close for comfort. She could almost feel their hot, sticky breath on her skin. It had been days since her arrival, and she had known no peace. From the very first moment she opened her eyes, heard her name – Sweetheart – she had been under threat. The hunt had begun as soon as she showed her face, and there seemed to be no end in sight. She wanted to weep from fear, and tiredness. She had been running for too long, and could not last much longer. In the dead of night, Sweetheart broke cover. She ran so fast, it felt like she was flying. Between houses, across fields, in the full brightness of the moon and in the dim shadows between buildings she could truly run. She stretched out her arms and legs, flowing freely across the landscape, thundering through the night like a storm. In the evenings she didn't need to fear the sun, and so the nights became her lifeline. The only fear she had was Them. On the third dreaded day of life, They had found her in a dirty cellar in the heart of Neopia Central. They swarmed her, with grabbing hands and open jaws, but she fought back and broke free. She had had to brave the sunlight. It had made her slow, and heavy. She had stumbled from the room in a daze, almost melting in the heat, throwing her body helplessly this way and that with barely any control.
---
Come celebrate Gadgadsbogen with us!


This week's issue is brought to you by: Gadgadsgame
Search the Neopian Times


---
Great stories!
---------
---------
---------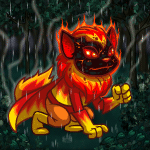 Kasheera's Home
Kasheera sighed as she looked out onto the Tyrannian Plateau. She saw Chombies, Pteris, and Grarrls, all playing together and laughing in front of the concert hall. "I'll never be able to do that," Kasheera thought to herself.

by hollywoodshowbox
---------
---------
---