Your questions answered!


Read the answers to the most commonly asked Neopets questions this week in the Editorial section. Each week the most popular questions will be answered by one of the creators of Neopets, so keep checking back to stay updated.


---
Quote of the Week
"I stared at him, I'd only just met him the day before, but somehow I knew he could be trusted, I knew he would never do anything to harm me, and as cheesy as it sounds, I knew we were going to be friends. Always. I knew it was an honest request, he probably just didn't want to go on his own, or maybe he genuinely just wanted to show me the snow, I'm not sure, but it made no matter what his reasons for asking me were, there was no way I could afford a trip to Terror Mountain."
---
| | |
| --- | --- |
| Making friends can be tough, and it can be even more difficult when you don't know where to start. Well, have no more fear, because this article is here to provide you with a few suggestions for creating the foundation for some great friendships (and memories!). | Have you ever wondered how Neopia would be today if certain pivotal events never took place during the course of its history? Here putting my imagination to work, I tried to form a new Neopia by removing important and groundbreaking revelations and plots from its history. |
Festive Fun




Whether you're kicking your way through piles of red and golden leaves, carol-singing with friends, or curling up in front of a cosy log fire, there is one more thing necessary to complete your experience – some wonderfully delicious seasonal food or drink!
---
Other Stories
"Watercolour" by sampleneopian
"What is it?" His voice came out hoarse, his words choked. If his conversant was deterred, he didn't sound like he was. "I saw what happened with those bullies." He said nothing. "It isn't wrong of you to feel the way you are feeling. No one can blame you for that." Again, he kept silent, though he continued to listen. "But you have to pull yourself together, or things will just get worse." At this, he felt his temper rising, indignant that his conversant would dare undermine the severity of his problem. "And I suppose you know all about that?" His voice was a blade. It was over. The limit of his patience had been reached, and he wouldn't take any more insults, direct or indirect. He stayed where he was, though, inviting his conversant to make a comeback just so he would have the satisfaction of winning the argument. Of all the ways he expected his conversant to respond – a retort, a sigh, or a scowl, he did not foresee a hesitation. And a curious hesitation it was. Even with his back to him, he could tell that his conversant was not simply filling the moment with soundlessness, but vivid, unspeakable emotion. Whoever it was he was speaking to was going through a momentous memory of his own, an experience that meant as much, if not more than, the one he was going through then. Already his anger was fading, replaced by a mixture of curiosity and compassion that negated the negatives he was suffering and willed him to open his heart, for the sake of both of them. He turned around, almost in a trance, only to see none other than the Money Tree himself, looking startlingly dejected. It was at this moment that his clock to evil stopped. He almost didn't catch the reply, which was barely a whisper. "Yes, I do."
"New Coat for Taelia" by apple_spritzer
Patrice ambles serenely around her boutique, her white silken slippers brushing delicately against the pink marble floors. She is an astute perfectionist, taking in every detail, adjusting every minor wrinkle, yet remains perfectly calm. Patrice is not one to panic, lest she let the quality of her work suffer. No, she has worked so hard for this glorious day and everything is going according to plan. Neopets gush over the racks and rows of patented Patrice Designs, filling their shopping baskets with oodles of new fall clothes. The line for the cash register snakes around the room, and the pair of Grarrl security guards Patrice hired to make sure everything would run perfectly smoothly have had to limit the number of Neopets allowed inside the shop for safety reasons. Opening day is a splendid success. Speaking of the Grarrl security guards, there seems to be a bit of a ruckus at the front of the shop. Patrice looks up from readjusting a bouquet of Perfume Mallows (she had arranged for the entire boutique to be filled with them because of their wonderful aroma) to see the guards attempting to block a customer from entering. They look irritated and very, very intimidating. Who could be trying to get past them? Suddenly, the guards are pushed aside and the frosted pink glass doors swing open with a burst of icy wind. The cozy interior of the boutique suddenly becomes as chilled as the peak of Terror Mountain, an unusual change in temperature for such a mild weathered day. All of the Neopets stop in their tracks and shiver as an imposing figure breezes through the doors. Patrice would recognize that iconic jet black bob and those icy blue snow-dusted wings anywhere. This is none other than Taelia the Snow Faerie in her very own boutique!
"What Would You Do" by sweetpuppyrose
"No!" Des said exasperatedly. "No, no, NO! Every time we get to go out on our own you two get us into trouble and we aren't allowed to go anywhere without someone with us. And then I have to wait even longer to get any new books because everyone is always so busy. No!" "Couldn't we just look for a minute, Des? We do have to walk by it to get home anyway." said Nherf. He was used to trying to mediate between the strong personalities of his two brothers. "Fine." grumbled Des, "but just for a minute, okay?" "Yes!" shouted Kai as he shoved the last of his ice cream in his mouth and ran past his brothers towards the Defenders HQ. That is when it happened. As Kai bumped into Nherf on his way past, he disrupted the delicate balance between ice cream and plushie. The two collided together in the air and fell to the ground with the sound of a wet 'thwap'. Nherf's eyes filled up with tears as he picked up Sir Hogginton and tried to brush the ice cream and dirt off of him. "Oh Nherf," said Des quietly, "it'll be okay. We'll take him home and Mashi will be able to wash him up in no time, you'll see." Nherf sniffed and took a few deep breaths. "Okay," he said dejectedly. Just then a yellow wocky paused as he walked down the path, and said to Nherf, "You look like you could use some luck!" He handed him a lottery ticket and said "I hope you win!" before he quickly disappeared into the crowd. The three headed back towards home, with Des still licking his ice cream, Kai bouncing along with ice cream smeared all around his mouth as he apologized to Nherf, and Nherf now carrying a bedraggled plushie, and a lottery ticket.
---
Be Merry All Month Long


This week's issue is brought to you by: Advent Calendar
Search the Neopian Times


---
Great stories!
---------
---------
---------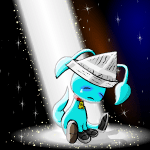 Confessions That Aren't Really Confessions!
Inspired by the idea of uttering confessions that aren't true confessions, I thought I'd write this article! In it, I list all of the things that make us despondent, even though we're not really responsible for them. I hope you enjoy reading it, and that you feel better that you're not alone in your misery!

by indulgences
---------
---------
---