Your questions answered!


Read the answers to the most commonly asked Neopets questions this week in the Editorial section. Each week the most popular questions will be answered by one of the creators of Neopets, so keep checking back to stay updated.


---
Quote of the Week
An invisible paint brush is a life-long investment - once your pet is invisible, it'll never be painted again! But no, seriously, it really won't be; you won't know where it is so you won't be able to drag it to the Rainbow Pool or anything.
---
| | |
| --- | --- |
| Take a moment to picture this: You're strolling down Neopia Central, as casually as any passerby, when the notorious Dr. Sloth appears as if out of nowhere! Alarmed and suspicious, you either shrink back in fear or take a battle stance – but instead of aiming his deadly-looking blaster at you, he takes something out of his pocket and simply hands it to you. You take a wary look at the object, and gasp – it's a Draik Transmogrification Potion! As you accept the highly-prized gift and make a run for it before the dastardly villain can change his mind, you realize that you have a few options as to just what to do with this potion... | If a Neopet with two eyes is considered cute, doesn't it seem fitting that a Neopet with three eyes would be even cuter? How about an extra tongue? Flesh that's been scrubbed SO thoroughly clean that it literally fell off the bone? Yes, there is nothing more aesthetically pleasing than Mutant Neopets. What's this? You don't find these wonderful creatures appealing? WHAT?! You believe they're REPULSIVE? Oh dear, it's clear that you've been mislead by the conformist Neopians that are determined to be stuck in the past. You know; red, blue, green and yellow? I have news for you, dear friend, we are now in the present... |
Guide to Mutant Graveyard of Doom II




You're Albert, a Mutant Kacheek who collects treats throughout the maze; along the way, you'll have to avoid and destroy enemies. You use the keyboard arrow keys to move. There is no time limit, so take your time and be as thorough and careful as possible! You have three lives in the game. In order to lose a life, you have to be hit three times; each time you're hit, your lantern will dim, until it dies completely...
---
Other Stories
"Stolen Spotlight" by wigglyfish
"Here's to the greatest thief of all time!" a voice called out from inside. "Please give it up for the one, the only, the fantastic Pant Devil!" If the building was loud before, now it was positively deafening as the thieves saluted the Pant Devil. Through the windows, pairs of pants could be seen flying across the room as the tiny blue devil approached the front of the room. "Hello, my fellow pillagers!" he called out. The thieves roared their approval...
"The Shape-Shifter's End" by purplepeggie
They were all talking excitedly. I figured they were probably the newbies' pets, being zapped for the first time. I recognized the Gelert, now half orange and half purple. "Split," I said, cutting into their conversation. "Not bad for the first time." The Gelert grinned eagerly. "Thanks!" she squeaked. "I was super scared, but it turned out super great, and now I'm super happy! My owner has been saving up for the Lab Ray Map for a super long time..."
"Perfect Horizons" by aurorapearl
No, thank you. I rather like it here. Scenic in a way you can't find in Faerieland, overflowing with star struck tourists. There's a certain peace up here on the mountaintop that I can't exactly describe. Refreshing, almost – no, invigorating. The silence and detached formality of snow-kissed rock stimulate the senses. Here, you breathe untouched nature of a soothing spicy scent. Far more alluring than the flower-sweet perfumes of Faerieland...
---
Feeeeed Meeee


This week's issue is brought to you by: The Esophagor
Search the Neopian Times


---
Great stories!
---------
---------
---------
---------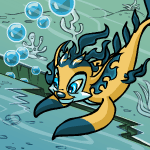 Cerena's Song: Part Two
"Isn't she with you, Jeanine?" She searched my eyes as if expecting me to tell her that Cerena was indeed with me and that it were all a joke.

by btcomsa12
---------
---