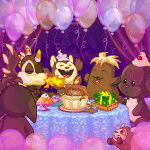 24 Cakes to Make Your Birthday Celebration Sweeter

by jackie247

--------

Neopets is getting ready to celebrate their 24th birthday, so I've compiled a list of the 24 best cakes to celebrate with! Try these cakes for breakfast, lunch, or dinner - I won't judge. Not to mention, I'm always looking for an excuse to eat cake for breakfast. Grab your forks and let's go!

1). Coral Cake - This underwater delight is a Maraquan exclusive, found only at the critically acclaimed restaurant known as Kelp. Shaped like a piece of coral and tasting slightly of saltwater, this cake is going to help you achieve that perfect balance of sweet versus salty.

2). Beach Fun Usuki Cupcakes - While summer may be over, if you still find yourself daydreaming about sunshine and surfing, taking a bite of these cupcakes will help you to relive those sweet summer moments.

3). Jelly Sponge Cake - It's jiggly and squishy, wobbly and slippery, it's a Jelly Sponge Cake! Be careful it doesn't slip and slide right off of your spoon. Made entirely of blue jelly, this cake will wiggle down.

4). Acara Cabbage Cake - No Acaras were harmed in the baking of this cake. Quite the opposite actually, this "cake" is 100 percent vegan. Perfect for our plant-based friends to enjoy.

5). Lemon Daisy Cake - Super fresh and flowery with a hint of sourness, the Lemon Daisy Cake is a staple for any birthday celebration. You can find this cake in both of the Neopets' 10th and 11th Birthday Goodie Bags.

6). Cloud Aisha Cake - So light and airy with just the right amount of sweetness. You'll find yourself on cloud nine after your first blissful bite!

7). Meat Cake - Calling all carnivores! The Meat Cake is tender and juicy with the right amount of marbling throughout. Rare or well-done, either way, this cake is sure to please even the pickiest of pets.

8). Triple Tier Space Faerie Cake - Nearly stacking up to the ceiling, this colossal cake is an intergalactic delight. You'll often find this cake as a Cosmic Dome prize, or restocking in Faerie Foods.

9). Deluxe Fyora Day Cake - This one pays homage to our always lovely Faerie Queen, Fyora! This deluxe dessert is the height of decadence and deliciousness. Featuring three tiers of pink and purple goodness, this dessert takes the cake! Consuming this treat will also earn you a point for the Gourmet Club. Fancy!

10). Lava Cupcake - I'm burning up just thinking about biting into this blazing beauty. Don't worry, taking a bite won't scorch the roof of your mouth. The flames are just for looks. Your tastebuds will ignite when you chow down on this fiery confection.

11). Strawberry Shortcake - No gimmicks here - just the original Strawberry Shortcake. A fresh, fluffy dollop of homemade whipped cream on top takes this cake to another level.

12). Caramel Usul Cake - A giant cake in the shape of a U, with a heaping helping of ooey gooey, sticky, sweet caramel running down both sides. Sign. me. UP.

13). Artichoke Cupcake - Another plant-based pick made with real artichokes. This is a veggie-lover's dream. This one might make you feel slightly better about eating cake for breakfast, eh?

14). Gourmet Carrot Cake - I think the Cybunnys will agree, you won't find a better carrot cake in Neopia. The dense layers paired with the cream cheese frosting and bits of shredded carrots in every mouthful will have you hopping to the kitchen for another piece.

15). Disco Jubjub Cupcake - Boogie on down with this colourful cake! One bite will make you want to get up and dance - that's how good it is!

16). Frosted Cake Hot Dog - Is a hot dog a sandwich?? Well, that's an age-old question that I can't answer without causing a heated debate. Instead, let me ask you this - can a hot dog be…cake?? Slap on some frosting and a candle and you've got yourself a cake in my book! That's why the Frosted Cake Hot Dog makes the list. Oh, and because it's also quite tasty! Someone tell Hubert to keep cranking out those dazzling dessert dogs.

17). Water Cake - This one will stave off your hunger and quench your thirst simultaneously. This cake gives us the best of both worlds and for that, it makes the list!

18). Devilish Cake - If you're feeling devious and dastardly this is the dessert for you. It's wicked good!

19). Nebula Cake - Dare I say it? Okay - this Nebula Cake is truly out of this world!! Sorry - I had to. This one has the cutest little star garnishes on top. It was released as a Trudy's Surprise prize earlier this year and the taste is stellar!

20). Cake Coffee - Who wants to enjoy a slice of cake without a cup of coffee? Not me! Well, with this treat, you won't have to. To get your hands on this scrumptious delight, go pay a visit to Jhuidah at the Cooking Pot. Mix together a Chocopie Slice and a Coffee and voilà!

21). Dung Cake - Hey! Don't knock it 'til you try it. Another Cooking Pot concoction, you can conjure up this delectable Dung Cake by mixing Chewing Dung and Snow Cake together. Proof that sweet and stinky can live in harmony.

22). Magic Cake - This cake will put a spell on you! One slice of this enchanting dessert will put you in a sugary trance.

23). Cupcake with Rainbow Frosting - A colourful classic! The icing is deliciously sweet and showcases all the colours of the rainbow. This cupcake is fabulous for when you're craving a pop of colour in your diet. It's ALMOST too pretty to eat.

24). Illusens Family Recipe Cake - The delicate decor on this cake will make you want to put it on display in your gallery. The ornate outside is second only to the way it tastes. Adorned with the most elegant array of edible flowers and twisting vines, Illusens Family Recipe Cake is a picturesque masterpiece - beautiful and charming in every way.

These cakes will be sure to sweeten any birthday celebration! May this year's celebration be the sweetest one yet. Happy birthday, Neopets!!